New outlet of popular Mexican restaurant in the Damansara Heights area (opposite CIMB)....
This new outlet of Las Carretas is one of the 2 new restaurants at the base of the new Peninsula apartments on Jalan Semantan (across the road from the CIMB building).
The Dinner
The exterior of Las Carretas...
The interior of Las Carretas is simple but comfortable, embellished with some cute Mexican touches like giant sombreros and various cacti: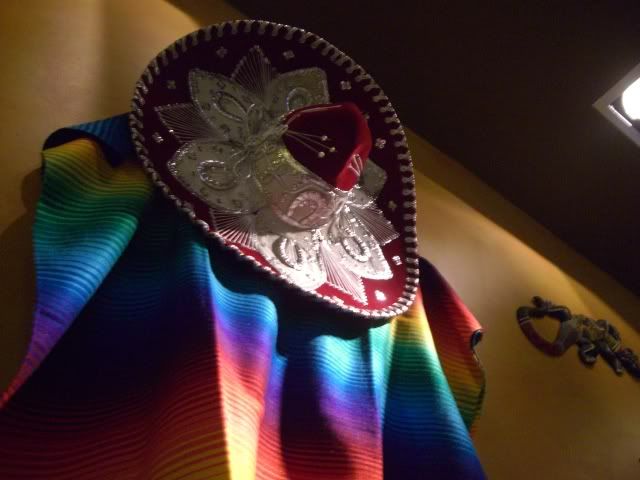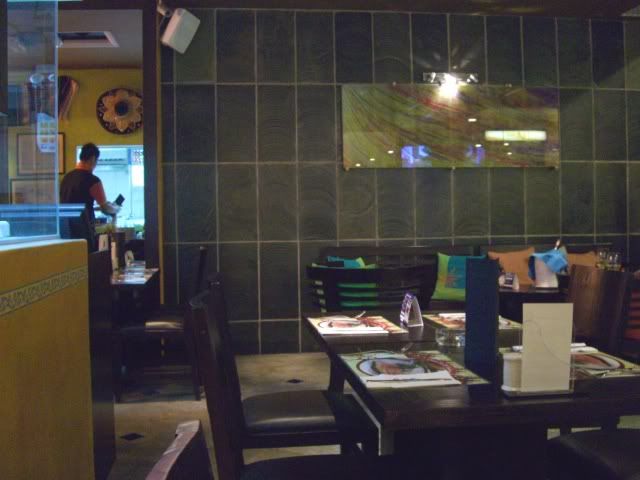 The interior of Las Carretas...
The only thing I found a little "off" were the continous loop of about 5 Speedy Gonzales and Road Runner/ Wiley E. Coyote cartoons on the TVs there.
(You know how it is when restaurants choose to put in TVs: No matter how hard you try not to watch, your eyes keep getting "caught" by the moving pictures.... which I hate because it usually kills all conversation)
Anyway, a nice touch here is the Free Starters (Chips with Dip) which went very well with the Magaritas (RM14++ each) we ordered: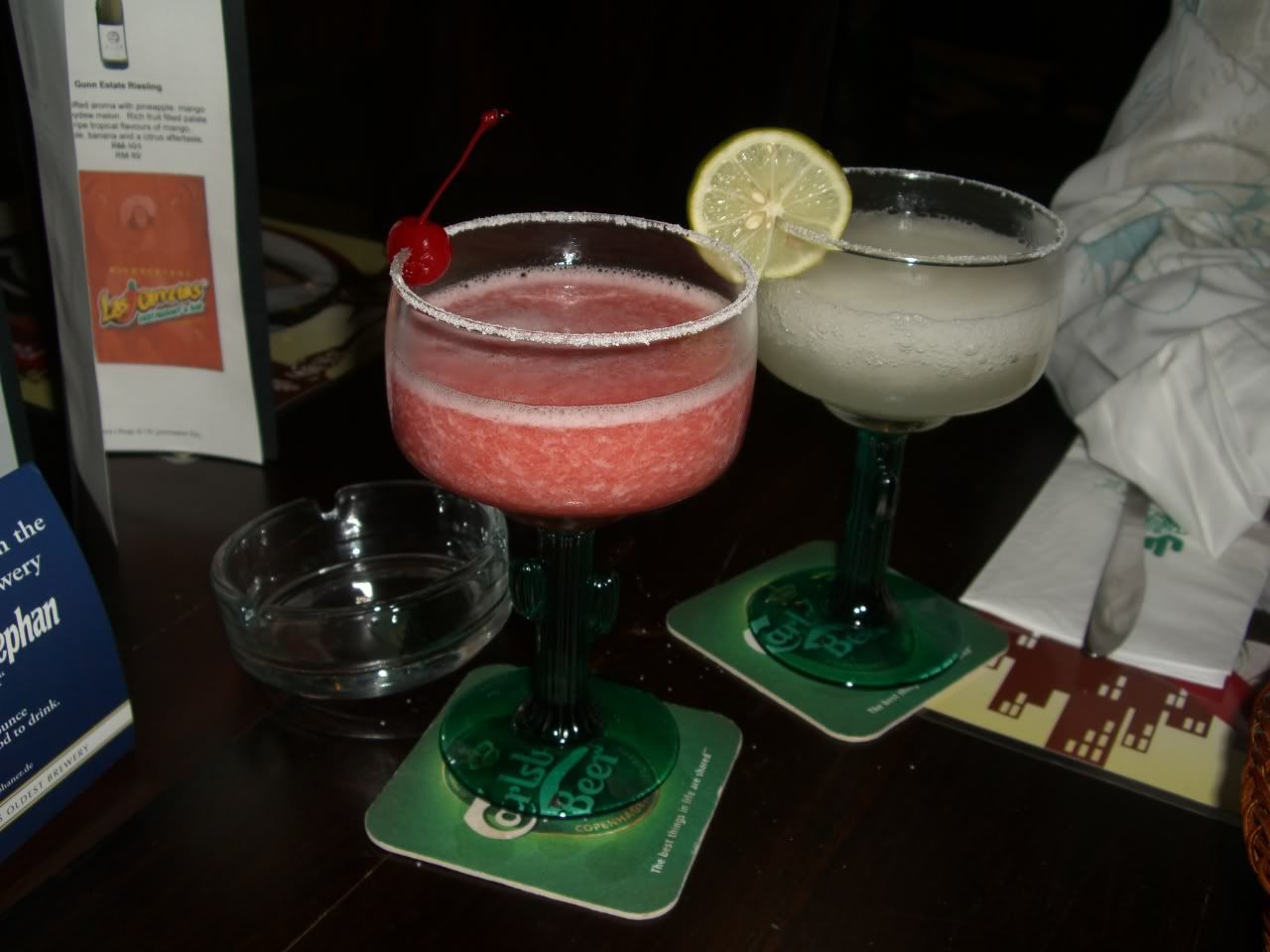 Left to right: Free chips with dip and the margaritas we ordered...
They allow a free flow of the chips (according to the really friendly waiter) but be careful not to stuff yourself too full of these so that you still have some space in your tummies for your food!
:)
The Magaritas were ok - Much cheaper than (let's say) Chili's or TGIF but of course, much smaller in size too.
Moving on, we tried the Chili soup (RM 9++):
Chili beef soup...
Mmmm....
I liked this soup.
It was thick and chunky with fragrant taste of herbs...
As for the mains, we tried out the Chili Con Carne (RM 21++) and the Beef Fajitas (RM 31++):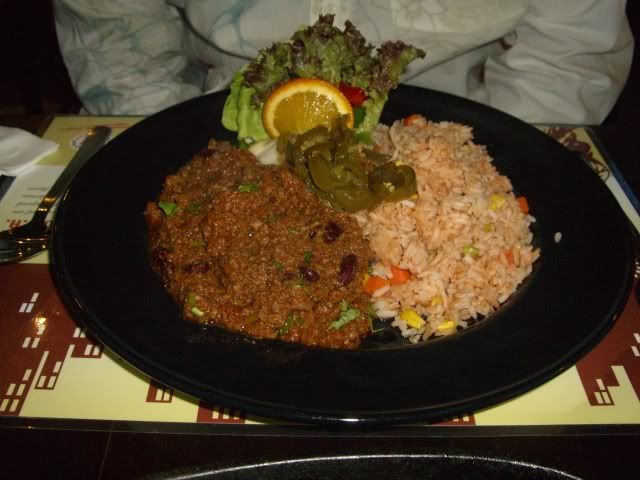 Top: Chili Con Carne, Bottom: Beef Fajitas...
This was the first time I had ever tried Chili Con Carne, a traditional Mexican dish where minced beef is stewed with kidney beans and then served with rice. I found the savoury taste and chunky texture interesting. It also went very well with the rice (nice balance) and I thought that this was a perfect type of comfort food on a cold day....
(The serving size was maybe a bit too big though and you may get "jelak" about 3 quarters' way through)
As for the Fajitas (which are supposed to be one of the specialties here), it was ok.... but not great. There was a generous amount of beef strips (no complaints there) but they were only moderately tender. I do like playing with my food though, so I had fun constructing my fajitas by mixing varying amounts of beef, cheese, guacamole, salsa, sour cream and onions before taking a big bite.
:D
Overall, the food there was ok.
Didn't knock my socks off but it's a nice place to try out some decently priced Mexican food (some of the prices look expensive but the servings are pretty big). There were a few interesting sounding traditional Mexican dishes (like Burritos, Chimichangas, Enchiladas, etc) that I wouldn't mind going back to try.
:)
So it's: Wide range of Mexican food in casual comfy environment, ok taste for the price, friendly staff BUT not many complaints except the strange looping of cartoons on the TV....
Restaurant Review
Summary Sheet:

Las Carretas @ Damansara Heights, KL
(Ground Floor of new condos opposite CIMB)

Taste: 6
Ambience : 6
Service : 6
Price** : RM 45/++ per person
Parking: OK (I think you have to pay in the morning/ afternoon but we parked for free that night)

** Approximation - 3 course meal, excluding drinks
Telephone No.: 03-2093 0380
(Subang outlet: 03-5637 3058, Ampang outlet: 03-4257 1668)

Opening Hours:
11.30am to 2.30pm, 6pm to 10.30pm
Website:
www.lascarretas.com
NO PORK SERVED
OTHER REVIEWS:
-
Da Wheel Of Life And Happiness
-
PlacesAndFoods.com
-
KL People KL Food
TAGS: Food, Blog, Weblog, Malaysia, Restaurant Review, Jalan Semantan, Bukit Damansara, Las Carretas, Mexican, KL, Kuala Lumpur