My gastronomic adventure continues in Penang, the Island of Gluttonous Delights.....
While we were visiting Penang, my aunt listed Kedai Kopi Kwai Lock as one of the "must visit" food places - partly because the food here is nice and also partly for nostlagia.
:)
Anyway, this established coffeeshop is located on Jln Burmah, in the vicinity of the Pulau Tikus market: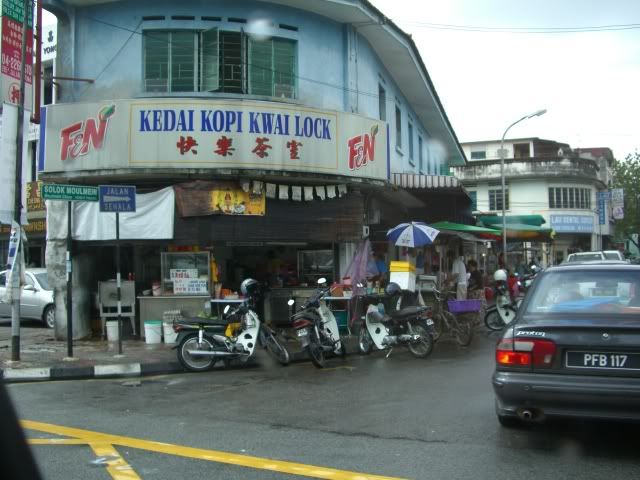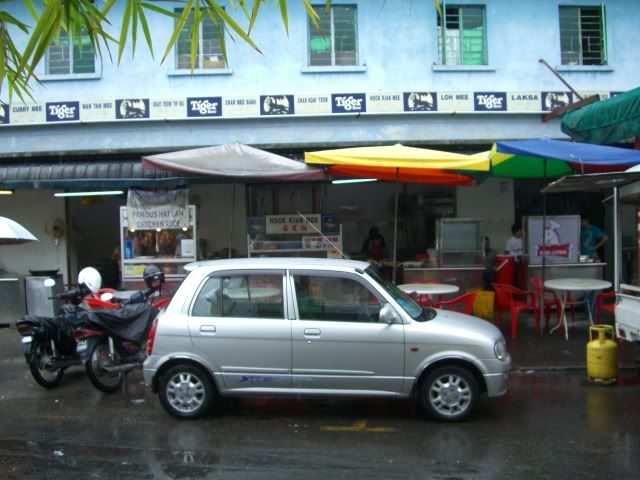 The Exterior of Kedai Kopi Kwai Lock....
The interior of Kwai Lock is comfortable enough (by coffeeshop standards):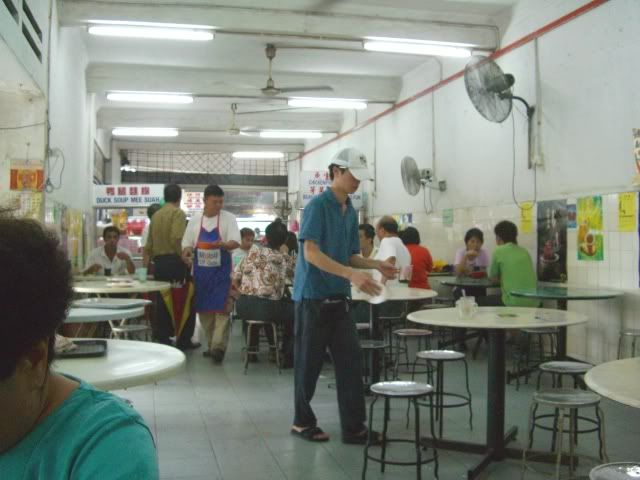 The Interior of the coffeeshop......
There is a wide variety of hawker food available at Kwai Lock (ranging from Chee Cheong Fun to Char Kuew Teow to some lighter snacks like Apoms). That day, we chose to try 4 of the more popular stalls... I arrange them here in order of how much I liked them:
1) Wan Tan Mee (Soup):
The Wantan Noodles.....
Verdict: Normal.
(Nothing much to say... It wasn't bad but wasn't good either - very normal)
2) Fried Hor Fun:
The Fried Hor Fun.....
Verdict: Not bad.
(Nice "wok fried" taste, supple yet smooth/ tender noodles with fairly generous amounts of char siew (barbeque pork), meat and prawns)
3) Duck Mee Sua: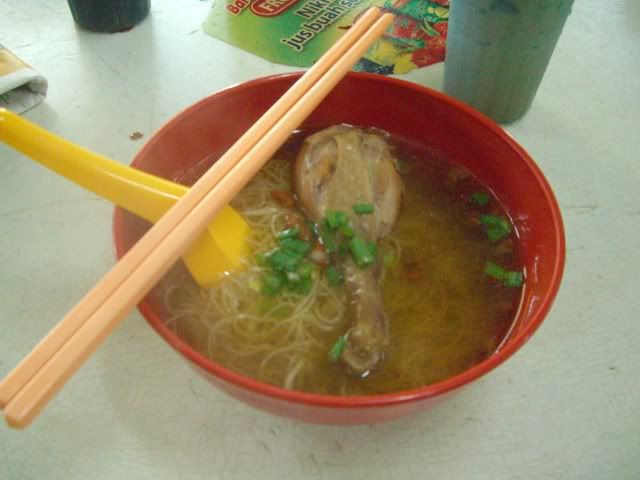 The Duck Mee Sua.........
Verdict: Nice.
(The duck was tender, the soup was savoury and herbal but not overpowering complemented by the tender texture of the mee sua)
4) Curry Laksa:
The Curry Laksa..........
Verdict: Delicious - Don't miss this!
(Creamy yet smooth soup with beautiful fragrance of curry powder without any powdery texture served with bouncey noodles - perfect!)
According to the waitress, this fine establishment is open from about 8am till 1pm (Caters more for the morning market crowd).
PS:
I can't give you directions on how to get to this area, but once you find the general vicinity of the Pulau Tikus market, this coffeeshop is situated on the right side (corner lot) if you are facing the police station. Here's a photo to illustrate:
So, it's: Simple coffeeshop setting, variety of Penang hawker food at decent prices BUT nothing much to complain about - just make sure you don't miss out on the Curry Mee.
Summary Information:
Various Stalls @ Kedai Kopi Kwai Lock, Jalan Burmah, Penang

Opening Hours: 8am till 1pm
Phone: -
Address: 295B, Jln Burmah, Penang (opposite Pulau Tikus police station)

NOT HALAL

OTHER REVIEWS:
-
Makantrip.com
-
Pillow Talk With Bangsar Babe
-
Table For Three Please
TAGS:
Blog
,
Weblog
,
Malaysia
,
Local Food
,
Hawker Food
,
Kari Mee
,
Curry Mee
,
Pulau Tikus Market
,
Penang Island
,
Jalan Burmah
,
Kedai Kopi Kwai Lock
,
Pulau Pinang
,
Specialty
,
Local Food
,
Food
,
KL
,
Kuala Lumpur
,
Personal