Yay! A food update: Vietnamese food hidden in the Asian section of the popular Curve shopping centre....
The Lunch:
Pho Hoa is slightly hidden in the ground floor of the Asian courtyard area in the Curve (sorta behind Baskin Robbins and that Thai Express place):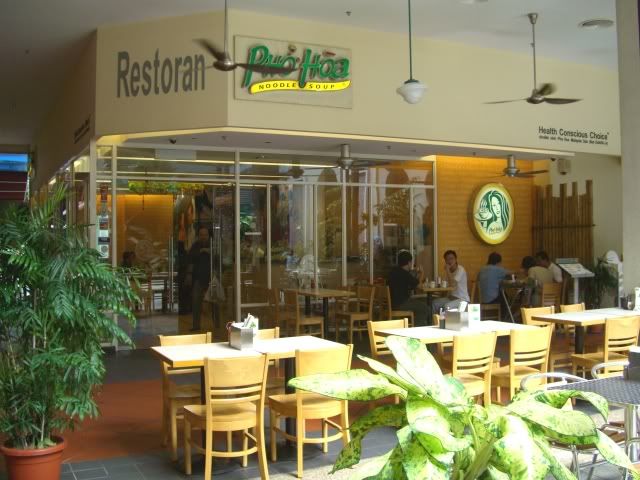 The Exterior of Pho Hoa.......
You can choose to either dine in the open air area in between the restaurant and the nice water features (can get a bit warm) or in the bright and chirpy interior of this restaurant which I found simple yet comfortable: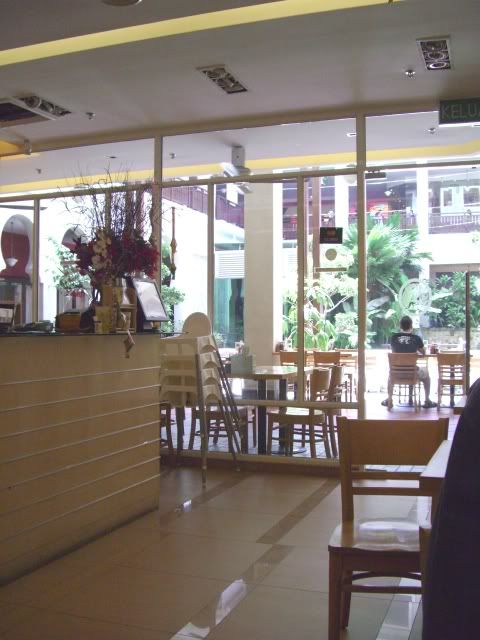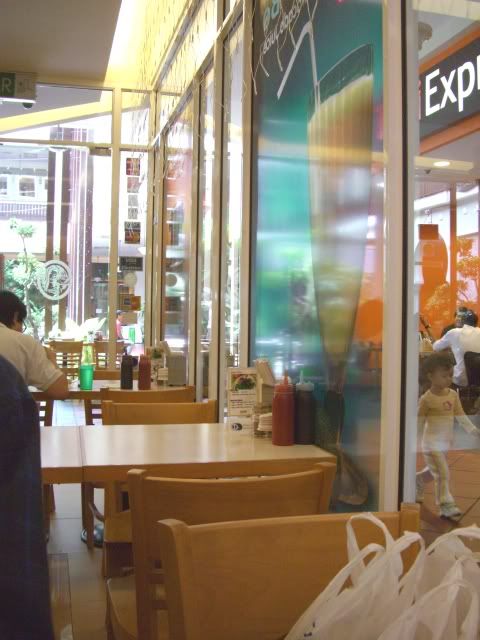 The Interior of Pho Hoa.........
We started off our meal that day with a selection of appetizers, the Vietnamese Steamed Chicken, Rice and Egg Cake and 2 Spring Rolls: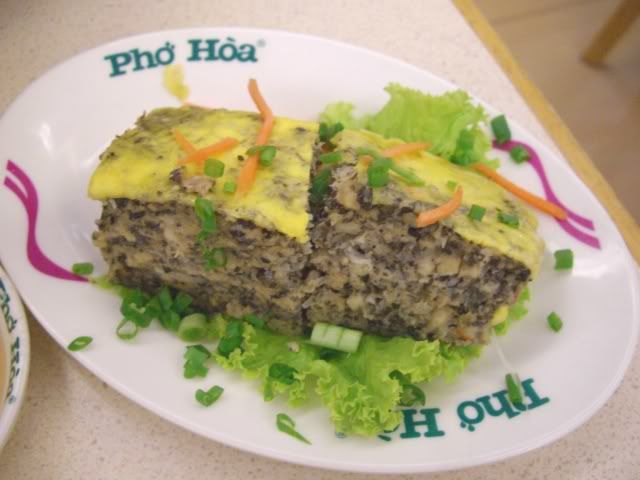 Top: The Traditional Steamed Vietnamese Chicken, Rice and Egg Cakes, Bottom: The Spring Rolls......
Overall, all the starters tasted pretty good... Oh, but if you don't like the taste of salted egg then you shouldn't order the rice cake (It's not like a really *Wham!* in your face/ damn strong sorta flavour of salted eggs but you can definately taste it in there)
Moving on to the mains, we started off with the Sour Seafood Noodles: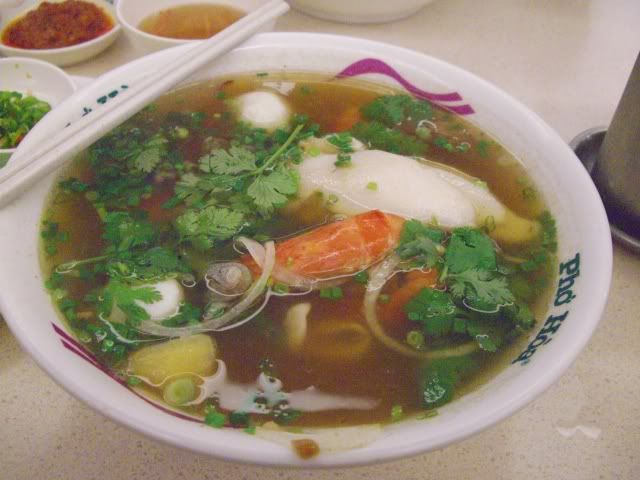 The Sour Seafood Noodles.....
Wow.
Sour...
(I thought it was ok but I can imagine that some would find it just a bit too sour as my "sour" tolerance level is pretty high)
Still, it was interesting.... and there was a generous amount of sliced fish and various other seafood in there.
I was very disappointed with the texture of the noodles though... I generally like noodles with a little "bite" to them and these just tasted limp, overcooked and quite forgettable
*.
Anyway, can't go to a Vietnamese restaurant and NOT sample the Beef Pho, right?
So, next we tried the Classic Vietnamese Beef Noodles (chosen here are the beef slices and beef balls - there are other parts of the cow that you can choose from too):
The Classic Beef Noodles.....
I found that the beef noodles only tasted ok.... Not that it was bad, just not as good as I would have liked - the soup was pretty good: smooth and robust but the beef was ever so slightly overcooked/ tough
and again, the noodles felt limp and very lifeless
*.
Something else worth trying there if you are feeling particularly health concious is the Chicken and Prawn Salad: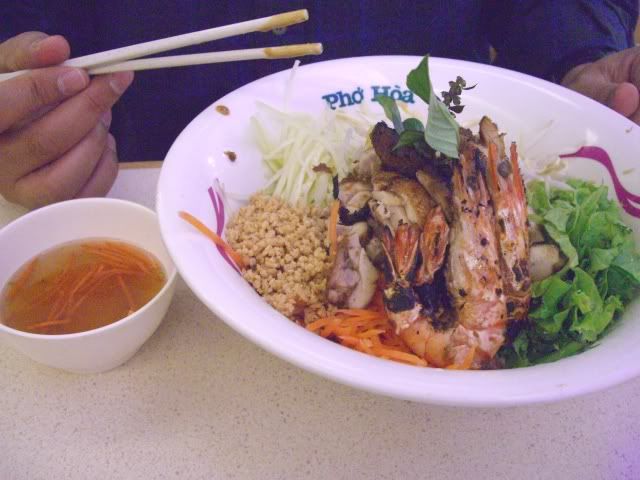 The Chicken and Prawn Salad...
It's basically freshly sliced veggies with a light dressing, mixed with strands of noodles and a fairly generous amount of grilled chicken and prawn. Taste-wise, this dish is nice - I liked the well marinated and nicely grilled flavour of the chicken....
All in all, I enjoyed the food at Pho Hoa... I was definately expecting more from this famous international chain of Vietnamese restaurants though, but the prices are pretty decent (around RM 3 to 8 for the starters and RM 10 to 15 for the noodles/ rice dishes) so it's not a bad place to pop in for a relatively healthy and affordable meal.
So, it's: Comfortable but simple casual ambience with friendly service, decent range of rice and noodle dishes on the menu for reasonable prices BUT the noodle texture lacks bite (a little too limp for my taste) and limited selection of desserts.
[ BEGIN EDIT ]
* (April 08)
Good news - the texture of their noodles have improved!
(Specifically: they are no longer limp and forgettable)
At first I thought it may be a fluke but I've been back a few times since it seems more likely that it could be a permanent improvement.
(Cool!)
(Hmmmm, the beef slices are still a little tough though.... *crosses fingers*)
Just thought you should know,
J
[ END EDIT ]
Restaurant Review
Summary Sheet:
Pho Hoa Noodle Shop @ The Curve, Damansara

Taste: 6
Ambience : 6
Service : 6
Price** : RM21/++ per person
Parking: OK

** Approximation - 3 course meal, excluding drinks
Telephone No.: 03-7725 9880
Opening Hours: 11am - late
NO PORK SERVED
OTHER REVIEWS:
-
KL People KL Food
-
Da Wheel Of Life And Happiness
-
CYeat Asian Food & Travel
-
YongKaiLoon.com
TAGS:Food, Blog, Weblog, Malaysia, Restaurant Review, Restaurant Reviews, Damansara, Shopping Centre, Heatlhy Food, Vietnamese, Pho Hoa, The Curve, Kuala Lumpur, KL