Finally! An update: More yummy food in One Utama Shopping Centre old wing....
[ BEGIN EDIT ]
(March 08)
Yay!
They have expanded very quickly - now there are Shihlin outlets at most major shopping centres in the KL/ PJ area (eg. Pavilion, Gardens, Sunway Pyramid) and even Dataran Pahlawan Melaka Megamall - Melaka.
(And after eating the Oyster Mee Sua/ XXL Chicken so many times, I'm still not sick of it! Still love it, in fact... although I wish they would have more choices for drinks - somehow I feel the soya bean clashes with the yummy food)
Anyway, just wanted to let you know.
:)
Ciao,
J
[ END EDIT ]
I had always wondered why this little shop in 1 Utama Shopping Centre was so popular and now, thanks to my friend Ken, I know why!
The Dinner:
Shihlin Taiwan Street Snacks, which is located near the TGV cinema in the old wing (top floor) is the epitome of "cheap and good food but darn uncomfortable setting".
There is almost no place to sit down and eat in the cramped eatery as the kitchen seems to take up about 80% of the space, with a couple of stools and tiny tables at the side if you insist on dining in: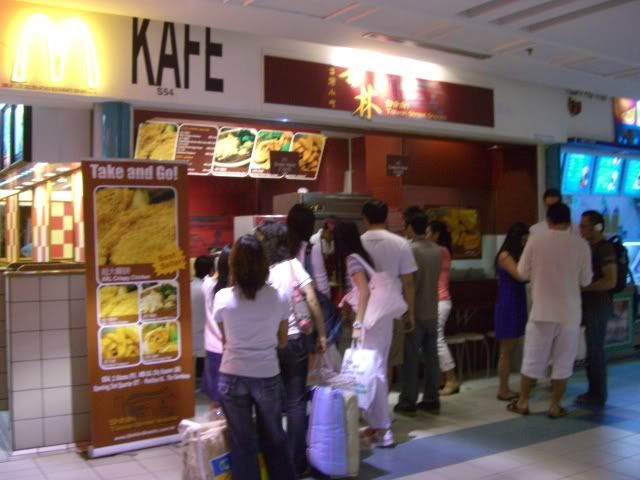 Long line at the restaurant...
Another downside to this little restaurant is that there is an extremely limited menu - they only serve
4
food items - the XXL Crispy Chicken (RM 5.50++), Seafood Tempura (RM 5.50++), Crispy Floss Egg Crepe (RM 5.50++) and Handmade Oyster Mee Sua (RM 5.50++) and 2 drinks - Soya bean and water: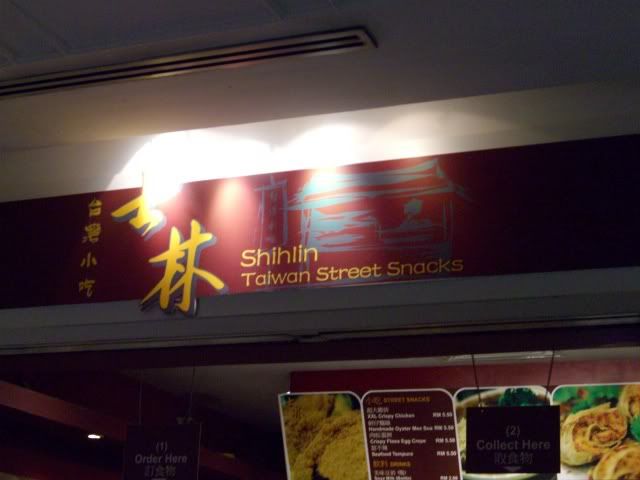 A look at Shihlin...
The good thing though - since their menu is SO focused, everything tastes good!
Ok. Well, I thought everything was nice except the Tempura Seafood:
The Seafood Tempura...
The texture of the Seafood Tempura is kinda spongey (a bit like fish cake) and a bit starchy but with very little flavour of any seafood....
Still, 3 out of 4 isn't bad, right?
We tried the other 3 dishes - the Crispy Floss Egg Crepe, XXL Fried Chicken and the Oyster Mee Sua - and they were all
delicious
: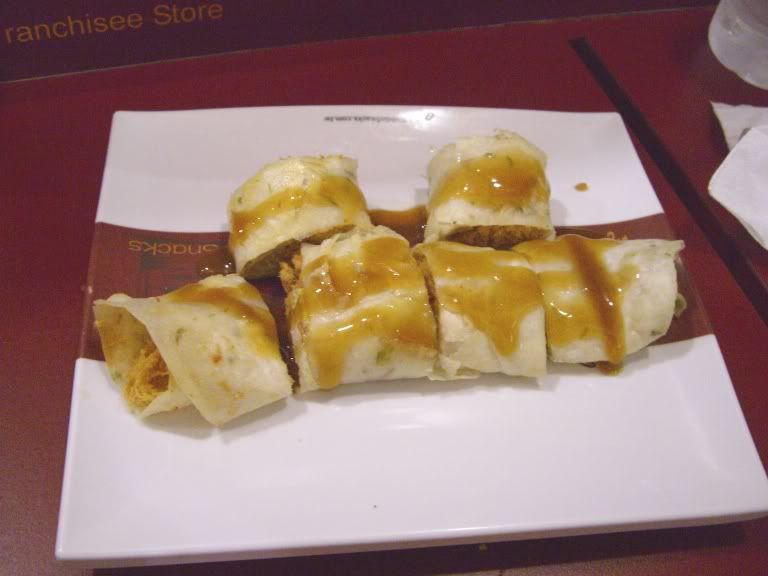 The Crispy Floss Egg Crepe...
This simple dish, fluffy chicken floss rolled in a firm "skin" of egg crepe and drizzled with some slightly sweet but savoury sauce was a nice light appetizer.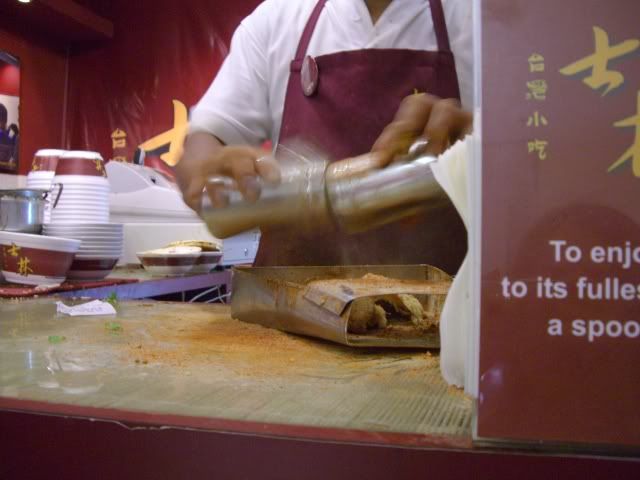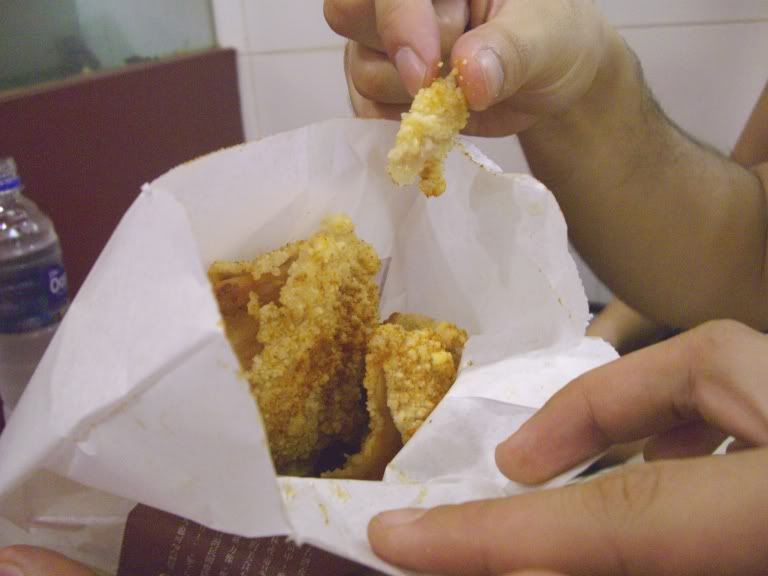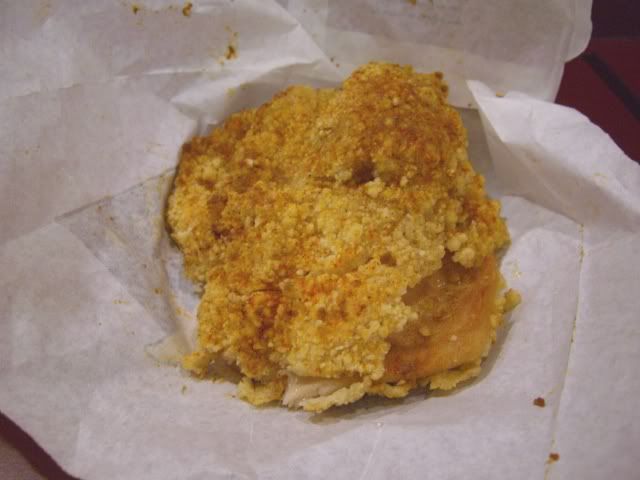 The XXL Deep Fried Chicken...
As for the chicken - WOW.
(I am never eating KFC again)
The tender meat, encased in super crispy and tasty batter was just perfect. You can choose to have it without the optional chili powder but I think that gives it that extra kick.
(WARNING: Practise caution when eating it. Be patient! It's molten hot when they first serve it.........)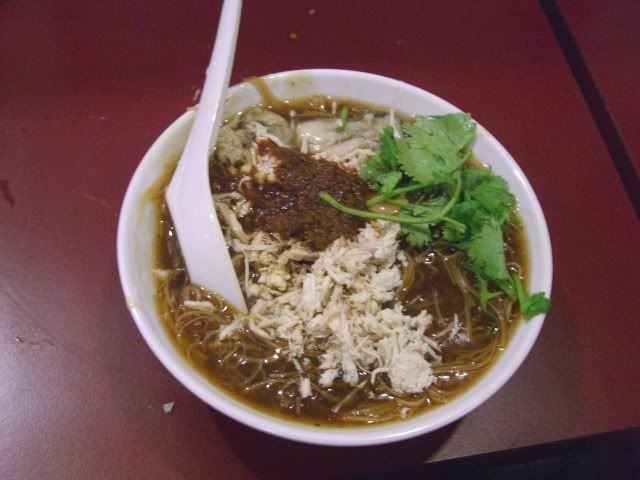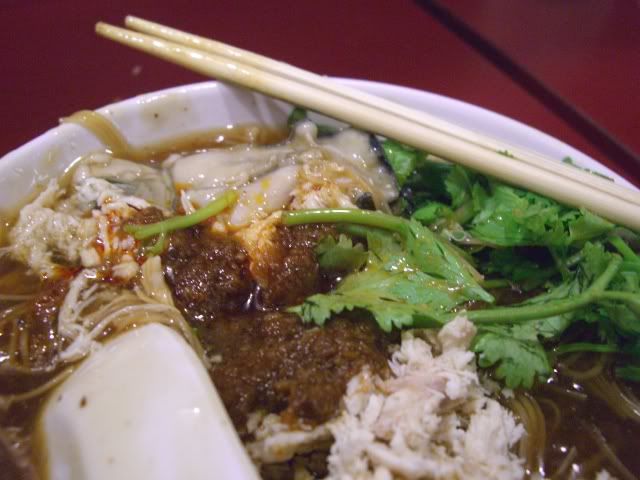 The Oyster Mee Sua...
Lastly, the Oyster Mee Sua...
*eyes glaze over*
What a wondrous combination! - Thick savoury soup, tender silky strands of mee sua, fragrant coriander and shredded chicken, topped with a big, fat (and surprisingly fresh) oyster. Again, they let you choose whether you want the chili sambal thingy or not but I really think that it gives it that extra zing without making it too spicy.
Ok.
So the service is a little gruff, they refuse to do anything "special" like actually cut the lava hot deep fried chicken into smaller pieces, almost everything is served in a paper bag and it's very uncomfortable to dine there (seats are so limited and uncomfortable!)... but still, I plan to go back soon.
(What can I say? I suppose I'm a glutton for punishment)
:)
So it's: Extremely reasonable prices for delicious food BUT gruff service, uncomfortable to eat in and extremely limited menu.
Restaurant Review
Summary Sheet:

Shihlin Taiwan Street Snacks @ One Utama Shopping Centre (Old Wing)

Taste: 8
Ambience : 3
Service : 4
Price** : RM 11/++ per person
Parking: Difficult on weekends

** Approximation - 2 course meal (they don't have desserts here), excluding drinks
Telephone No.: -
Opening Hours: 11am till late
NO PORK SERVED
OTHER REVIEWS:
-
Masak-Masak
-
Kampung Boy City Gal
-
Wantan Productions
-
The Poop Shoot
-
Mark's Makan
TAGS: Food, Blog, Weblog, Malaysia, Restaurant Review, One Utama Shopping Center, 1 Utama, Shilin Taiwan Street Snacks, Shopping Centre, Bandar Utama, KL, Kuala Lumpur