Yummy soups and other food in One Utama Shopping Centre....
[ BEGIN EDIT ]
(Apr 2010)
HELP.
I thought Zuup was just closed for renovations but now it looks like another restaurant has taken over their spot in One Utama. :(
Does anyone know what happened to them? Have they relocated? *VERY HOPEFUL*
Wants her yummy soup back,
J
[ END EDIT ]
This small and cosy restaurant on the Lower Ground Floor of One Utama (Old Wing), has been open for as long as I can remember but I had never ventured in.... So, last week (as I was doing my Christmas shopping), I decided that it was high time I tried it out.
The Lunch:
As they specialise in soup here, there is a good range of soups on the menu. What I especially liked is that they have 3 serving sizes for you to choose from (small cup for RM 6.90++, medium bowl for RM 9.90++ and large bread bowl for RM 12.90++).... so you can actually have the soup as a light meal by itself, or just to complement your main meal.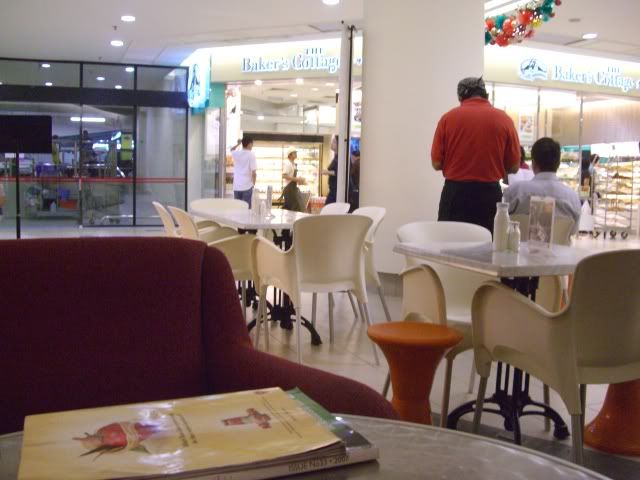 In the Interior of Zuup, looking out...
They have also recently extended their variety of mains (according to the friendly waiter) so there are quite a few starters/ salads/ sandwiches/ pastas/ other mains and desserts to choose from.
After some deliberation, I decided to try the Baked Potato Skins (RM 6.90++) as a starter:
The Baked Potato Skins...
Overall, I wasn't impressed with it - although the potato itself was just nice (fluffy and moist texture, without any starchiness), the overall taste was rather bland as the cheese and ham were pretty much tasteless.
(A liberal dose of salt and this was quickly fixed though)
Moving on, I chose a Medium Bowl of the Lamb Goulash (RM 9.90++) as my main: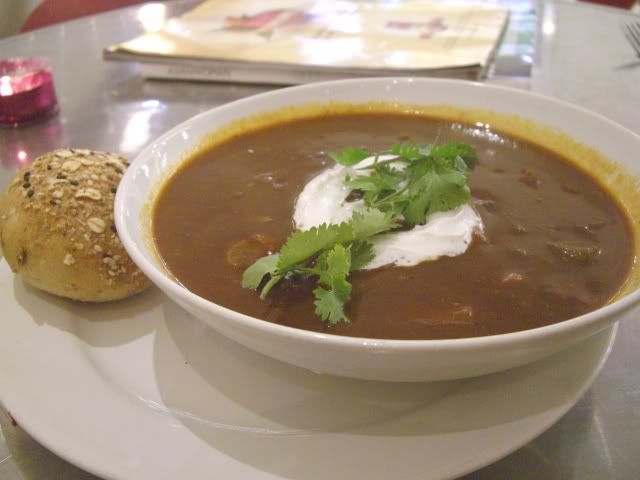 The Lamb Goulash (medium size)...
Mmmmm.
Delicious!
Loved the thick texture of the soup, rich with spices and chunky vegetables (carrots, celery, etc.... all wonderfully tender). The pieces of lamb were also pretty good (medium tenderness) and made this a great light meal.
Sadly, I didn't have any space for dessert after that (although there were some that sounded pretty interesting) so that's it for now.
(FYI: I'm sorry but you're going to have to put up with my restaurant reviews having slightly less menu items featured (as compared to before).... I am now single, and will therefore dine alone more often (as compared to before) and I definately cannot afford to order lots of food and just waste it)
(Just bear with me, ok?)
Anyway, I enjoyed my meal there and have made a note to go back soon to try out the other yummy sounding soups.
(I LOVE SOUP!)
:)
So it's: Good variety of soups (available in 3 serving sizes) and various pastas/ other mains, casual setting, reasonable prices and friendly service BUT nothing much to complain except that service (although friendly) could have been a bit faster.
Restaurant Review
Summary Sheet:

Zuup Soup Bar @ LG, One Utama Shopping Centre

Taste: 6
Ambience : 6
Service : 7
Price** : RM 26/++ per person
Parking: Difficult on weekends

** Approximation - 3 course meal, excluding drinks
Telephone No.: 03-7728 3698
Opening Hours: 11am till late
NO PORK SERVED
OTHER REVIEWS:
-
Babe In The City
-
Brought Up 2 Shar3
-
Living In Food Heaven
-
Da Wheel Of Life & Happiness
TAGS: Food, Blog, Weblog, Malaysia, Restaurant Review, One Utama Shopping Center, 1 Utama, Zuup Soup Bar, Shopping Centre, Bandar Utama, KL, Kuala Lumpur