How fleeting life is.
They say that lightning never strikes the same place twice - more and more I'm finding out that this old adage is not true.
Hurricane Katrina , then Hurricane Rita.
Bali Bombing No. 1 and now, Bali Bombing No. 2.
I watched the footage on the news before going to sleep last night...
It made me feel sick.
Backpackers sitting innocently in a pub in Kuta, having a laugh while drinking cheap Balinese beer....
(That pub that looks scarily familiar... I think I walked past it many times when I visited Bali...)
Tourists and their families eating at Jimbaran beach, enjoying the beautiful sunset and the sounds of the waves crashing on the sands......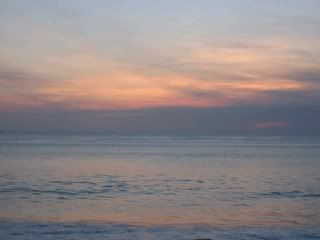 A sunset at Jimbaran beach

... and then suddenly, they become the sacrificial lambs to someone else's cause.

*sigh*

Why must this be the way of the world?
TAGS: Weblog, Blog, Malaysia, Personal, Bali Bombing