Amazing turnout for dinner this week at
Paddington's House of Pancakes
. I think it's our top score to date (18 attendees in all - ranging from uni friends to high school friends to blog buddies to much missed visitors from out of state)
(hmmm... let's try to get them all in one breath:
*breathe in*
TherewasMe,Chai,
JJ
,Jo,
Lenny
,
Pattar
,
HueyYee
,Lisa,
ChenHoe
,Sam,
Albert
,Z,Melvin....
*gasp*
... and Lenny's blog friends -
psssst, so sorry girls, didn't really get your names - my fault
...)
The Dinner:
Dinner commenced with much deliberation by all attendees over which type of pancake to order... (There are so many choices - all of which sound so tempting)
Huey Yee
and Lisa had a scrumptious breakfast style pancake+scrambled eggs+(beef)bacon which they said was really nice...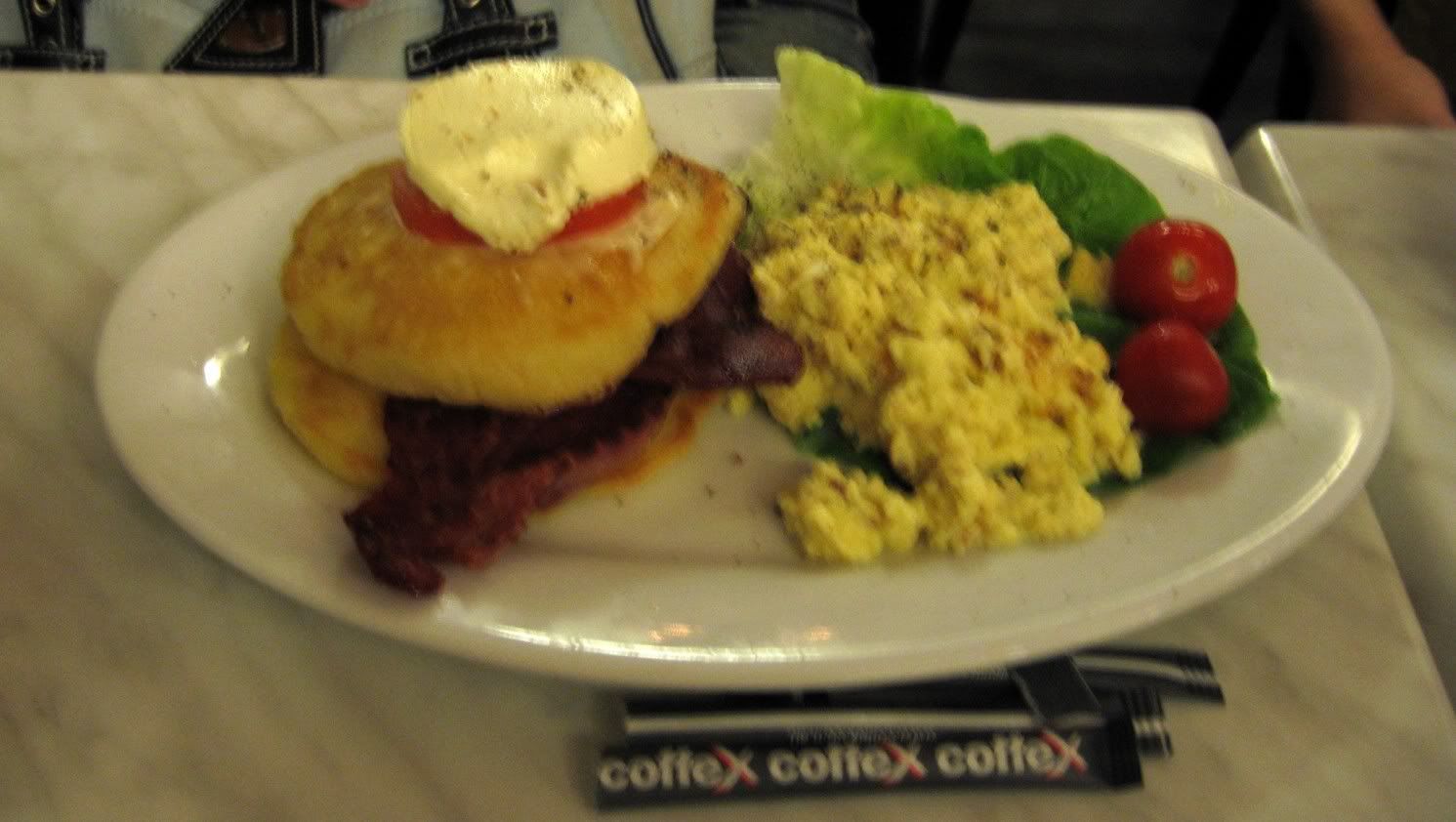 Sin on a plate part 1


I finally settled for a yummy pancake+lambchops+mash potatoes combination which turned out great! Mmm.... the lamb was tender and juicy, the mint sauce was delicious and the pancakes... *drool* ....
Mmmm... perfect: crispy on the outside and fluffy on the inside.....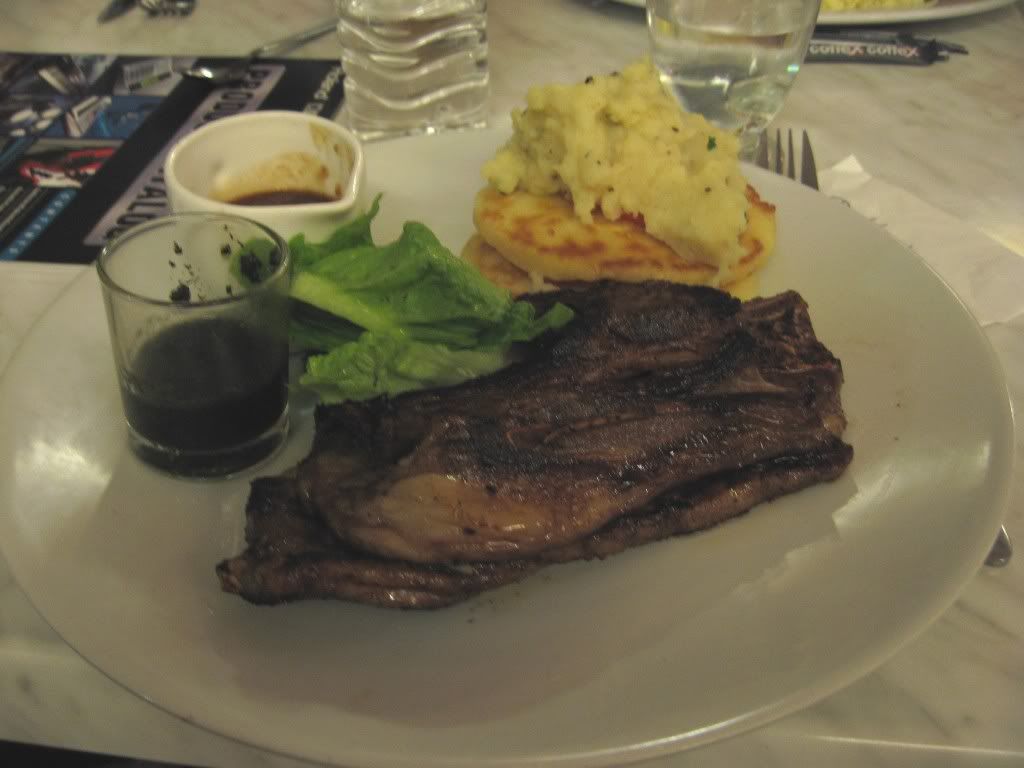 Sin on a plate part 2


Other pancakes that I would recommend are the American style "burger" pancake and the Mexican style pancake.

The waitress looked a bit grumpy (as usual) but *sigh* that's the way it is when a restaurant becomes too popular and the staff feel overworked.
Oh well.
I suppose it's still ~acceptable~ 'cos it's not a fine dining place.

(Grrr, if the pancakes weren't so d@mn good, I really wouldn't bother going back - I don't like having to pay a 10% service tax for someone to serve me with daggers in their eyes and a permanent scowl attached to their face)

If I had to summarise the whole experience in 2 words though, it would be:
Delicious.
Satisfying.

I love going to Paddington's.
Their pancakes, both the savoury and sweet variety, are something really refreshing in the Malaysian food landscape. It also helps that the pancakes are voluminous in variety and delicious in taste.
(at prices which do not hurt the wallet, to boot!)

What would I recommend at Paddington's?
It would be hard to narrow down to just a few selections!
So far, everything that I have tried has been good so just go crazy and choose whatever.

It's a great place for a lazy weekend brunch or a casual dinner with family and friends.

Paddington's

Restaurant Review
Summary Sheet:
Paddington's House of Pancakes @ The Curve

Taste: 8
Ambience : 6
Service : 5.5
Price** : RM 35/++ per person
Parking: Ample

** Approximation - 2 course meal, excluding drinks
Telephone No.: 03- 7726 2382
Opening Hours: 11am - 11pm
HALAL
The After(-Dinner) Party:
We then moved on to Hartamas to check out the new bar that
Pattar
had been
~dying~
to visit - the Clear Bar, situated at Plaza Mont Kiara (right next to the Starbucks).
It was a cute bar.

It looks tiny from the front, but upon entering it, suddenly reveals that there is actually a rather large back section.
The bar had many comfy couches and a tasteful minimalist decor.... with white and silver and blue being the main colours in their theme.
(Oh, just so you know, you can make bookings for Clear at 03-6201 9223)
I must say though, the selection of drinks there is rather disappointing.
No cocktails whatsoever listed, but an ok selection of beer sorta made up for it.
(Mmmm.. German beer... yum...)
Chatted with Chai on the importance of drinking Chinese herbal soups.
(Good for health and delicious too!)
:)
During the night,
Pattar
received yet more birthday gifts, from
Huey Yee
this time...
(a cute Mr. P mug (with Mr. P's
~naughty bits~
on show *tsk-tsk*) and an adorable but strange magnet of a cow/pig cross-species mutant)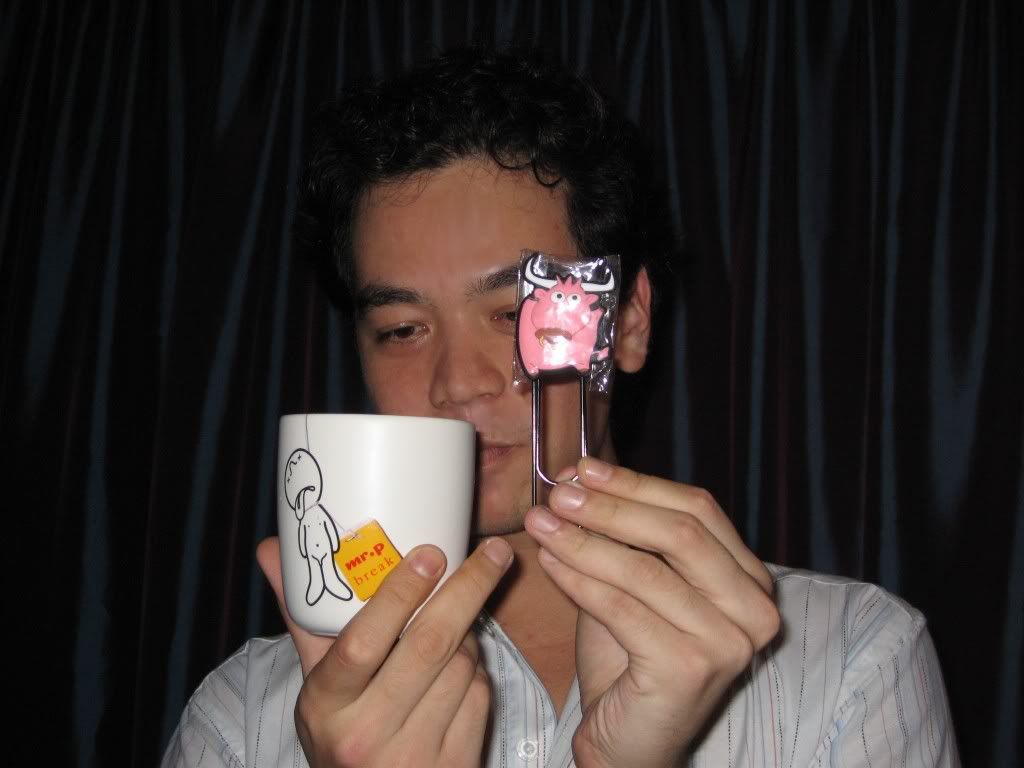 Pat with more prezzies in hand


I had an early night... *yawn*.... left at about 1am while everyone else stayed back for further festivities...
(a sign of old age, perhaps)
(shush! *glare* Not a ~word~!)

Everyone chatting at Clear


Clear @ Plaza Mont Kiara

B-OG-03, Plaza Mont Kiara, No.2 Jalan Kiara,
Mont' Kiara, 50480 KL.
Tel : 03 - 6201 9223

Opening Hours
Mon to Sat: 8am - 1am
Sun: 8am - 11pm

Happy hour: 4pm - 8pm

It was a fun night nonetheless.
So, who's on for
Top Hat
restaurant next week?
TAGS: Food, Blog, Weblog, Malaysia, Restaurant Review, Restaurant Reviews, The Curve, Curve, Paddington House Of Pancakes, Pancakes, Kuala Lumpur