New-ish restaurant serving local favourites at the base of Casa Tropicana condominium (Tropicana golf club area)....
P and I were passing by the new Casa Tropicana condo (in the Tropicana golf club area) when we noticed that there were a few new restaurants opened at the shophouses in the base of the condo.
"Mee jawa!"
, P exclaimed excitedly,
"Let's go try it!"
(Totally ignoring the Secret Recipe outlet and a restaurant/cafe called MJ Cafe)
(He confessed later on that Mee Jawa is one of his favourite foods)
The Lunch
The exterior of Mee Jawa is very inviting, with a cute kampung style setting: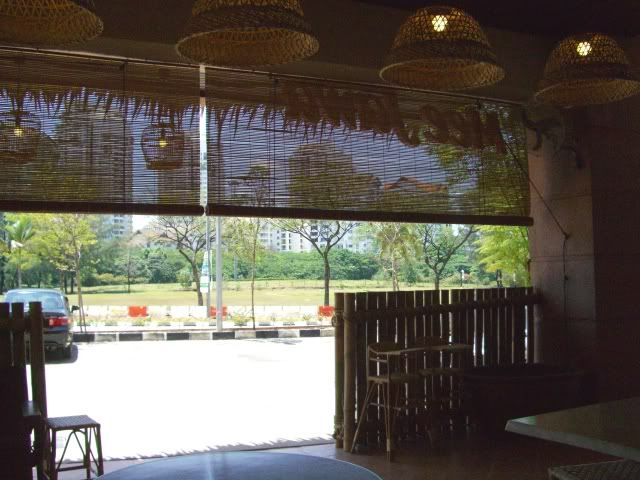 The Exterior of Mee Jawa
Going inside, the interior is similarly decorated - cosy and simple but you can tell the owners put a lot of care into it: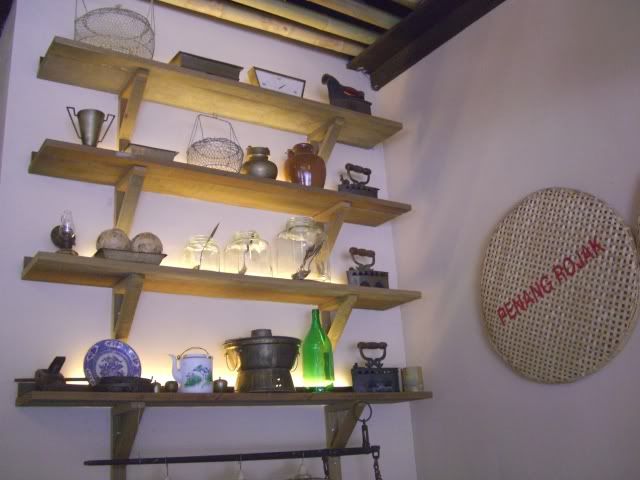 The Interior
That day we were pretty hungry so we sampled 3 of the restaurant's specialties. First up, the Assam Laksa (about RM7++):
The Assam Laksa
If you like assam laksas with a thick soup that's not too spicy and has a sweet taste, then you will probably like this.
(I don't like sweet assam laksas though so I didn't enjoy it too much...)
Next up, we tried the Curry Chicken Nasi Lemak (about RM8++):
The Nasi Lemak Kari Ayam
Overall, it was ok.
Not fantastic but not bad either.
The curry chicken was tasty but only moderately tender, the rice was fairly fragrant and the sambal was thick but a bit sweet.
Lastly, of course we sampled the trademark of the restaurant, the Mee Jawa (about RM7++):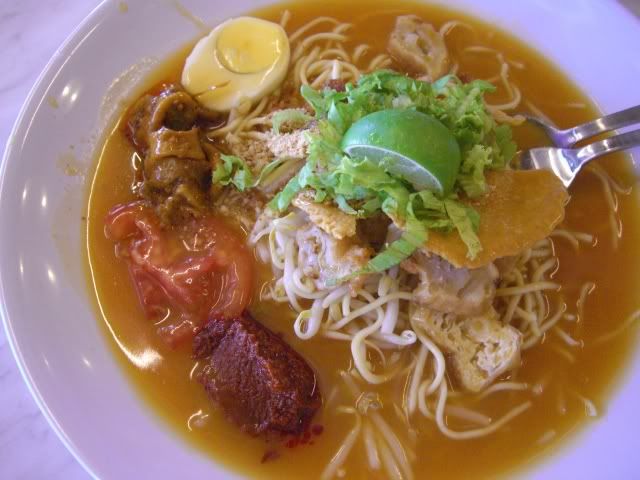 The
Mee Jawa
I found the serving size a bit small (not enough for big eaters like me - haha) but liked it.
:)
The sauce was savoury and thick (but not too thick). The crispy crackers,tofu, egg and small serving of sambal and sotong also complemented the noodles very well and it tasted especially good with the lime squeezed on.
(All in all a nice light meal)
So, the place wasn't exactly perfect (some of the food was only ok) but I wouldn't mind going back again to try the Mee Jawa again in this nice neighbourhood restaurant.
So it's: Ok tasting local favourites, nice cosy "kampung style" ambience BUT prices (although fairly reasonable) are not that cheap.
Restaurant Review
Summary Sheet:
Mee Jawa @ Casa Tropicana, PJ

Taste: 6
Ambience : 7
Service : 6
Price** : RM12/++ per person
Parking: OK

** Approximation - a main meal and side dish, excluding drinks
Telephone No.: 03-
Opening Hours: 12noon - 10pm
NO PORK SERVED
OTHER REVIEWS:
-
Jule's Eating Guide To Malaysia
-
Glutton Queen
-
Cumi & Ciki
-
Simple Life
TAGS:Food, Blog, Weblog, Malaysia, Restaurant Review, Restaurant Reviews, Petaling Jaya, Casa Tropicana, Mee Jawa,PJ, Kuala Lumpur, KL