Another convenient yet delicious place to try out Singapore Hokkien Mee....
(This will be a super quick food update)
Looking for a decent plate of Singapore Hokkien Mee whilst you are shopping in the Orchard Road area in Singapore?
Well, look no further!
There is an extremely decent one served up in Food Republic, the food court on the top floor of Wisma Atria (that's the blue coloured shopping centre right next to Takashimaya):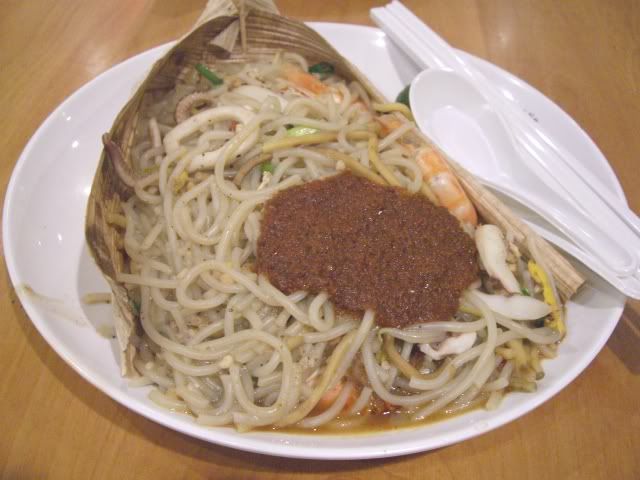 The Hokkien Mee!
Overall, the texture and taste of this dish was good:
- Noodles were not starchy,
- Decent amount of seafood (squid and prawns) for the price,
- Right amount/ balance of tasty sauce, not too wet yet not too dry, and
- Thick sambal that was fragrant and not too spicy.
(My only complaint is that they didn't deshell the prawns for lazy buggers like me)
Another specialty at that Hokkien Mee stall is the "Orr Chien" (oyster ommelette?):
The "Orr chien" there...
It was just a tad too oily for my tastebuds but tasty nonetheless, especially with a dab of the yummy chili sauce that had a nice sour zing to it.
If there's one thing I have to warn you about venturing here though is that you must be prepared to possibly wait a long time for the noodles (there's usually a looooong line at this stall). When you finally get your hands on that yummy plate of Hokkien Mee though, the battle's only half over because you will then have to concentrate your efforts on finding a free table in this popular (i.e. super packed) food court:
A peek at the busy food court area...
So, the thicker your skin the better!
And best to put a strategy in place : Like, one person in the group lines up for food whilst the rest hunt for a table.
:)
So, it's: Convenient, delicious and affordable Singaporean Hokkien Mee (and ok tasting "Orr Chien") in a clean and modern food court in the Orchard Road area BUT Singapore Dollars to Malaysian Ringgit forex tends to hurt the wallets of poor Malaysians like myself and be prepared to fight for a table/ line up and wait for your food!
Summary Information:
Hokkien Mee @ Food Republic Food Court, Wisma Atria, Singapore

Opening Hours: 11am till late.
Phone: -
Address: Top Level, Food Republic Food Court, Wisma Atria Shopping Centre, Orchard Road, Singapore.

NOT HALAL
(Well, to be specific: I didn't see any pork dishes at the Hokkien Mee stall but there were other stalls in this food court which did serve pork. Still, better to be safe than sorry so please make sure you double check on Halal-ness when you order - I don't know whether there are any "secret ingredients" in the dish)

OTHER REVIEWS:
-
Various @ Hungry Go Where
-
I Eat, I Shoot, I Post
-
Eat Like A Cow
TAGS: Food, Blog, Weblog, Malaysia, Restaurant Review, Restaurant Reviews, Orchard ROad, Hokkien Mee, Food Republic, Wisma Atria, Hokkien Mee, Singapore