A new Japanese restaurant and bar in Singapore with a uniquely lush and exotic outdoor ambience ....
Arriving at Dempsey Road, we walked up to Oosh (the first restaurant on the right side of the road) and it looked normal enough - big white bungalow with a modern yet warm design with lots of natural textures like wood and bamboo.
"Pffft..."
, I thought to myself,
"P was telling some tall tales when he said this place has a really nice ambience. Is he really so easily impressed?"
As the restaurant hostess led us past all the main sections of the restaurant to an available table in "The Roof" section though, I was slowly and very pleasantly surprised by the:
1) conventional but sophisticated restaurant setting in "Yen Dining" (indoors),
2) laidback but classy looking bar/ lounge area in "The Bar" and "The Terrace" (indoors),
3) cute little bamboo huts with comfy looking sofas in "The Trellis",
4) romantic, cosy tables in the open air amidst lush greenery and a man made waterfall in "The Garden"
5) cool looking bar/ lounge setting concentrated around a big bar area in "The Lookout", and
6) relaxed and airy setting at "The Roof" with big soft sofas (where our table was situated).
(WAH - the total area of Oosh is so big!)
The few photos I took however, are fuzzy and dark and do Oosh absolutely no justice: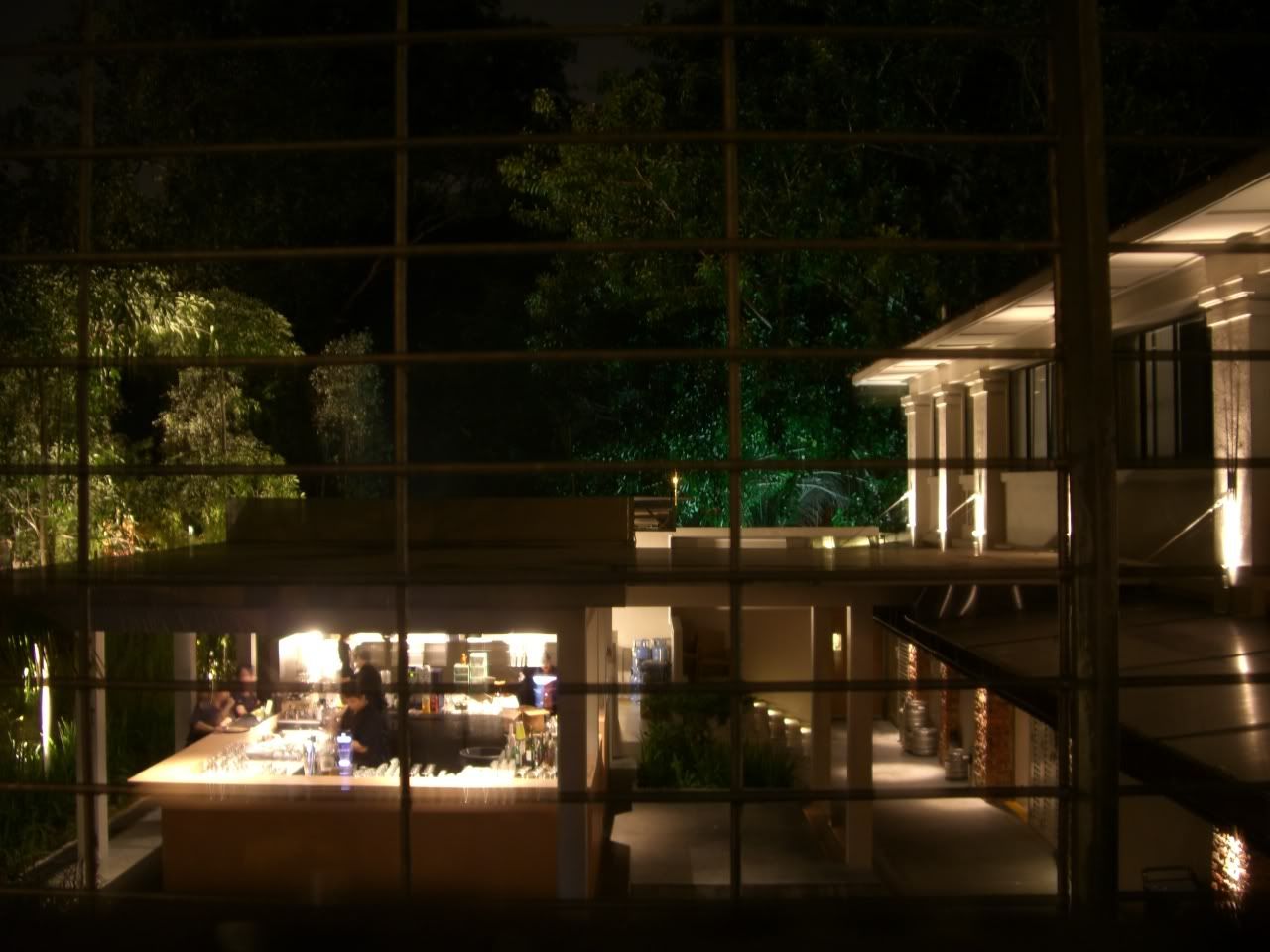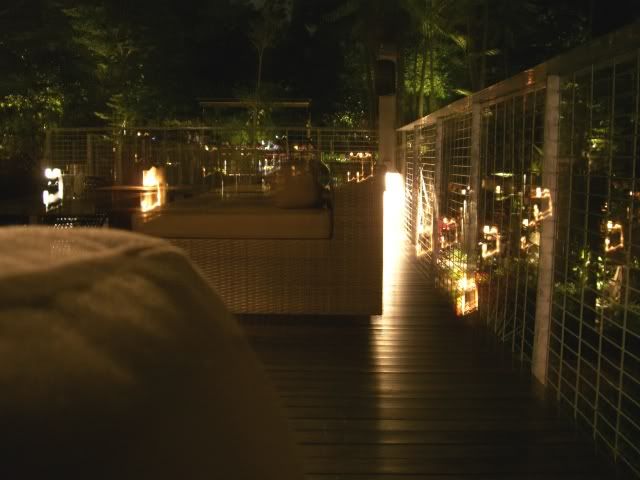 Yen Dining and The Roof....
(For a map and some much better photos, please refer to the
Oosh website
)
I do wonder though, with what looks like more than half of their tables placed in the open air (not covered in any way at all), what will happen when it rains?
(Let that be a warning to only go there when you are pretty sure it will not rain - either that or book a table inside)
Moving on to the food, we were scanning the menu (with the help of a handy flashlight from the waiter) when we were told that there is a limited menu (light foods only - Japanese and some Western) for most of the outdoor sections.
(Apparently the Yen Dining section has the full range of the normal Jap food)
Anyway, we chose to start with the Veal Bratwurst (about SGD$9++) and Grilled Salmon with Bacon (about SGD$12++):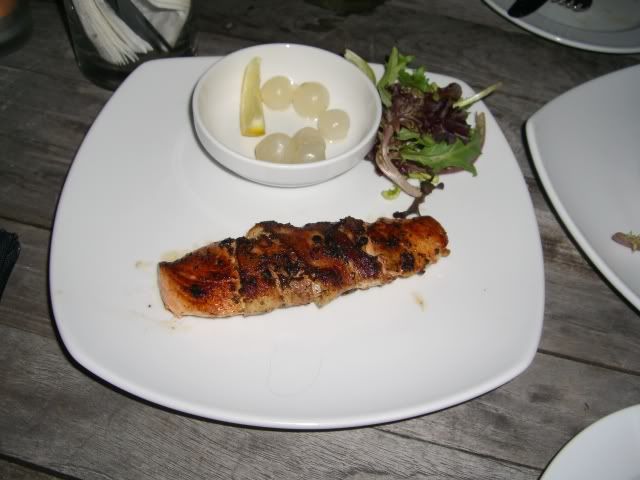 The Veal Bratwurst and Grilled Salmon with Bacon....
Overall, they were OK.....
The servings seemed a bit small but tastewise it was not bad (simple lah).
(I initially thought that the strange combination of fish and bacon would taste weird but it turned out to be ok... Fish was just a wee bit overcooked though)
For the mains, we tried out the Grilled Beef with Miso Sauce (around SGD$23++) and the California Maki (about SGD$15++):
The Grilled Beef and California Maki....
The beef was moderately tender and had a slightly sweet but savoury taste to it (went well with the mustard). Not much to say about the Maki - it was very normal....
Of course, we couldn't skip dessert while we were sitting there counting the stars in the night sky, so we ordered the Black Sesame ice cream (about SGD$5++):
The Black Sesame Ice Cream....
This was also just ok - smooth texture and nice flavour of the black sesame but just a little too sweet for me.
Overall, I enjoyed my dinner at Oosh - LOVED the ambience (apparently the owners spent a LOT of money decorating this place) but the food's really nothing to shout about.
(Apparently the cocktails there are nice though - P said that his friends really like the Lychee Martinis there)
Word of caution: This place is fairly new and popular so booking is a must (to avoid disappointment) on Fridays and Saturdays. Also, service tends to suffer a little during peak hours as they may have just a few too little wait staff running around the large areas.
So, it's: Uniquely lush exotic outdoor ambience and romantic setting BUT food only tastes ok, service can deteriorate during peak hours and beware if it looks like it's going to rain!
Summary Information:
Oosh Bar and Restaurant @ Dempsey Road, Singapore
Opening Hours: (Lunch and dinner) 12noon to 2.30pm, 6pm till late.
Phone: +65 6475 0002
Address: 22 Dempsey Road, Singapore 249679.
(For a map and some much better photos, please refer to the
Oosh website
)
NOT HALAL
OTHER REVIEWS:
-
Various @ Yum.sg
-
John's Eats & Trips
TAGS: Food, Blog, Weblog, Malaysia, Restaurant Review, Restaurant Reviews, Dempsey Road, Oosh, Japanese, Singapore