New Cambodian/ Thai/ Vietnamese restaurant in the main Hartamas area (near Finnegan's)
As we continue on our quest to try out new restaurants every week, we noticed this new Asian restaurant opened up in Pat's area (Hartamas).
The Dinner
I don't know what came over us that night. but between the 4 of us (me, P, Pat and Jo-lyn) we ate about 10 different dishes.
O_o
Yes, TEN.
(That's a lot)
Exotic is an Asian restaurant serving a bevy of Cambodian, Vietnamese and Thai dishes. It's located just a bit down the road from Souled Out, where there used to be a mamak and a bar/ restaurant called Cristo's: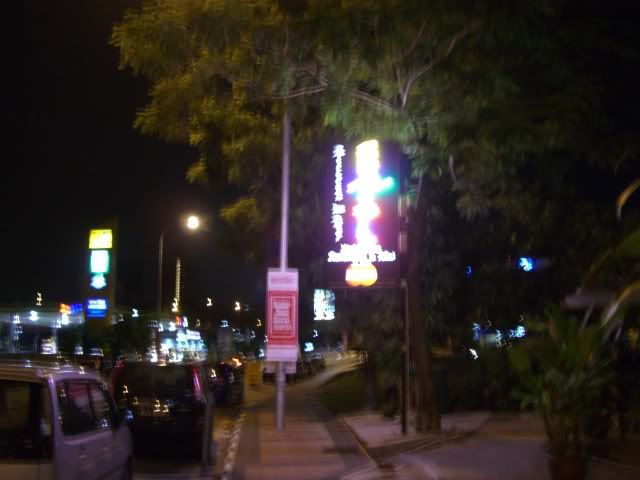 Look out for the bright neon sign on the outside...
The interior is airy, casual and decorated in a way that gives it a comfortable ambience - nothing pretentious or too upmarket:
The interior of Exotic...
As we really had too too many dishes that night, I'll do a quick review of each without going into too much length (or this post may never end)....
Starters:
Chicken Wings with Cambodian Sauce (RM12++):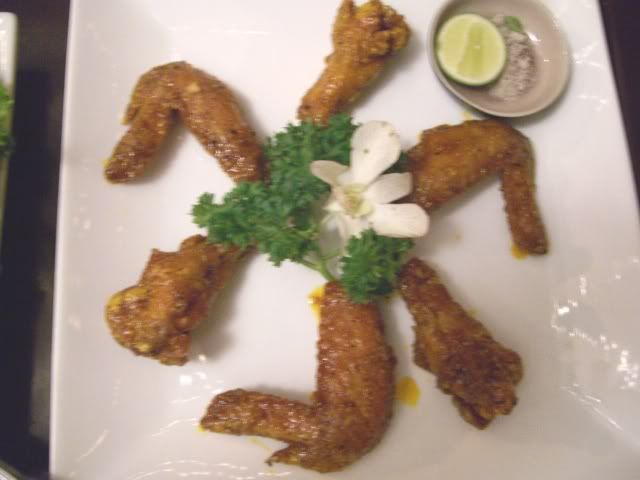 The platter of Chicken Wings...
Verdict:
Not bad. Spicy, sour, tasty. Moderately tender.
Prawn Rolls (RM12++):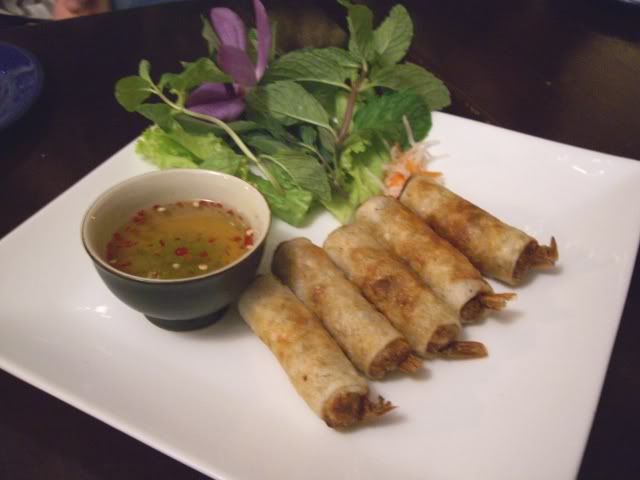 The Prawn Rolls...
Verdict:
OK. Crispy, fragrant, goes well with dipping sauce.
Steamed Rice Cakes (RM12++):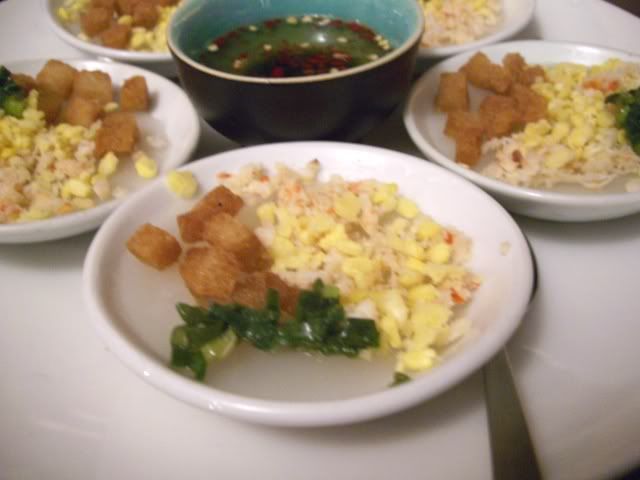 Yummy Steamed Rice Cakes...
Verdict:
Yum! Simple and nice - must add the sauce first (P didn't like this though but he was outvoted 3 to 1)
Mangosteen Salad (RM24++):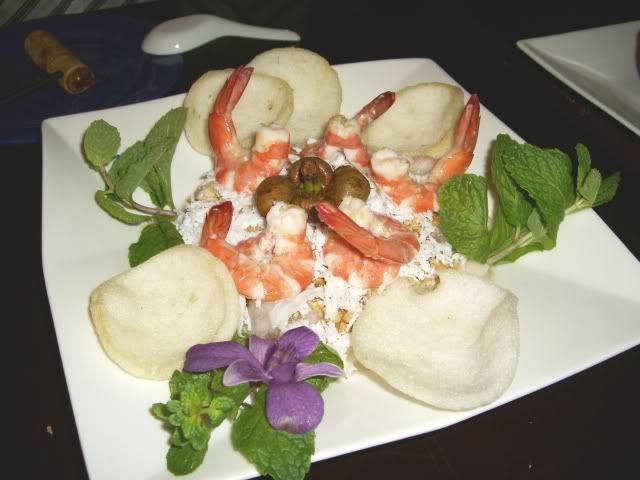 The Mangosteen Salad...
Verdict:
Exotic salad of tropical fruits (coconut, mangosteen, rambutan) and prawns. Mmmm. Didn't like it though. Too sweet.
Mains:
Curry fish (RM15++):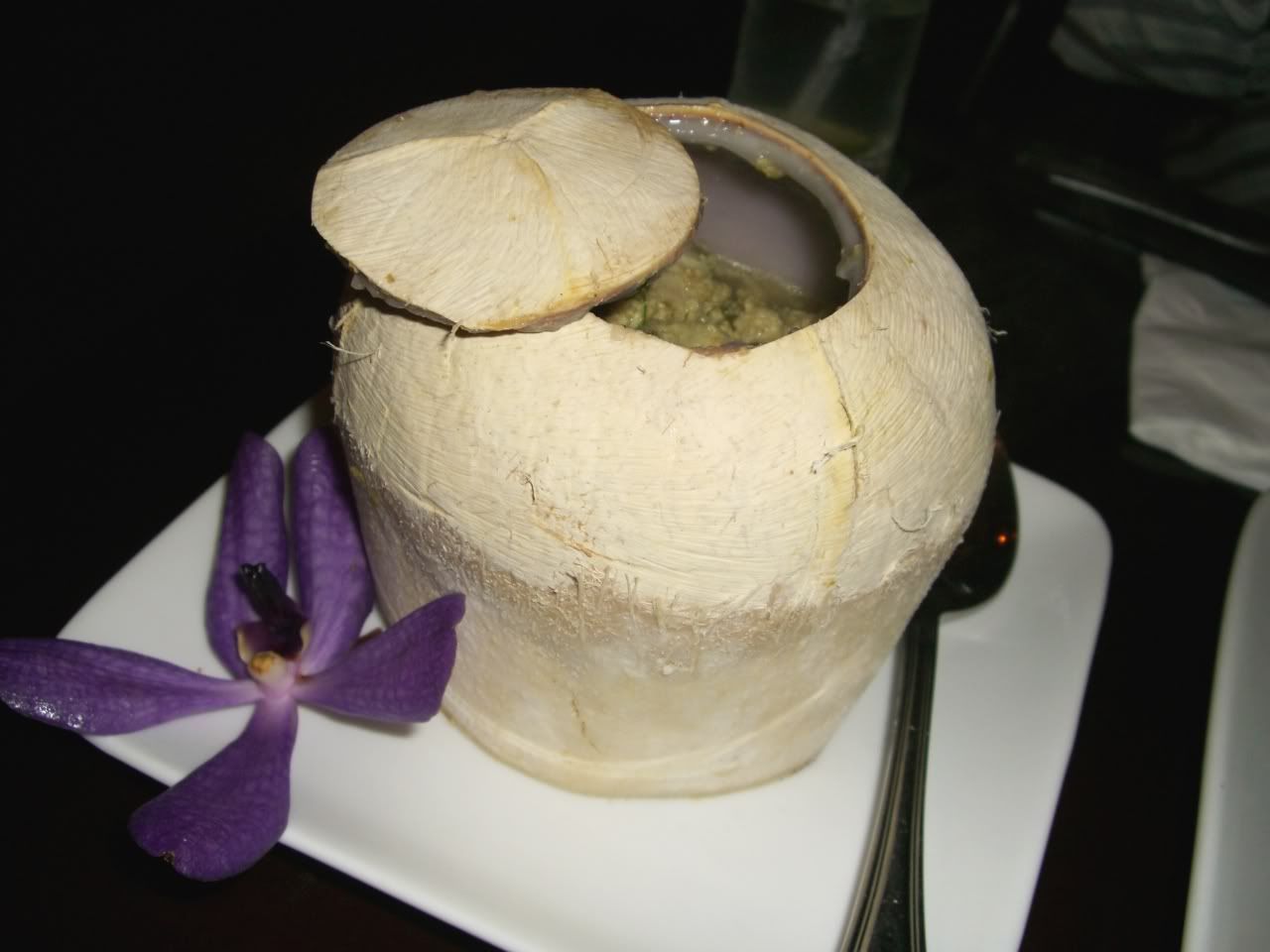 The Curry Fish, served in a cute coconut shell...
Verdict:
Tender fish fillets. Creamy sauce. Tastes like Thai Green Curry. Not bad but.... Ouch. VERY spicy.
Beef stew (RM16++):
The Beef Stew...
Verdict:
Too normal. Savoury with moderately tender chunks of beef and vegetables.
BBQ Squid (RM16++):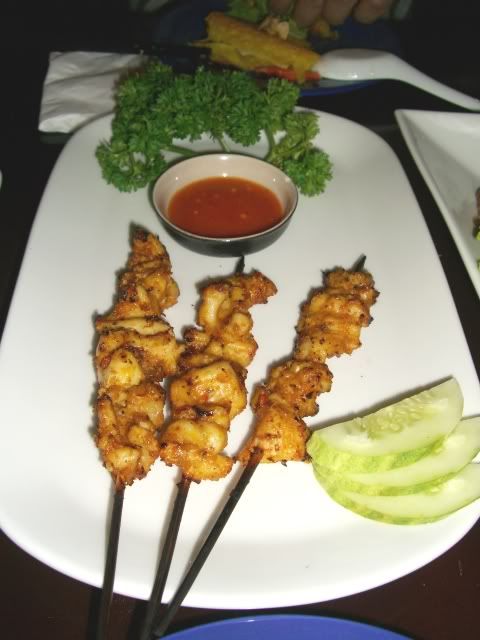 The Barbeque Squid...
Verdict:
Nice springy texture and lovely smokey barbeque taste. Yum. Seems a bit overpriced though.
Vietnamese Crispy Crepe (RM15++):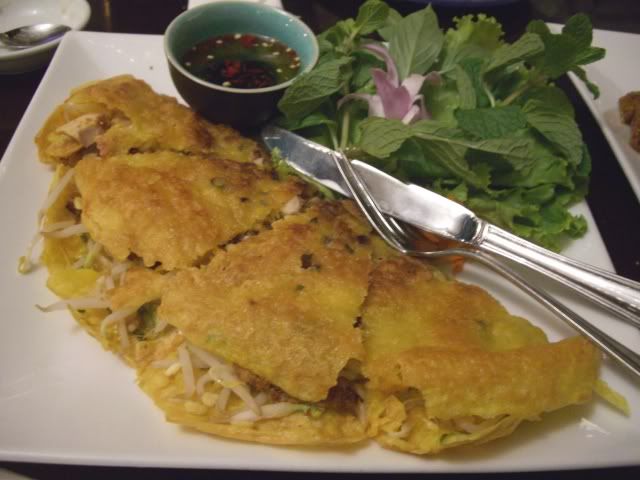 The Crispy Vietnamese Crepe...
Verdict:
Not bad. Crispy crepe filled with vegetables, egg and grilled chicken.
Lamb stir fry (RM20++):
The Stir Fried Lamb...
Verdict:
Also very normal. Nothing bad but nothing great either.
Dessert:
Cambodian Deep Fried Bananas with Caramel Sauce (RM5++):
The Deep Fried Bananas...
Verdict:
Crispy outside and moist inside but the caramel sauce was way too sweet.
Overall, I thought the food was ok.
Of course, P kept harping on about how his favourite Vietnamese place (Sao Nam) tastes so much nicer but I still think Exotic's worth a try. The servings may seem a bit small for some of the dishes but overall, the food there is not bad lah.
:)
So it's: Simple airy ambience with friendly staff, wide selection of Thai, Cambodian and Vietnamese food BUT only tastes ok for the price.
Restaurant Review
Summary Sheet:
Restaurant Review
Exotic Restaurant and Bar @ Hartamas, KL

Taste: 6
Ambience : 6
Service : 7
Price** : RM 55/++ per person
Parking: OK

** Approximation - 3 course meal, excluding drinks
Telephone No.: 03-2300 1196
Opening Hours: 11.30am to 3pm, 6pm till late
NO PORK SERVED
OTHER REVIEWS:
-
KL People KL Food
TAGS: Food, Blog, Weblog, Malaysia, Restaurant Review, Hartamas, Mont Kiara, Exotic Restaurant and Bar, CAmbodian, Vietnamese, Thai, KL, Kuala Lumpur