Mix and match pork dishes in Hartamas....
The Dinner
One night, me and Pat wandered around the main Hartamas area looking for a nice place to have dinner, when we decided to pop into Jarrod & Rawlin's for some food and a beer.
(It's been open a couple of years but I had never tried it before)
The concept at Jarrod & Rawlin's is casual - simple but comfortable. You can choose between the deli setting indoors or the outdoor area next to the "sidewalk" at one of their cute tables (that have been converted from barrels):
Jarrod & Rawlin's interior...
Scanning the menu I initially thought that the range of food here was limited and more suitable for breakfast/ lunch as it seemed to be mostly sandwiches and light food but looking closely at the "Specials" board on the wall and the well stocked display/ chiller, I noticed something different about this place.
Basically, there are a selection of various meats (different cuts of beef, pork, ribs, etc) and sausages (pork, normal, spicy, super spicy, etc). You can choose whichever combination/ amount you want - the guy at the counter will grill them up and serve it to you with 2 side dishes, basically a choice between salad/ mash/ wedges/ fries (The meats are priced per KG and the cooking & side dishes charge is RM10++).
Here's what I chose that night - beef tenderloin, pork ribs and chorizo sausage served with salad and mash: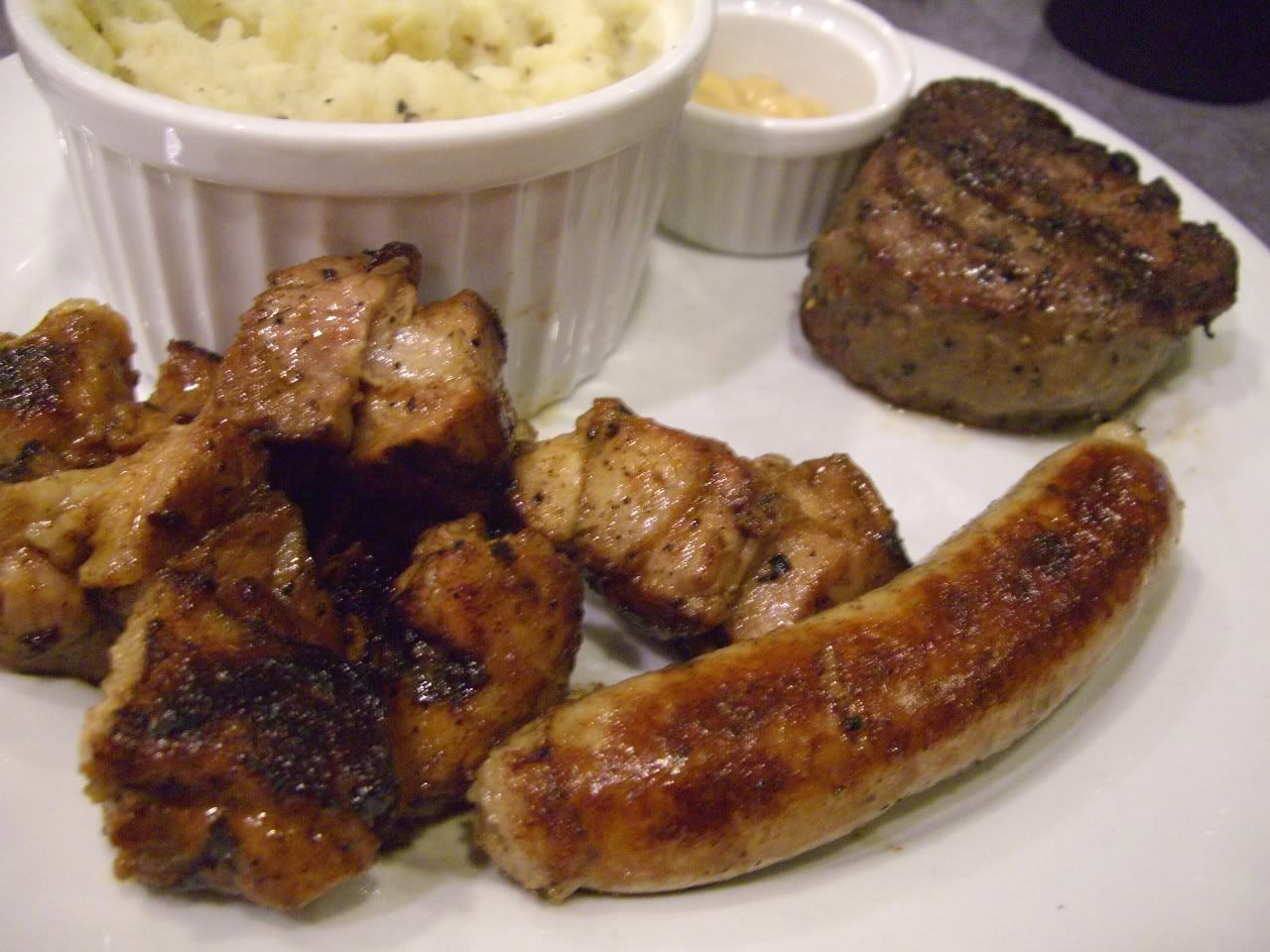 The mixed grill that I chose....
Overall, I enjoyed this dish.
:)
Well, I enjoyed the pork anyway - the pork ribs were well marinated and were moderately tender with a good balance of meat and fat, while the sausage was really tasty and just slightly spicy... The beef though was just a tad tough and not really flavourful.
(My selection came up to about RM38++... I thought it was ok considering the variety and serving size but I don't think I will be ordering the beef again - it was about RM18++)
Oh, the mash potatoes are nice too, btw.
(Pat pinched a lot of it from me! *pout*)
That night we also tried out the burger. They also have a "choose what you want" element as you can opt to have different kinds of meat (beef/ pork/ chicken), toppings and cheeses with your burger. Here's our selection - Beef burger with mushrooms and blue cheese: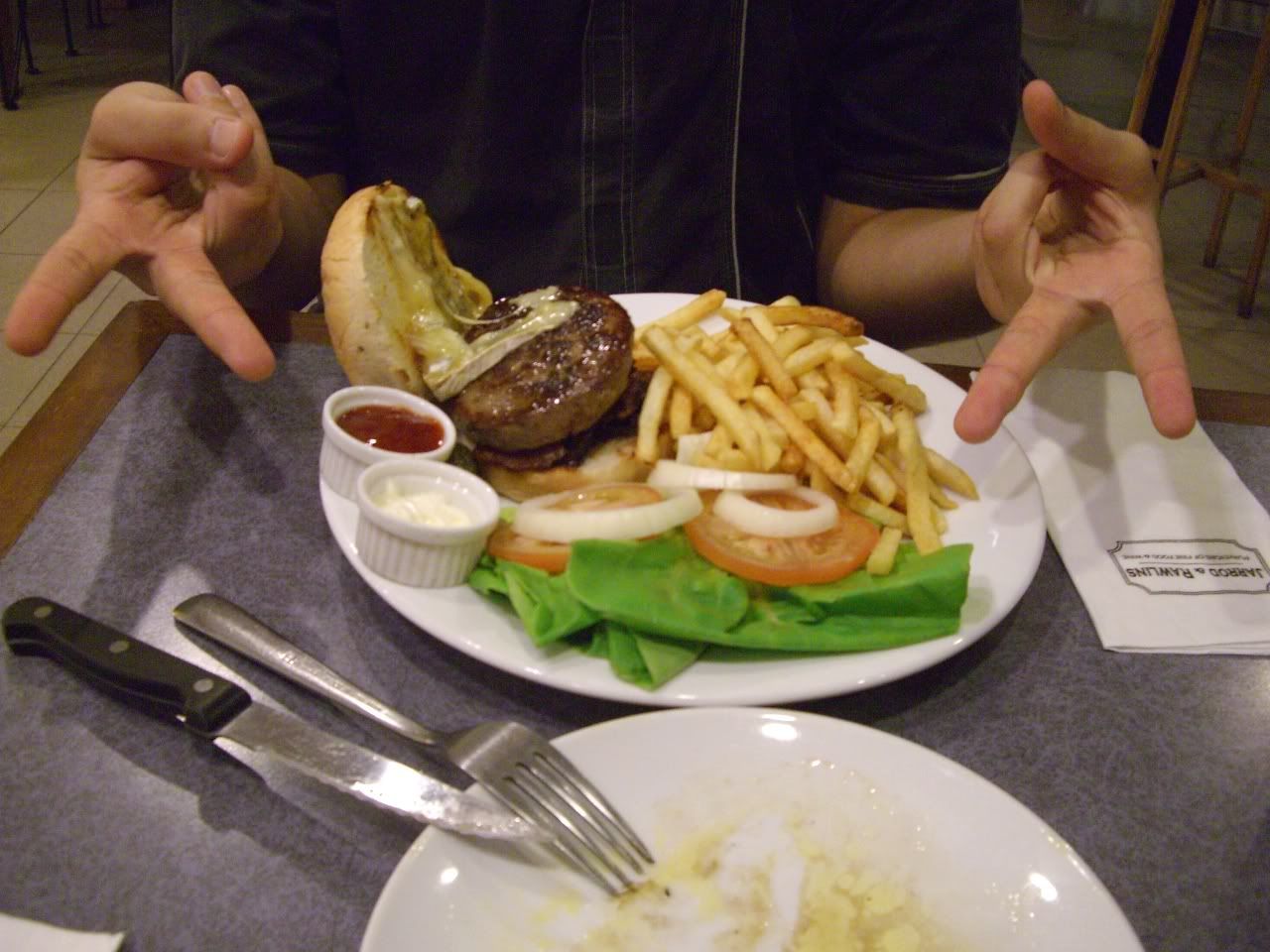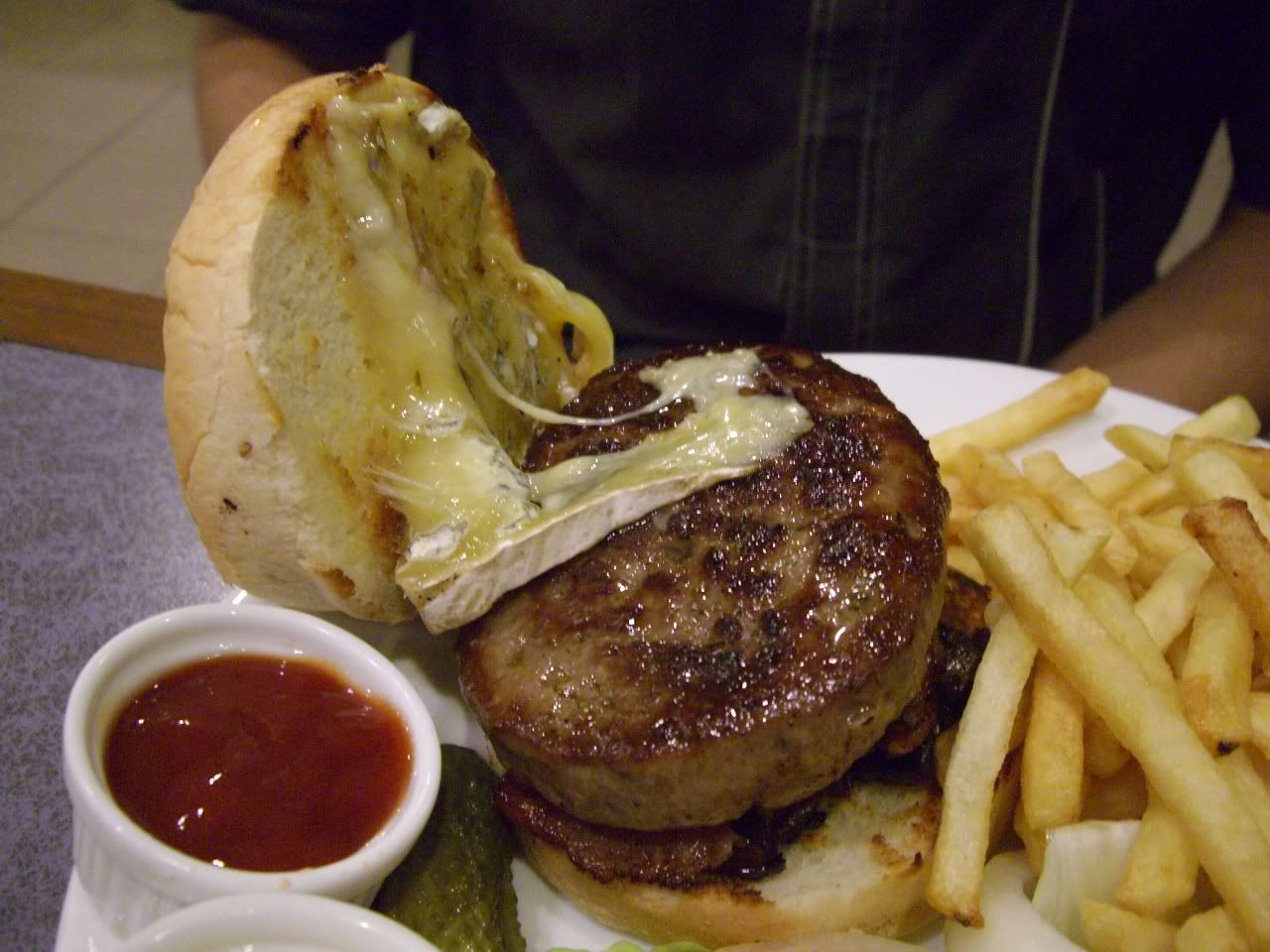 The burger....
Overall the burger was pretty good - the patty was tasty and moderately tender, well complemented by the pungeant aroma of the blue cheese.
Before I forget, we also tried the Portobello Mushroom with Cheese (RM13++ EACH)...
The Mushroom with Cheese
...
..
.
I really don't have many good things to say about this - we had decided to splurge on it as an appetizer, expecting a delicious combination of the full flavoured portobello mushroom, topped with a fragrant layer of melted cheese but what we got was a tasteless piece of something that was supposed to be a mushroom that was drowning in equally tasteless but rubbery cheese.
(Will
never
ever order this again)
We were actually pretty filled up after all the meat so we didn't have any desserts.
(Sorry - no review on the sweet stuff this time)
Overall, I wasn't super impressed with the food at J&R's but I still wouldn't mind going back some time when I feel like having a meaty dish - it's great that you have the flexibility of choosing what you like.
(I've been told that their newer outlet in the Bukit Damansara area is much better than their Hartamas outlet though so maybe it'll be better to try that one out first)
[ BEGIN EDIT ]
(Oct 2007)
For the record, I have finally tried out the newer Jarrod & Rawlins' outlet in Bukit Damansara and yes, it
is
better!
(The ambience - it's set in a nice, breezy 2 storey bungalow - as well as the food)
:)
I had similar dishes there and therefore no new photos & review but I'm glad to state that:
- the mushroom actually turned out to be tasty and flavourful this time, and
- the pork was still yummy and tender.
(The only thing is that the waiting time here is a little longer than the Hartamas outlet because they are more popular - i.e. many more patrons at any given time)
[ END EDIT ]
So it's: Simple setting with friendly staff, good selection of light foods as well as heavier meat dishes and fair selection of beers and wine BUT parking is usually difficult at both outlets and quality of food between outlets may vary.
Restaurant Review
Summary Sheet:

Jarrod & Rawlin's @ Hartamas, KL

Taste: 6
Ambience : 6
Service : 6
Price** : RM 55/++ per person
Parking: Difficult

** Approximation - 3 course meal, excluding drinks
Telephone No.: 03-2300 0708 (03-2093 0708 : Lorong Dungun, Damansara Heights, KL outlet)
Opening Hours: 12noon to 3pm, 5pm till late

Official Website: Jarrod and Rawlins

NOT HALAL
OTHER REVIEWS:
-
KY Eats
-
Places & Food
-
KL People KL Food
TAGS: Food, Blog, Weblog, Malaysia, Restaurant Review, Hartamas, Mont Kiara, Jarrod & Rawlins, Delicatessen, KL, Kuala Lumpur