New restaurant in Bangsar Village 2 by the people behind Cafe Cafe....
There are several interesting restaurants in the new Bangsar Village 2 Shopping Centre but we decided to pop into Banquet that day as I had been curious about it.
(I heard that this was opened up by the people behind Cafe Cafe)
The Lunch:
There are basically 2 choices - you can either dine inside the main restaurant area or in the "outdoor" section in the shopping centre's open area:
Top: The Indoor section, Bottom: The Outdoor section ...
Both areas have a modern and arty theme with white being the key colour, embellished with a few opulent features like crystal chandeliers.
The menu there is pretty eclectic though, with a mix of :
- simple Asian dishes (eg. Prawn Noodles and Fried Rice),
- healthy and exotic salads (eg. Nicoise Salad and Tiger Prawns & Avocado Salad)
- European dishes (eg. Duck Confit and Burgundy Cheek of Wagyu)
... as well as some interesting starters, pastas and desserts.
(Prices for mains vary wildly according to the "sophistication" of the dish - anywhere between RM15++ to RM 69++)
That day we started off with the Wild Rocket Salad (RM 25++) and Tom Yam Soup (RM 13++):
The Tom Yam Soup and The Wild Rocket Salad...
P (FYI: This review is quite delayed - don't be confused: I am not going out with him again) enjoyed the salad with the fragrant wild rocket leaves served with slices of pear, pine nuts, cheese and foie gras sauce... but I found the sweet flavour of the pear and the sauce a bit too much for me.
(I am more of a "salty" person)
The Tom Yam Soup had a generous amount of chicken and seafood and was quite nice - good flavour of the herbs in the smooth broth but it wasn't quite as spicy or sour as I would have liked.
For our mains, we tried the Risotto Porcini (RM 25++) and Pan Fried Salmon Fillet (RM 33++):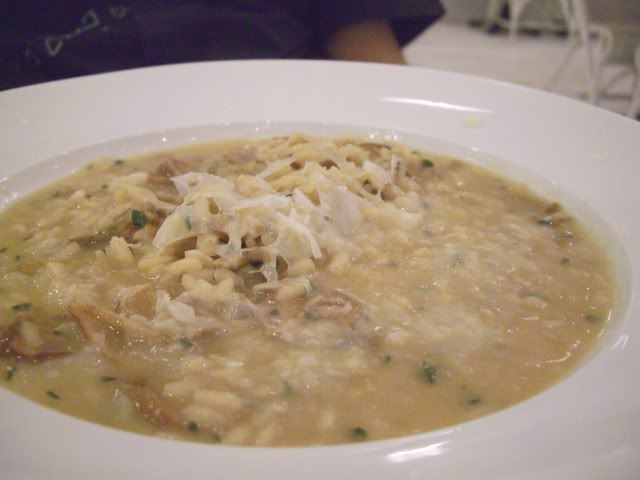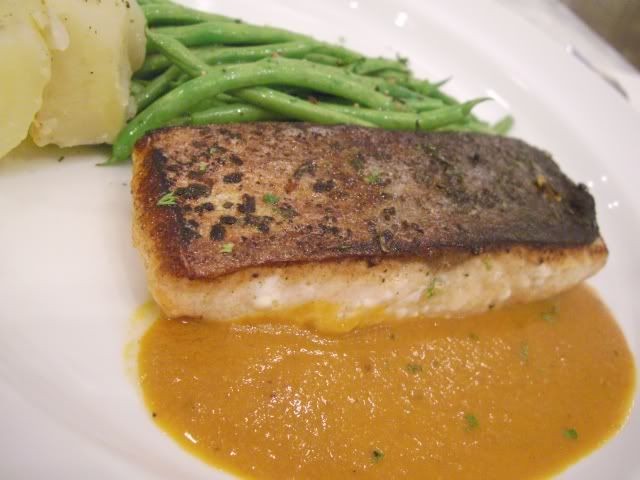 The Risotto Porcini and the Pan Fried Salmon Fillet...
The Risotto was ok... A bit too wet and salty for my tastebuds although the texture of the rice was nice (firm without being too hard - al dente).
As for the fish, it also had a nice texture (crisp skin and moist flakey "meat") but this was on the other end of the taste spectrum from the risotto, as I found it a little too bland.
(The accompanying sundried tomato sauce was nice though... but there was so little of it)
Didn't try any desserts that day but with Cafe Cafe as a reference, probably they're pretty damned good. They have quite a good range there at Banquet: from a simple Crepe (RM 9++) to a much more complex (and expensive) Hot Chocolate Cake with White Truffles Flavour (RM 30++).
So it's: Good variety of Asian and European dishes, nice casual yet sophisticated ambience and friendly service BUT nothing much bad except the food only tastes ok for the price.
Restaurant Review
Summary Sheet:

Banquet @ 1st Floor, Bangsar Village 2

Taste: 6
Ambience : 7
Service : 7
Price** : RM 60/++ per person
Parking: Difficult on weekends

** Approximation - 3 course meal, excluding drinks
Telephone No.: 03-2282 3228
Opening Hours: 11am till late
NO PORK SERVED
OTHER REVIEWS:
-
KL People KL Food
-
Sooyindotcom
-
Masak-Masak
-
A Whiff Of Lemongrass
-
Da Wheel Of Life and Happiness
-
Sweets For My Sweet Tooth
TAGS: Food, Blog, Weblog, Malaysia, Restaurant Reviews, Cafe Cafe, Banquet, Shopping Centre, Bangsar Village II, Bangsar Village 2, KL, Kuala Lumpur