Japanese restaurant in the new Pavilion Shopping Centre, KL....
The Lunch:
My mum loves Jap food so while we were (window) shopping at Pavilion, we decided to pop into Ichiban Boshi to try it out as the chef making soba at the front of the restaurant caught our eye:
Ichiban Boshi from the outside...
Overall, the restaurant was comfortable - bright cheerful design, with many booth seats around the well stocked kaiten belt:
The Interior of Ichiban Boshi...
We didn't feel like picking off the revolving belt that day so we went for the ala carte menu instead. After some deliberation, we started off with a serving of Deep Fried Salmon Skin (RM 4++):
The Deep Fried Salmon Skin...
If I could describe this in a word, it would be: Chewy.
Haha.
Mmmm,.. but seriously it wasn't very good. No fishy taste (which is a plus) but it wasn't very crispy, with some of the thick slices of skin being downright chewy.
Moving on to the mains, my mum had the Unagi Yanagawa (RM 15.90++) and I had the Hiyashi Chuka Soba (RM 14.90++):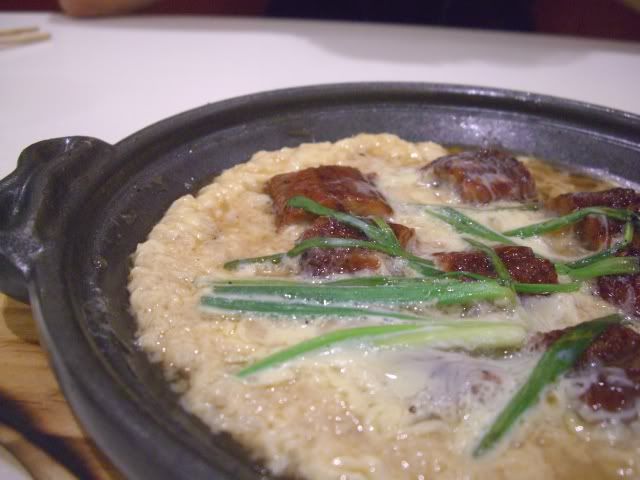 The Unagi and the Soba...
The Unagi, cooked with Egg had a great texture and taste - smooth and savoury - but I found the accompanying sauce a little too salty for me.
(Probably it would have tasted much nicer with rice)
The main selling point of this Japanese restaurant is their freshly made buckwheat soba noodles so I had to try it out.... They have several variation: dry/ soup/ hot/ cold but I had decided to test out the cold version that day.
I really liked this dish - cold soba noodles, served with slices of duck, crabstick, egg and vegetables topped with a savoury sauce. It's not like it was
fantastic
.... just a simple dish that is nice to have when you feel like having something uncomplicated.
(I think they said it was supposed to be a bit spicy but I didn't feel anything)
Lastly, we had the Tempura Ice Cream (RM 6.90++):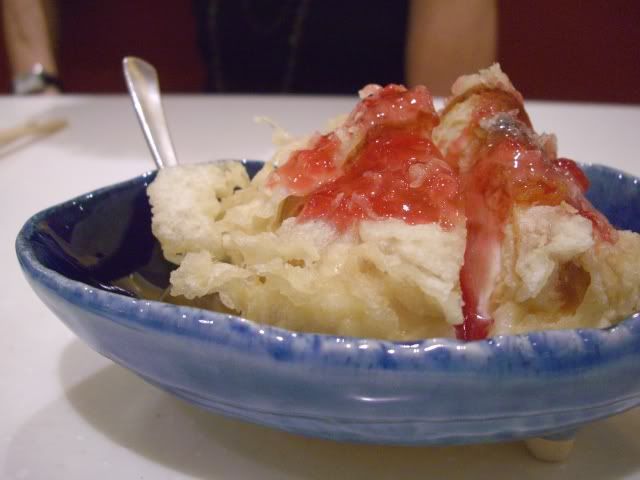 The Deep Fried Tempura Ice Cream...
I found that the vanilla ice cream and the tangy berry sauce balanced the crispiness and slight starchiness of the tempura batter very well. Still, it just tasted ok.
(Very decent price though!)
Overall, I wasn't really impressed with most of the dishes we tried there.... but the prices were reasonable for a Jap place and I did like the freshly made soba so I'll probably venture back some time to try out more variations of it.
:)
So it's: Good variety Japanese sushi/ rolls (on Kaiten belt) and freshly made soba at reasonable prices, friendly service BUT only tasted ok.
Restaurant Review
Summary Sheet:

Ichiban Boshi @ Pavilion Shopping Centre, KL
(near food court area)

Taste: 5.5
Ambience : 6
Service : 7
Price** : RM 35/++ per person
Parking: OK

** Approximation - 3 course meal, excluding drinks
Telephone No.: 03-2141 6621
Opening Hours: 11.30am till 10pm
NO PORK SERVED
OTHER REVIEWS:
-
Places and Foods
-
Cari Makan In PJ
-
Squeak. Speak. Roar!
-
She, the epicuriousgirl
-
Yumi's Place
-
Life Of The Food Lovers
TAGS: Food, Blog, Weblog, Malaysia, Restaurant Review, Pavilion Shopping Center, Ichiban Boshi, Japanese, Shopping Centre, Fresh Buckwheat Soba, KL, Kuala Lumpur