The calorific but delicious sin called Hokkien Mee.....
Here's a quick food post on a sinful but delightfully delicious dinner with my parents.....
That night, my mum suggested we go for one of her favourite Hokkien Mee stalls at a coffeeshop called Restoren Tong Fong in the Sea Park area (This stall had previously been operating at night in the Restoren O&S in nearby Taman Paramount before they relocated):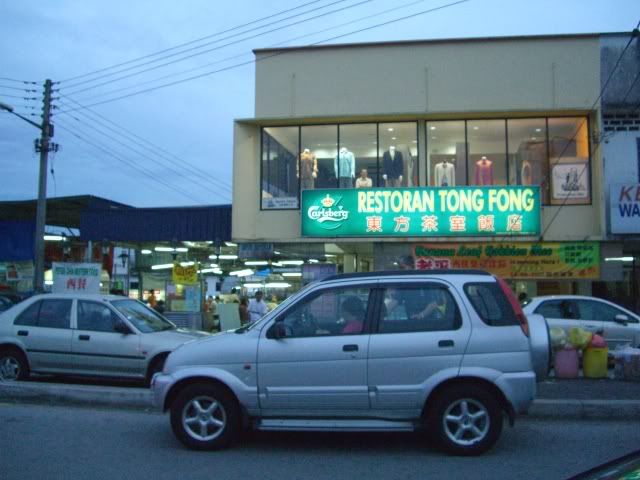 Restoren Tong Fong's exterior..........
Of course, there is a variety of local noodle and rice dishes available but we decided to ask the nice "chef" to fry up a small serving of mixed (mee and meehoon) Hokkien Mee for us (RM 5):
The Hokkien Mee..........
MMMMMMMmmmmm.
It was yummy - al dente noodles generously coated with the slightly sticky, savoury sauce with crunchy bits of deep fried pig fat, vegetables and meat.
(Well, there wasn't very much meat in it but it's only 5 bucks...)
It tasted especially good with a dab of the sambal chili with lime...
(Had to tear myself away and use all my willpower to avoid eating more than 3 bites of the noodles)
Other than the Hokkien Mee stall, they also have a stall called Peter Chin Western Food serving a small selection of coffeeshop budget Western Food like Chicken Chops (Mushroom Sauce/ Black Pepper Sauce), Grilled Salmon and Steak.
(Note: No pork served at this stall)
That night, I chose the Mixed Sauce Chicken Chop (RM 7.50):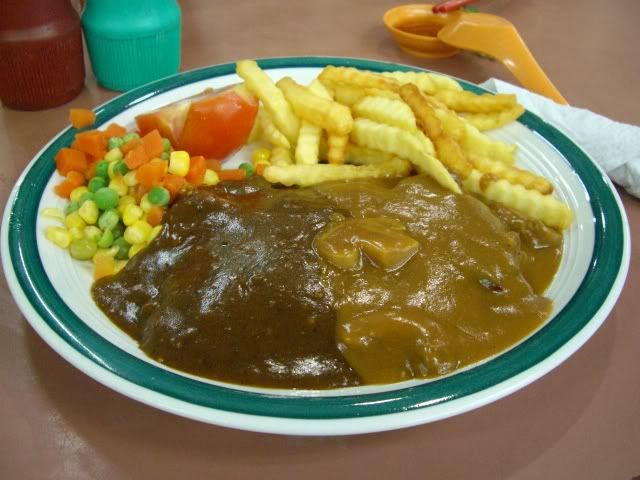 The Mixed Sauce Chicken Chop..........
The Chicken Chop, served with both the Mushroom and Black Pepper Sauce was ok overall... Nothing fantastic - medium tenderness of the chicken with tasty sauces which were just a bit too thick and not quite peppery enough for my taste. Still, the price is decent (and it's a coffeeshop lah) so I shan't complain too much.
:)
So, it's: Simple coffeeshop setting, small variety of hawker food at decent prices BUT nothing much to complain about except that it can be difficult to find parking in the area.... Please make sure you don't miss out on the Hokkien Mee! :)
Summary Information:
Kedai Kopi Tong Fong @ Sea Park, PJ

Opening Hours: 5pm till late**
Phone: -
Address: Tong Fong, Corner Shop lot, Sea Park (Behind KFC/ Opposite Maybank)

Hokkien Mee stall** - NOT HALAL
Peter Chin Western Food stall** - NO PORK SERVED
(** There are other stalls open for lunch in the daytime)

OTHER REVIEWS:
-
Lessthanten.net
TAGS:
Blog
,
Weblog
,
Malaysia
,
Local Food
,
Hawker Food
,
Hokkien Mee
,
Coffeeshop
,
Kedai Kopi Tong Fong
,
SEa Park
,
Petaling Jaya
,
PJ
,
Specialty
,
Local Food
,
Food
,
KL
,
Kuala Lumpur
,
Personal