After not meeting up for dinner for a long(-ish) break over Xmas and New Year, the group met up for a casual dinner at California Pizza Kitchen, KLCC....
It was a large group that night with Diana, Alvin,
Pat
,
Albert
,
S
,
Sneexe
,
Chen Hoe
,
JJ
(Welcome to KL!),
Boon
and his friends.... It was really nice to see everyone one again after what seemed like a really long time and exchange belated Christmas gifts...
Anyway, onwards to the restaurant review!
The Dinner:
Located on the 2nd floor of KLCC, California Pizza Kitchen (CPK) restaurant is casual and comfortable, with a great view of the KLCC park...
We started off dinner with the Oriental Chicken Salad...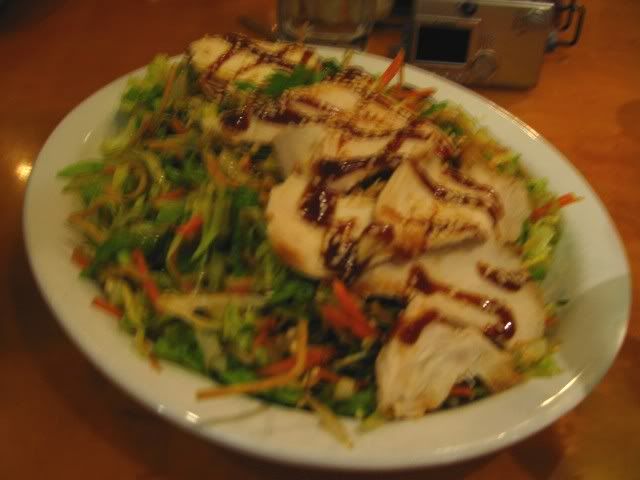 The Asian Salad!
The salad tasted nice...
It had a refreshing Asian twist to it, with a sweet dressing and crispy bits of noodle paired well with the fresh greens...
It's worth a try but my goodness, there is VERY little chicken in it for RM23++...
Moving on to the mains,... here's what we had: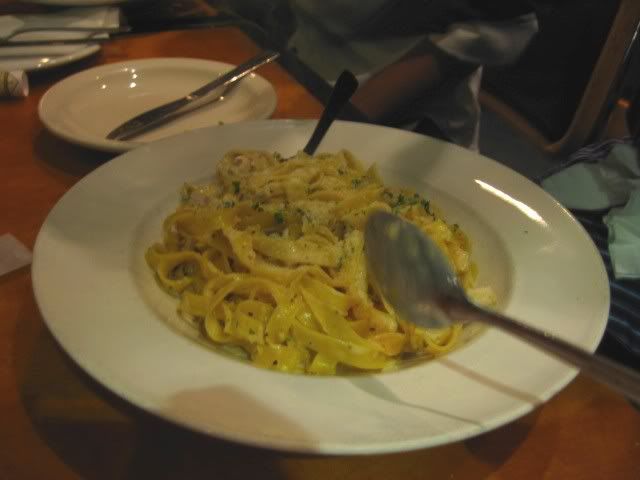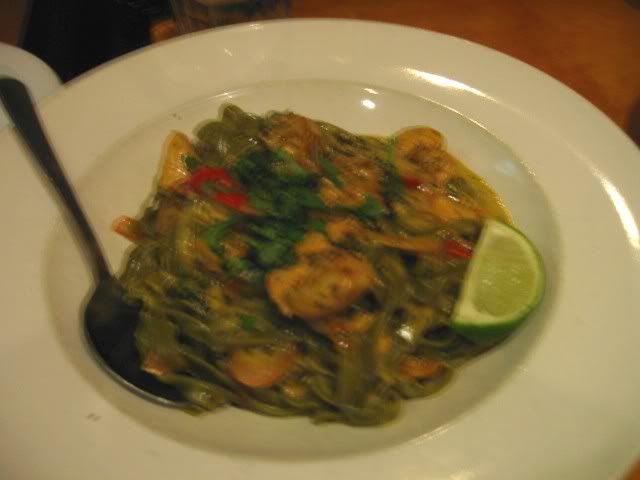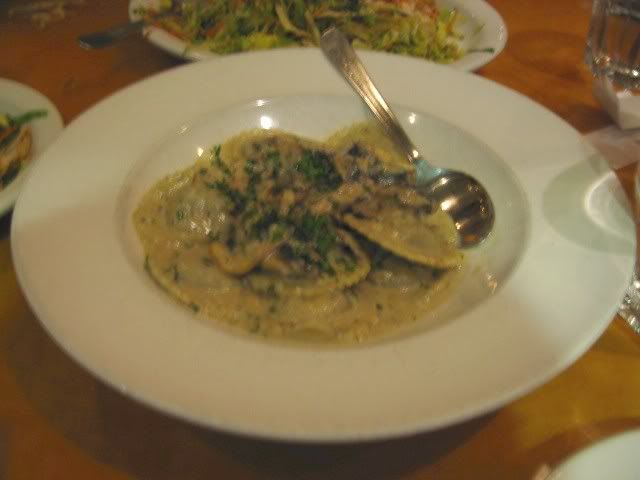 Top to bottom: Fettucine Carbonara, Tequila Chicken Spaghetti and Portobello Mushroom Ravioli.

The Portobello Mushroom Ravioli comes with a choice of either a tomato-based or a cream-based sauce...
(We opted for the cream-based sauce)
Overall it was yummy, with the sinful sauce going very well with the mild taste of the mushroom filling...
(erm... the ravioli was a little starchy tho... but that's just me being fussy)
The Fettucine Carbonara that
Pat
ate was also pretty good (one of his favourites on the menu at CPK) with its creamy and flavourful sauce...
My favourite of all was the Tequila Chicken Spaghetti...
.. with its tender, tasty pieces of chicken and an unusual sour zing in its sauce, this dish is something that I'd definately order again!
The pizzas here were also pretty good...
JJ
had the White Pizza and reports that it was nice...
(waaah.. so much cheese on that pizza! yummy!)
(erm... but also a bit starchy)
(yikes, I am hard to please!)
Being the pigs that we are, we could not resist delving into the desserts: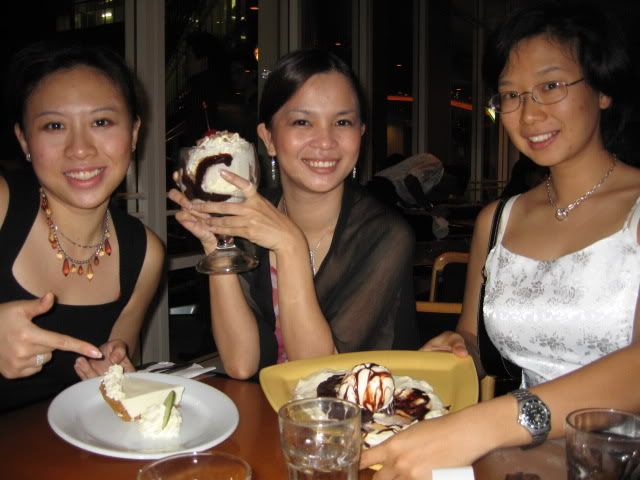 Left to right, presented by 3 lovely ladies: The Key Lime Pie, Chocolate Sundae and Chocolate Souffle Cake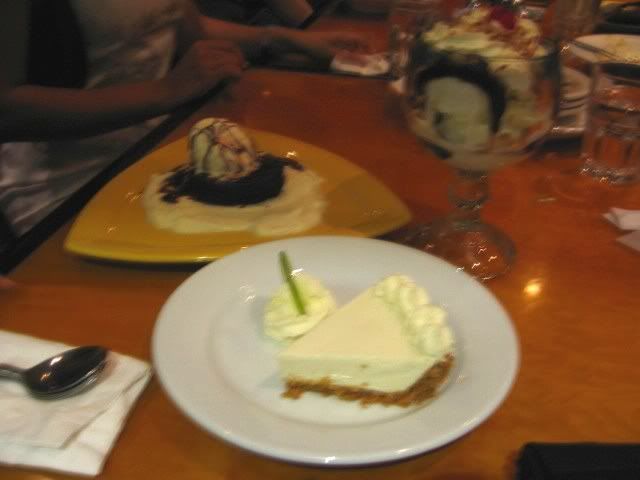 The desserts, close up...
The Key Lime Pie was really nice, with its moist texture and sour taste, it went well with the sweet Vanilla Bean Sauce (which we pretty much cleaned right off the plate)....
(I do wish that the pie base was a little crispier tho.... Currently, it's just kinda bland and forgettable)
The Chocolate Souffle Cake was also really nice!
This flourless cake literally melts in your mouth and is sinfully rich...
*droooooool*
Beware the ala mode option tho - it's an extra RM 5++ for ONE scoop of vanilla ice cream!
(Overpicing Alarm Bells going off in the background)
The Chocolate Sundae however, was a disappointment (very normal)...
Pat
remembers this being much nicer the last time he ordered it...
Overall, the food was ok...
CPK has an excellent range of fusion pizzas and pastas - from Kung Pow Chicken Spaghetti (
Chen Hoe
warns to avoid this tho - he said that it just tastes wrong) to Oriental Chicken Salad and Thai Pizza...
They all taste ok, and are a little pricey but the at least servings are reasonably filling...
The desserts were also pretty good (but also overpriced).
If there was one major flaw with CPK tho, it would be their service..
It was pretty bad that night....
1) Some orders were missed...
(and they had the cheek to charge us for it - luckily we checked!)
2) It was so hard to get water served to us/ refilled throughout the night...
(It was HILARIOUS! I told the waiter that I hadn't gotten my glass of water yet and he just gave me a LOOK and passed me Pat's glass of water instead)
3) The waiters were so grumpy!
(I wonder how much the waiters get paid at CPK?
Can it possibly be so abysmally little that their spirits have broken and it PAINS them to try to keep a smile on their faces?)
Even getting them to get us our bill and collect our payment was amusingly difficult...
After mucho hand waving and calling, we gave up and decided to walk up to the main counter instead...
While we were waiting for them to process our payment, we passed the time by reading the amusing reminder memo that the Resturant Manager had posted on the main counter...
It went a little something like this:
~*~*~*~*~*~*~*~*~*~*~*~*~*~*~*~*~*~*~
Dear Waiters,
1) Do not forget to serve patrons water
2) Do not forget to bring patrons their drinks
3) Do not forget to serve patrons their soup
4) Do not scribble unintelligibly
5) Please write all orders on ONE piece of paper
6) Do not sleep during working hours
7) Do not write like a doctor
8) etc
Signed,
The Restaurant Manager
~*~*~*~*~*~*~*~*~*~*~*~*~*~*~*~*~*~*~
Hmmmm,... wow... they need to be reminded so literally about everything?
*sigh*
Service in Malaysia sucks in general...
I just can't figure out which one is the main cause tho - people being too overworked and underpaid OR just plain ol' bad attitudes.....
Restaurant Review
Summary Sheet:
California Pizza Kitchen @ KLCC

Taste: 7
Ambience : 6
Service : 5
Price** : RM 65/++ per person
Parking: Ample
** Approximation - 3 course meal, excluding drinks
Telephone No.: 603 - 2382 0802
Opening Hours: 11am - 11pm

NO PORK SERVED

TAGS: Food, Blog, Weblog, Malaysia, Restaurant Review, Restaurant Reviews, KLCC, California Pizza Kitchen, CPK, Pizza, Pasta, Kuala Lumpur