Our continuing gastronomic adventuring brought us to the casual Al-Rausha Restaurant, which is hidden in a quiet housing area just off the ever busy Jalan Ampang…
(this restaurant was highly recommended by Alvin…. even though he had never eaten there before)
Hmmmm….
Anyway,… I kinda forgot to take a photo of the general restaurant area (my bad!) but just imagine an open air tropical hut theme and a nice airy garden area (watch out for the mozzies tho) set in a roomy bungalow…..
Anyway, onwards to the food review….
The Dinner:
First of all, let's sort out the over-rated dishes….
… starting with the roasted chicken which came highly recommended by a visitor on the
Friedchillies
bulletin board….
Although flavoured with an interesting array of spices, the chicken failed to rock our world… (Perhaps we were expecting too much?)… Still, very decently priced, at about RM15, for the whole bird no one complained…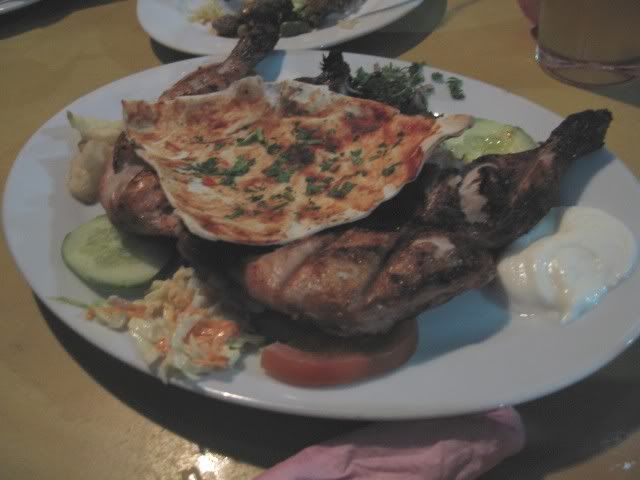 Hmmm, I Feel A Little Sunburnt...
Next, there was the tomato based chickpea stew thingy….
(Ok, ok… so maybe next time I should pay more attention to the actual names of these things)
This stew, although interesting, was a little on the bland side….
Again, nothing earth shaking…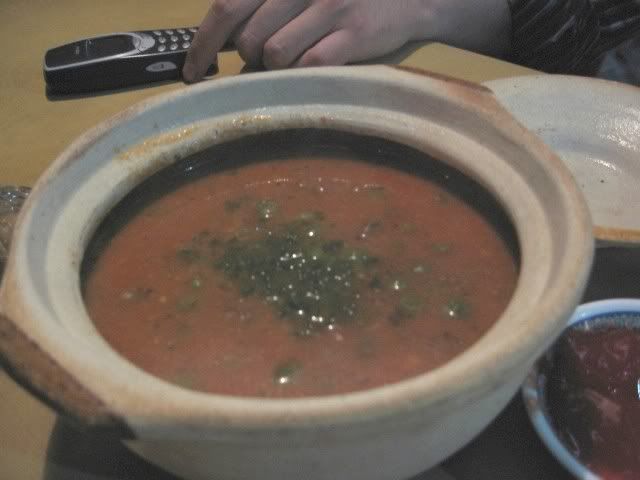 Bubble bubble, Toil and trouble.
Moving on, here are some dishes we tried that I highly recommend:

*drooool*
Mmmmm….
Have a look at the Lamb Mindhi that I tried that night.
I Heart You, Lamb!
So simple yet so delicious!
Wonderfully marinated and slowly cooked, this generous portion of tender lamb comes served with a mountainous serving of yummy rice (absolute carbohydrate HEAVEN) and condiments such as the tart garlic sauce and the smooth yogurt sauce.
A HUGE serving for around RM20, it could easily feed 2 normal people or well, one Ken.
Oh, and did I mention that it tastes SO good.
:)
If you want to opt for something a little healthier though, do try the baked fish.
Also very well marinated, the fish is succulent… The only downside is that it comes served with laughably small side dishes, namely five aneroxic french fries, one mouthful of coleslaw and a dollop of yogurt sauce.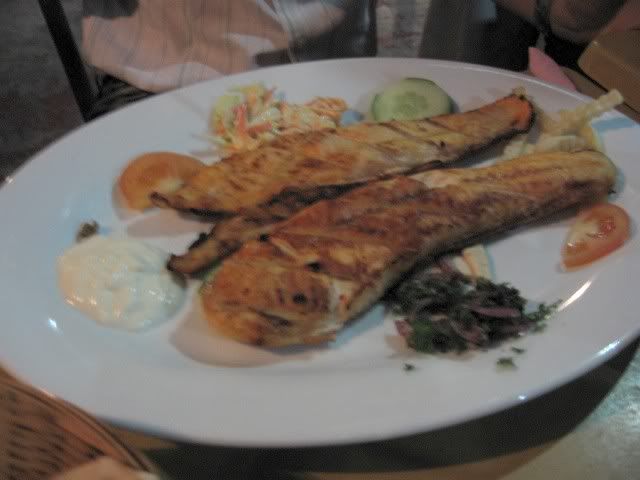 Nemo Had A Niggling Feeling That He Shouldn't Have Trusted The Fisherman

If you want a dish with a little variety, there is the Mixed Grill….
An array of tender juicy meat (lamb, chicken, etc) is served with, again, laughably small servings of side dishes….
DON'T Make Up Your Mind. Have It All!

There was also a mind-boggling variety of drinks on the menu, mainly consisting of one hundred and one different varietals of mixed blended fruit juices….
Here's one that Julian ordered…..
It was supposed to be strawberry and banana….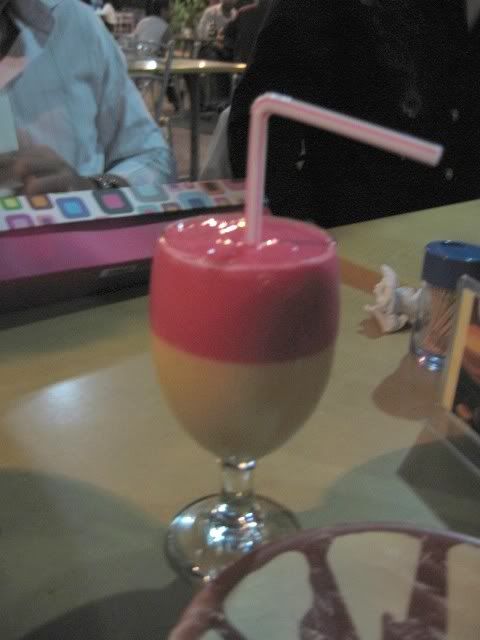 Funky Fruit Juice

O_o
Ooh Err… Them strawberries were probably exposed to some toxic waste or something…
(Look at it glow with that eerie fluorescent pink!)
*lol*
Knock yourselves out…. It's worth a try at least, right?
(The Mango Smoothie comes highly recommended though)
Overall, Al-Rausha was an excellent casual dining experience…
With its very laidback ambience, it is definitely not a setting for a romantic candlelit dinner but with it's delicious food at very decent prices (presented oh so beautifully on plastic plates), it's a restaurant that I look forward to going to again with friends to hang out….
(Oh, and please be patient with the waiters…. It seems like most of them don't have a very firm grasp of English or BM)
[ BEGIN EDIT ]
Went back to Al-Rausha recently (July 2006) and I'm sad to report that the food quality has deteriorated somewhat - The lamb is no longer as tender as before (although the rice is still irritatingly addictive) and the fish is only ok.
:(
With that, I have downgraded their rating (for taste) from an 8 to a 6.5... Maybe they were just having a bad night (chef sick, etc) but hey, it's still a good reason to downgrade the rating 'cos a good restaurant HAS to have consistent quality
[ END EDIT ]
Restaurant Review
Summary Sheet:
Al-Rausha Restaurant

No. 78, Jalan Damai, Off Jalan Ampang, 55000 Kuala Lumpur.

Taste: 8 6.5
Ambience : 5.5
Service : 6
Price** : RM 35/++ per person
Parking: Ample
** Approximation - 3 course meal, excluding drinks
Telephone No.: 603 – 2143 9151
Opening Hours: 11am – late

HALAL,

TAGS: Food, Blog, Weblog, Malaysia, Restaurant Reviews, Al-Rausha, Al-Rausha, Arabian, Jalan Ampang, Kuala Lumpur