Check out this video! -
The Bear Vs. Crazy Frog
....

3 cheers for the Bear!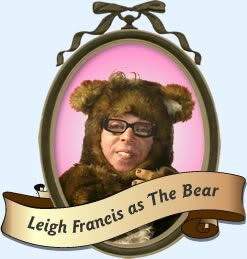 Apparently, the Bear is a "....cheeky, mischievous, out-and-out trouble maker and gifted with the power of speech, 'The Bear' has taken up residence within the Hennerson household; a stereotypical sitcom family, where bad language is bleeped out. The needy bear seeks constant attention from his new mum Helena (Patsy Kensit)...."

(as quoted on his
Official Website
..... It also adds that:)

"....When he's getting his own way he's your best friend but cross him and you're in trouble. Don't be fooled by his size or cuteness; though childlike, his quick wit and humour is more certificate '18' than 'U'. Now in his teens he is a walking erection and has only recently learnt to control his urges, which isn't all that easy when Patsy Kensit is your mum!"

Still, even with all that, he's OK in my books because:


Big Gun

+ Irritating Animated Abomination =

Fantastic!



:)



More info on this lovable bear (and his adopted British family as pictured above) on the Official Website
HERE
.
TAGS: Weblog, Blog, Malaysia, Personal, Crazy Frog, A Bear's Tail, The Bear