[ BEGIN EDIT ]
(June 2009)
(Nov 2009)

It's back open! :)
Monte's is temporarily closed, as the major renovations in BSC have started in that wing.
(Can't seem to find the exact date when it will reopen but I will update when I know - since I do go to BSC quite often)

Cheers,
J
[ END EDIT ]
One Saturday night, my family and I ventured to Monte's Restaurant and Bar in the Bangsar Shopping Center (BSC). We periodically return to this restaurant as the food quality here is consistent and not too expensive.
(The only problem of course, is that the parking at BSC is rather pricey....)
The Dinner:
Tucked away in a quiet corner of BSC, this restaurant has a cosy, unpretentious environment. Monte's has been around for roughly 10 years and is very popular with families in Bangsar...
(So, it is very important to book a table, especially on weekends, as they usually get 100% filled by 8pm).
Here's a photo of the restaurant interior for you to get a feel of the place:
One thing that I think is particularly outstanding about Monte's is the appetizers... I am totally in love with:
1) The Oxtail Soup - thick, fragrant and spicy with a generously large piece of meat, AND
2) The Baked Escargots - tender and juicy,cooked in a yummy garlic butter sauce (I usuallly mop up every last drop of the sauce to eat with my bread)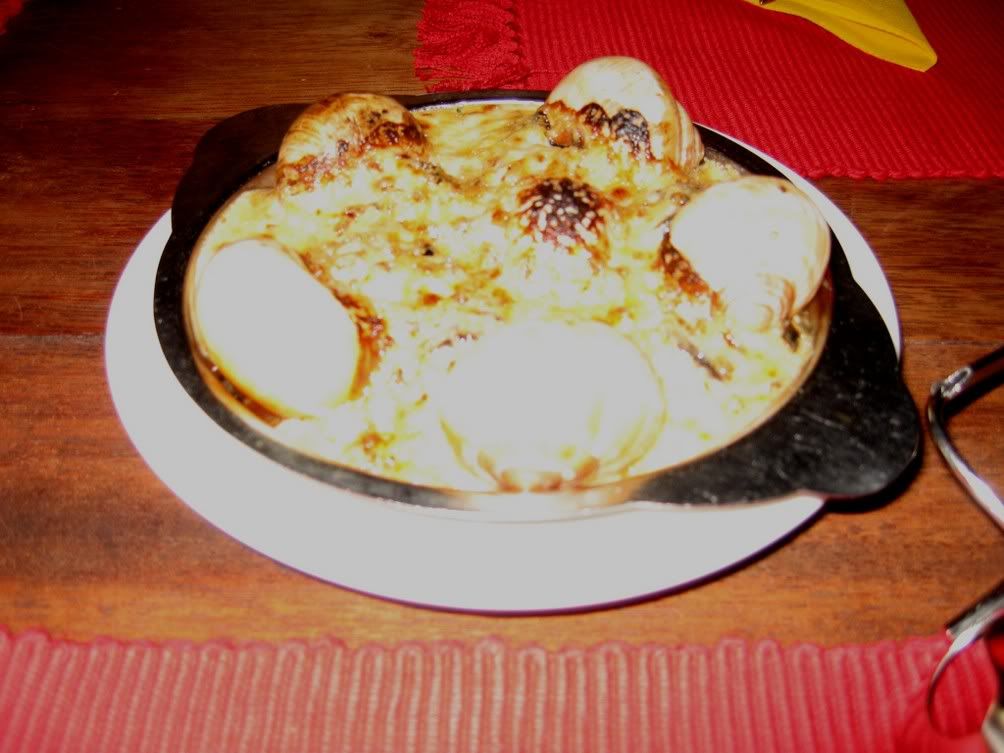 Left to right: Escargot, Oxtail Soup
For my main that night, I chose the Red Snapper with Tomato and Mango Salsa.
One of my favourites, this is an uncomplicated dish where the mild tasting fish is paired well with the tasty salsa, which has an interesting sweet and sour flavour.
The Red Snapper
My mum had the Turkey Fillet with Mushroom Stuffing and it was delicious! Unfortunately, this dish is only available during the Christmas season, so you'll all have to wait till next year to try it.....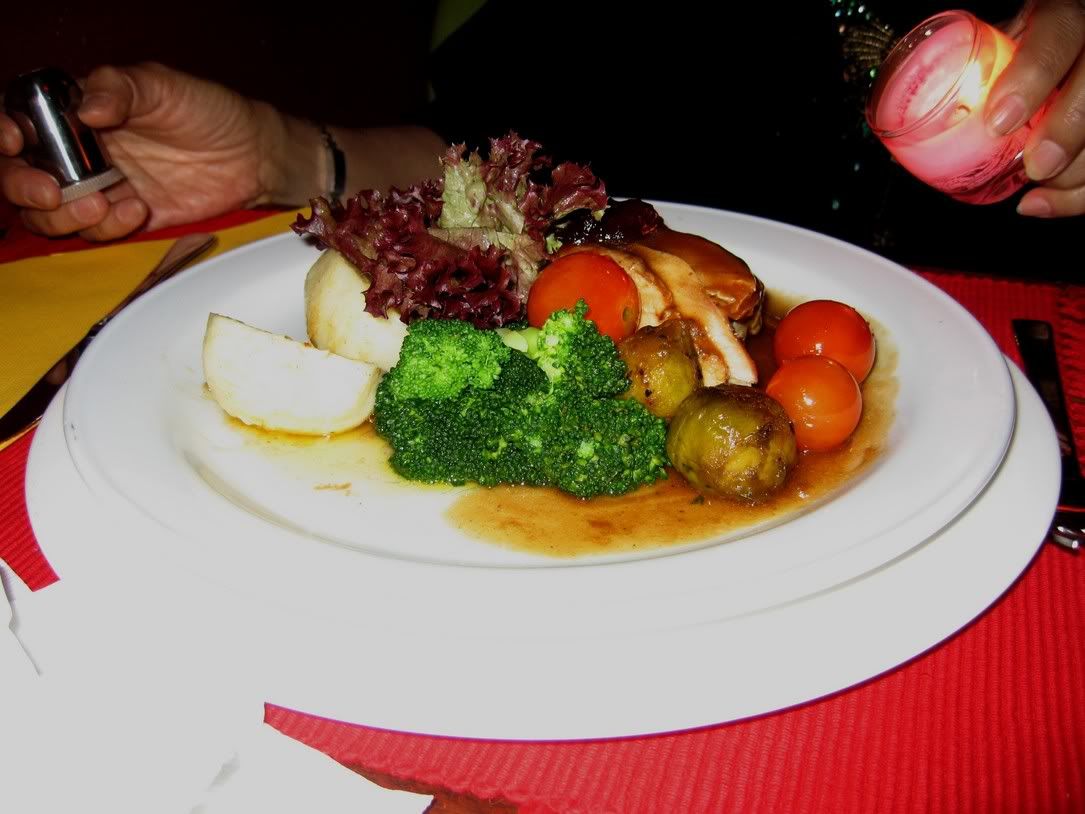 Gobble-gobble?
A dish on the normal daily menu that I would recommend would be the Spicy Salmon, which has an interesting Asian twist on the popular grilled salmon fillet. Most of the seafood and the steaks are also good, so if you can't decide, just randomly choose one and you will probably not be disappointed.
(Note: Pastas here are not so great - you have been warned!)
However, as much as I like this restaurant, I must say that I think they are weak in terms of their dessert menu....
The selection of desserts is rather (for lack of a better word) boring.... with very run of the mill Malaysian desserts such as the Banana Split and the Banana Fritter with Ice Cream...
Still, they are not pricey, so if you want to have something simple to end your dinner, do give them a try...
Restaurant Review
Summary Sheet:
Monte's Restaurant And Bar @ Bangsar Shopping Center (BSC)

Taste: 7
Ambience : 7
Service : 7
Price** : RM 50/++ per person
Parking: OK

** Approximation - 3 course meal, excluding drinks
Telephone No.: 603 - 2094 1112/ 3
(Or 603-7494 4833 for their Sunway Pyramid outlet)
Opening Hours: 11am - late
NO PORK SERVED
TAGS: Food, Blog, Weblog, Malaysia, Restaurant Review, Restaurant Reviews, Bangsar Shopping Center, BSC, Monte's, Monte, Western, Kuala Lumpur