Happy Monday, y'all!
:)

One beautiful afternoon during the long weekend, Nick and I went to the newly re-opened outlet of Delicious by Ms Read at One Utama after a fun session of shopping,....

This outlet, located on the Ground Floor of the new wing, is back... and it's bigger and better than before! Much more spacious than it's predecessor although maintaining the same airy decor style, it is just as comfy and maintains the same menu selections and freshly made cakes....

Since I was armed with my trusty camera that day (I hardly ever am without it nowadays), I decided to add on reviews of what I ate that day on top of my previous review....
(My original review for Delicious Cafe by Ms Read is
HERE
)
The Dinner Lunch!:
Feeling healthy that day, I decided to go for my favourite type of salad instead of my usual pasta....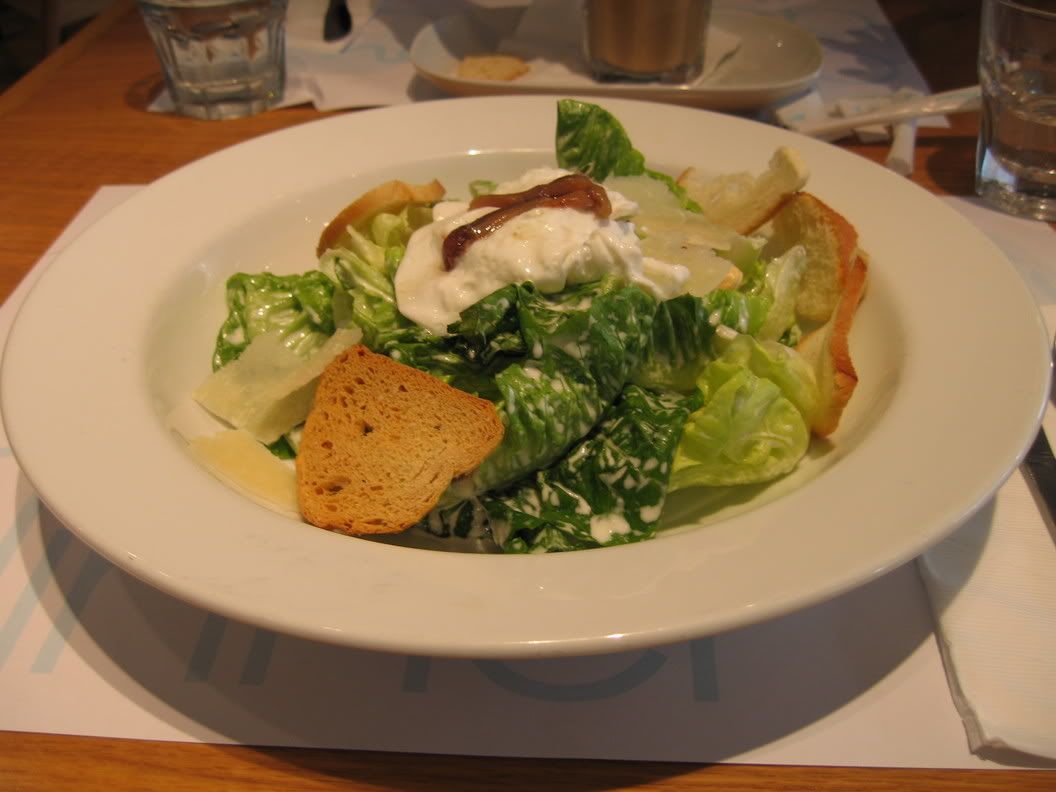 Le Salad!

I'm sad to report that I did not like the Ceasar salad that I ordered...
The salad itself, although very fresh, was rather disappointing....

I suppose the main flaw (to me) was that it tasted very very strongly of anchovies...
(seeing as I don't really like anchovies)
... and also, that it didn't have anything meaty enough to really fill me up...
(only itty bitty pieces of (soggy) beef bacon)
Also, I didn't enjoy the salad dressing which they had messed about with...
Although obviously tonnes healthier then the usual Ceasar dressing (which is actually rather fattening), it tasted very much like a normal vinaigrette to me...

Overall, the salad left me feeling unsatisfied....
It really is rather expensive (approx. RM18++) for such a small serving....

On the other hand, I rather enjoyed the Panfried Button Mushrooms that I ordered as a side-dish (from the breakfast menu).

Le Champignons!
The mushrooms were simple yet tasty - fried ever so lightly with garlic and some herbs which really brought out the its flavours...

Yum! Definately something that I will order again.
(Although it is a very small serving, I think it's ok 'cos it only costs around RM5++)

Somehow, I found the strength within myself to NOT eat my favourite, the Classic Chocolate Cake, that day... *gasp*...
(saving myself from the consumption of a gazillion calories)

I suppose it was because I was "inspired" by some sweet, sincere and well-chosen words from my high-school ex-boyfriend's mum (whom I bumped into while shopping)...

It went something like this:
"Oh, look at you! I almost couldn't recognize you - You've gained SO much weight! *wide grin*"

*waaaaiiiiiil*

:(

Ebil.
My ego is fragile...! Fragile, I tell you!
*slinks away to lick wounds*

Don't hurt me....,
J

TAGS: Food, Blog, Weblog, Malaysia, Restaurant Review, Restaurant Reviews, Bangsar, Bangsar Village, Delicious, Ms Read, Fusion, Chocolate Cake, Kuala Lumpur