Hola' senors and senoritas!
I present to thee - the VERY late weekly dinner review:
The Dinner:
*frowns*
Yes, I know this is more than 2 weeks overdue.....
...and
Albert
is definately going to say that I am mean again....
*sigh*
Can't be helped I suppose.... With reviews, I speak only the truth and nothing but the truth
(however harsh it may be)
Anyway, 2 weeks ago, the our humble weekly dinner group decided to pork out and go for a yummy Japanese buffet dinner at the Istana hotel in Kuala Lumpur.
This time, we had a few international visitors (friends of Kim) who were visiting our tropical wonderland for a few days... It's always nice to meet people from other countries,... especially when they astound us with tales of Viagra ice cream in Spain and other such tales of wonder and mystery....
(pssst,.... don't worry man, I believe you - I'm sure you really found out about this ice cream from your ~friend~ and that it wasn't that you ate it yourself)
;)
About the food that night, the main highlight of the buffet was that it is an "a-la-carte" concept buffet... meaning that you get to pick as much as you want off the buffet menu and it will be cooked and served to you...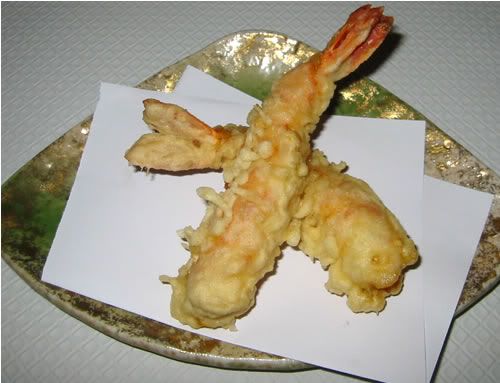 Borrowed Photo No. 1 (I forgot to bring a camera that day)
Strangely though, the said buffet menu only contained the names of the various items in Japanese, with no explanations of what it actually was or any accompanying photos, so ordering was a bit of a pain initially....

After a few rounds of explaining by the waitresses and us pretty much resorting to saying : "Yeah,... just bring us.... erm.. *glance at menu*... everything lah" and "Please bring more of that deep fried beef stuff", everything was ok.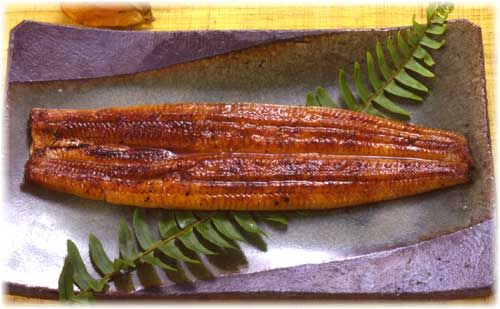 Borrowed Photo No. 2 - yum yum unagi
Sadly, the food was rather disappointing....
I had eaten at this restaurant many a year ago, and have memories of the food being good, so I suppose my hopes were a little high.
Still,... the unagi was nice and the tempura was ok.
(I don't eat raw fish, but I heard that was ok too)
Other than that, the food was only so-so overall.
(Still, being the kiasus that we are, we all stuffed our stomachs to the max, ESPECIALLY Ken, who is possibly now responsible for the extinction of eels and prawns worldwide)

I have heard from some that the normal a-la-carte meals here are usually quite nice though... although I have not tried it myself so I can't say for sure...

The ambience of the place was also rather unimpressive,.... they have a lot of segregated areas, which is good as it increases privacy, but the decor was very normal and shows sign of old age..
(not what I would expect of a hotel restaurant)


Borrowed Photo No. 3 - photo of Chikuyo-Tei from the hotel website


Restaurant Review
Summary Sheet:
Chikuyo-Tei @ Istana Hotel

Taste: 6
Ambience : 6
Service : 6
Price** : RM 70/++ per person
Parking: Ample (but expensive!)

** Approximation - Buffet meal, excluding drinks
Telephone No.: 603 - 2141 9988 Ext. 3702
Opening Hours: 12noon - 2.30pm, 6.30pm - 10.30pm
NO PORK SERVED
The After(-Dinner) Party:
That week, we went to Alvin's house to hang out for a change....
(... seeing as Aero was closed for renovations ~AGAIN~)
That's twice in 6 months already.... What on earth are they doing?)

Hmmm,.. have to cut this one a little short.

(Work beckons...)
Ciao.....
TAGS: Food, Blog, Weblog, Malaysia, Restaurant Review, Restaurant Reviews, Chikuyo-Tei, Hotel Istana, Japanese, Kuala Lumpur