~START EDIT PART DEUX~

*sigh*

According to certain sources I sound a bit pissed off in the first edit.

OK, just for the record: No, I'm not pissed off about:

a) the restaurant planning thingy -

Ok, so I spent a lot of time searching online for somewhere special, made enquiries at the restaurant and took time to find info+links+pictures and post it all up on my blog... but HEY, if we don't go there this week, there'll be other times... and of course, conveniently, I now have all the vital info ready at hand.

b) the "party I wasn't invited for" -

I know Jo didn't intentionally NOT invite me and yes I acknowledge that I wasn't there when she mentioned it during mamak or coffee or somewhere at sometime and somehow from then on, the information just plained never reached me.

Fine. It happens.

Especially since I started this new job... Or more like since the last job I took.

I suppose when you are travelling around that much for work/ busy with work/ tired from travelling, people tend to start to assume that you are not around/ too busy/ too tired to come out all the time.

Which is mostly true anyway, I guess.

*sigh*

Once again.

Me going back to work now.

~END EDIT PART DEUX~

~START EDIT~



You know what?

F*** it.

Since everyone had already agreed unanimously (at a party that I wasn't invited to) that they want to eat KFC for dinner this Saturday, then fine.

I really don't know why Pat said he needed help organising.

Ho Hum.

I'm going back to work now.



~ END EDIT ~




**STICKY POST - please refer below for more recent posts**

Hello all!

UPCOMING DINNER ALERT!

Senor

Pattar

has decided that his schedule is too busy to organise the weekly dinner this time around, so he has so kindly passed the torch to me...

This week, we will be going to a new restaurant in town, El Cerdo.....
Interior of El Cerdo
Details:
Venue ~ El Cerdo
Address ~ 52, Tengkat Tong Shin, 50200 Kuala Lumpur (I will post up a map soon)
Date ~ Saturday, 27th November 2005
Time ~ 8.30pm till late
Note ~ NOT HALAL (Sowe)

El Cerdo (which translates into "The Pig") is a German-French-Italian restaurant which specialises in (you guessed it!) porcine dishes, in particular their succulent Crispy Pork Knuckles.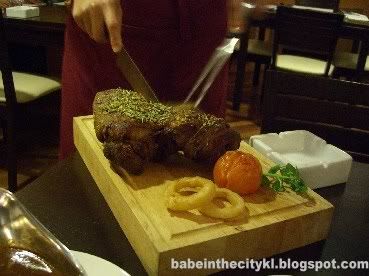 Specialty: Crispy pork knuckle!
(and yeah, I had to "borrow" the photos seeing as they don't have a website yet)
They also have a selection of seafood and other food (for those of you who don't feel like chowing down on piggies).

As per the usual, kindly RSVP in the comment box below or sms/call/email me.
I will be making the booking soon.

At your service,
*curtsies*
J

PS/ There are no set plans yet on where to go after dinner. Suggestions are welcomed. If not, there are a few nice bars around the Tengkat Tong Shin area that we can go to.
TAGS: Weblog, Blog, Kuala Lumpur, Malaysia, Personal