A few weeks ago, my mum saw the review for this restaurant in
the Star
and decided that the family should go check it out.....
The Lunch:
Nippon Yatai Mura, the new addition to the already popular chain of restaurants is situated in a rather strange location: surrounded by factories (save for Unique Seafood restaurant, which is right next to it) on Jalan Kemajuan in Section 13, Petaling Jaya.
The Front of The Restaurant
The restaurant looks inviting from the outside and has a cosy environment inside, with warm colours and wooden finishings in a more modern Japanese style.
As they are positioning themselves differently as compared to their like-named counterparts (which are mostly situated in shopping centers - I know there's one in One Utama), this outlet of Nippon Yattai Mura has a different menu on top of the generic one. There was quite a large range to choose from, ranging from the affordable (ramen/udon) for around RM15 to mid-range (various bentos) for around RM35 to top range (Kobe beef steak) for about RM90. This outlet has certain more "authentic" Japanese specialties like Beef Sumiyaki (DIY grilled beef) and Ishiyaki Goya Chanpura (stone grilled bitter gourd with egg) available.
After poring over the menu for quite a while, we decided on some good ol' Gyoza (Japanese dumplings) to start off the meal.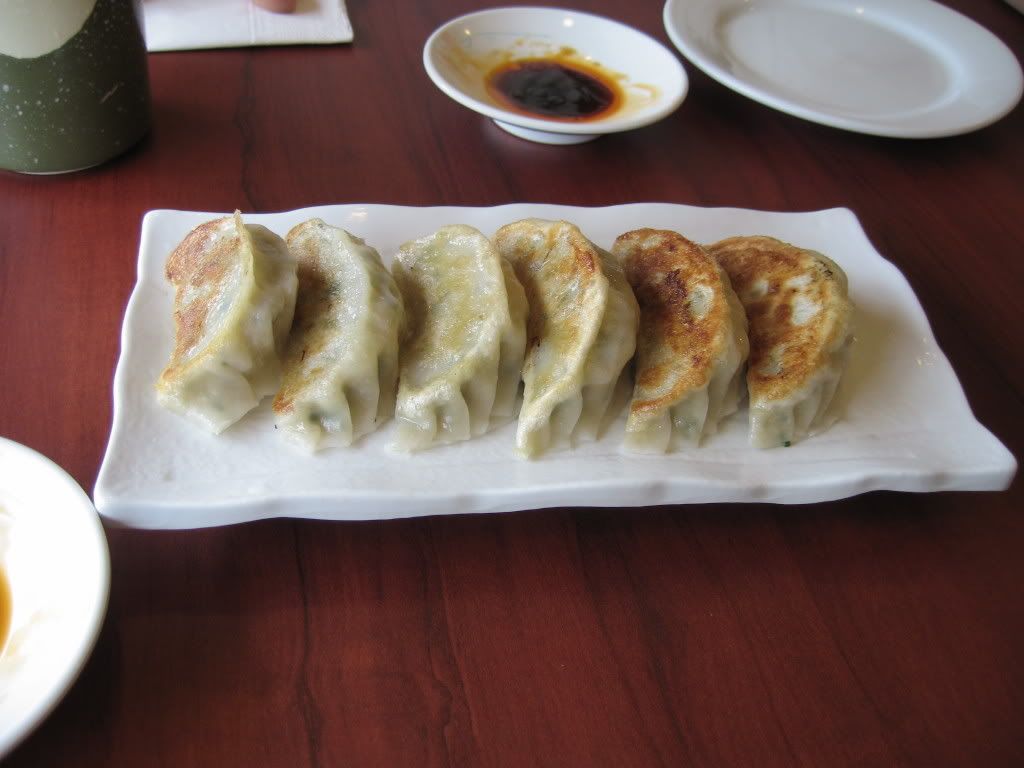 Piping Hot Gyoza

The Gyoza, served with a tart chili oil+soya sauce mixture, were really yummy! - juicy and generously filled.... Just the way I like 'em....
:)
Moving on, a nice surprise: We were served Chawan Mushi, compliments of the chef.
(According to the very nice waiter, the restaurant plans to have a special promotion every month, this month being free Chawan Mushi for every patron).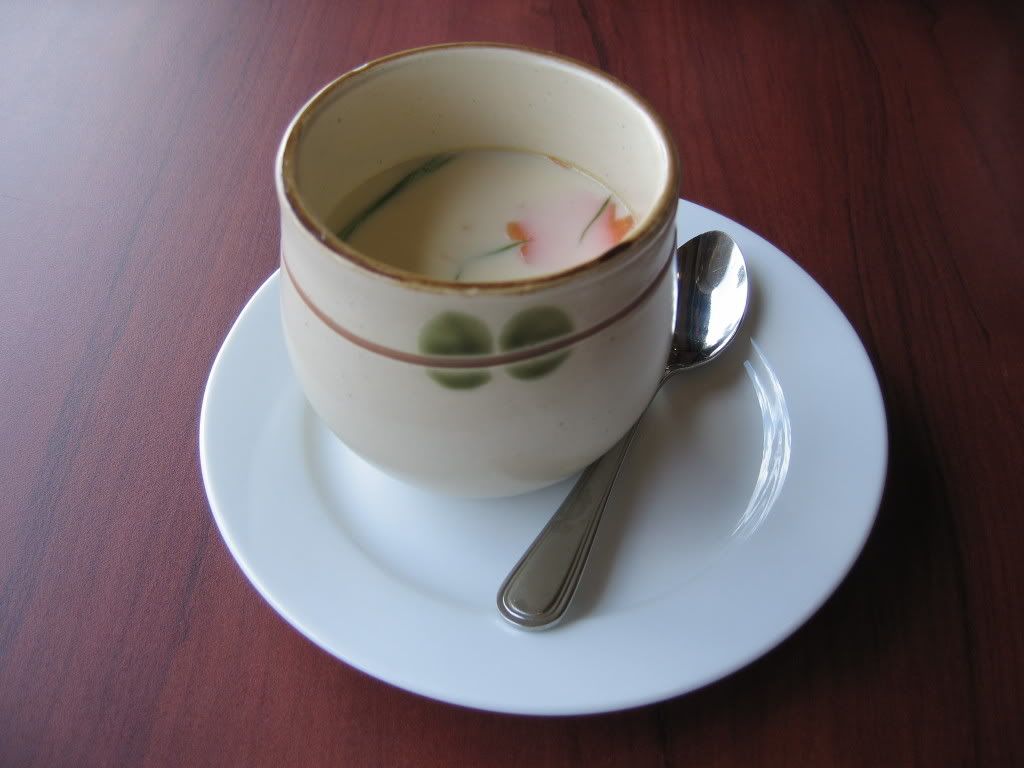 Yummy Chawan Mushi - compliments of the chef!
The chawan mushi was smooth and fragrant, with bits of gingko and prawn inside.
(I don't usually like Chawan Mushi... I find it well,.. too mushy... but this one was quite nice)

Moving on, our main meals arrived.
My dad had ordered the Deluxe Set (erm, around RM40? - I can't remember, sorry!), and what a whopper it was....
This set had small servings of all the popular Japanese dishes, being Unagi Kabayaki (grilled eel), Ebi Tempura (deep fried prawns), Sushi and Sashimi served with rice, miso soup as well as salad and fruits.... It's great for someone who wants to have a bit of everything but is definately somthing that should not be attempted by:
a) small children,
b) people with small appetites, or
c) dieters.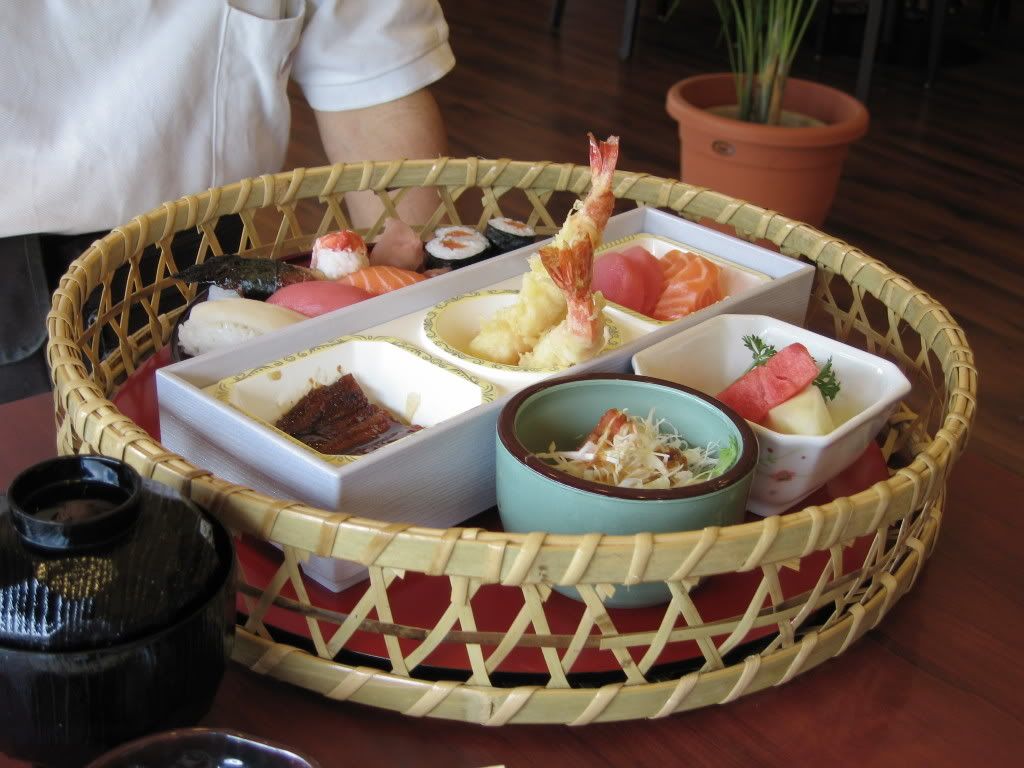 See what I mean? (It's a pretty big set, right?). Anyway, I wanted to try something different, so I ordered the
Kobe Beef
Hamburger set (RM35)....
The Kobe Beef Hamburger Set (nope, no burger buns, just the patty)
The beef patty (made from drunk cows), minced with onions and carrots and pan-fried, was delicious..... tender on the inside and just ever so slightly crispy on the outside (Note: If tastes very "beef-y", which is great to me but some might find it a bit much).
The special sauce, fried with Japanese mushrooms and leafy vegetables, really brought out the flavour of this simple dish.
Lastly, my mum had opted for the Four Delights (RM35) bento set.
This set, like the Deluxe Set, had several different dishes to tantalise the tastebuds: Prawns in Sweet and Sour Sauce, Chicken Teriyaki, Unagi Kabayaki and Tofu in Wasabi sauce.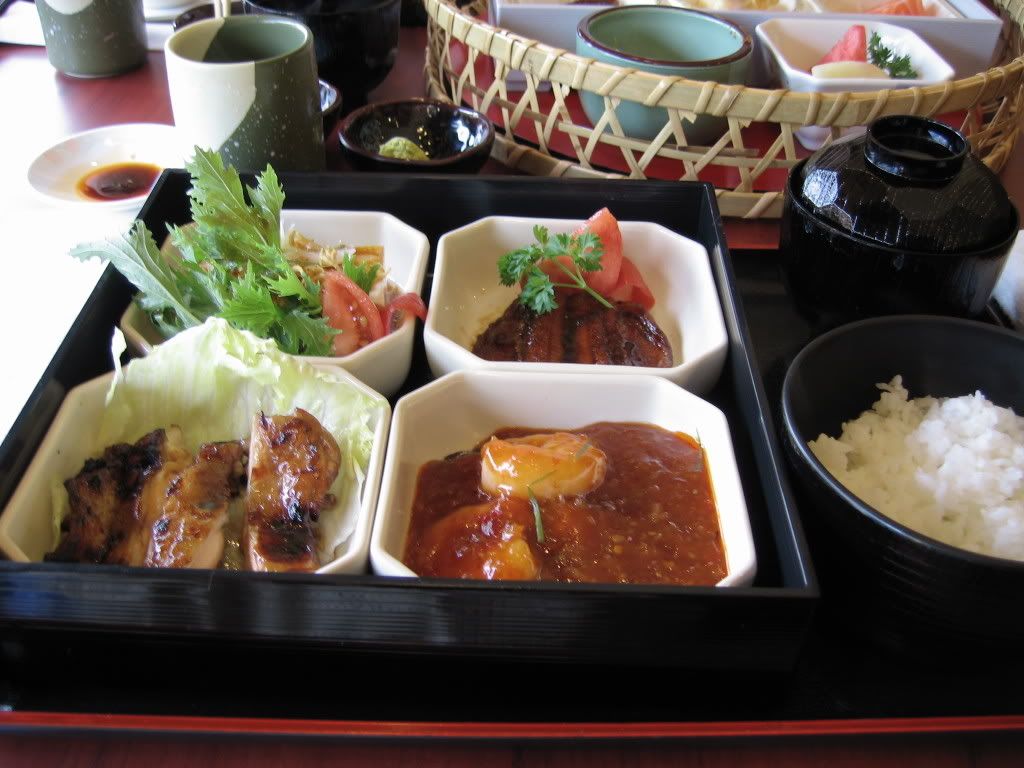 Overall, the lunch was good... The restaurant ambience was lovely, the staff were very attentive and the food was delicious.
My dad complained that it was a bit expensive, but then again, he always does.....
(I mean, of course it's more expensive than Sushi King! Sushi King is like the McDonald's of Japanese restaurants.....)
There's just no pleasing some people.....
Anyway,... just a word of warning: When I went there on a weekend afternoon, parking was ok.... However, I have passed by this area many times at night (both weekdays and weekends) and the parking looks like it could be quite a pain.... There's a valet service though... so you can always resort to that....
Restaurant Review
Summary Sheet:
Nippon Yatai Mura @ Jalan Kemajuan, PJ

Taste: 7
Ambience : 7
Service : 8
Price** : RM 35/++ per person
Parking: Erratic
** Approximation - japanese set meal, excluding drinks
Telephone No.: 603 - 2144 3152/6663
Opening Hours: 11am - 11pm
NOT HALAL

Signing off,
J
TAGS: Food, Blog, Weblog, Malaysia, Restaurant Review, Restaurant Reviews, Petaling Jaya, Nippon Yatai Mura, Japanese, Kuala Lumpur