Wah.
How did Monday get here so quickly?
(Sigh... another ~
fun filled~
week at the office to look forward to)....
Anyway, forging on along......... Here's the review for the dinner session....
The Dinner:
This week, weary from week after week of rich Western cuisine, we decided to head back to our roots for a simple Chinese dinner. The restaurant came highly recommended by Alvin and Diana so we were all looking forward to it.
Restaurant De Maw (Nope... couldn't find any links for it AT ALL. .. apparently it hasn't joined the e-generation yet) is located at Jalan Pudu Ulu off Jalan Cheras near the PGRM building.
(Mind you, traffic around there is pretty bad - so, you have been warned)
De Maw looks like a typical Chinese restaurant from the outside but the cosy modern (yet still very Chinese) interior with its classic marble tables and warm wooden finishings was a nice surprise...

Front of the restaurant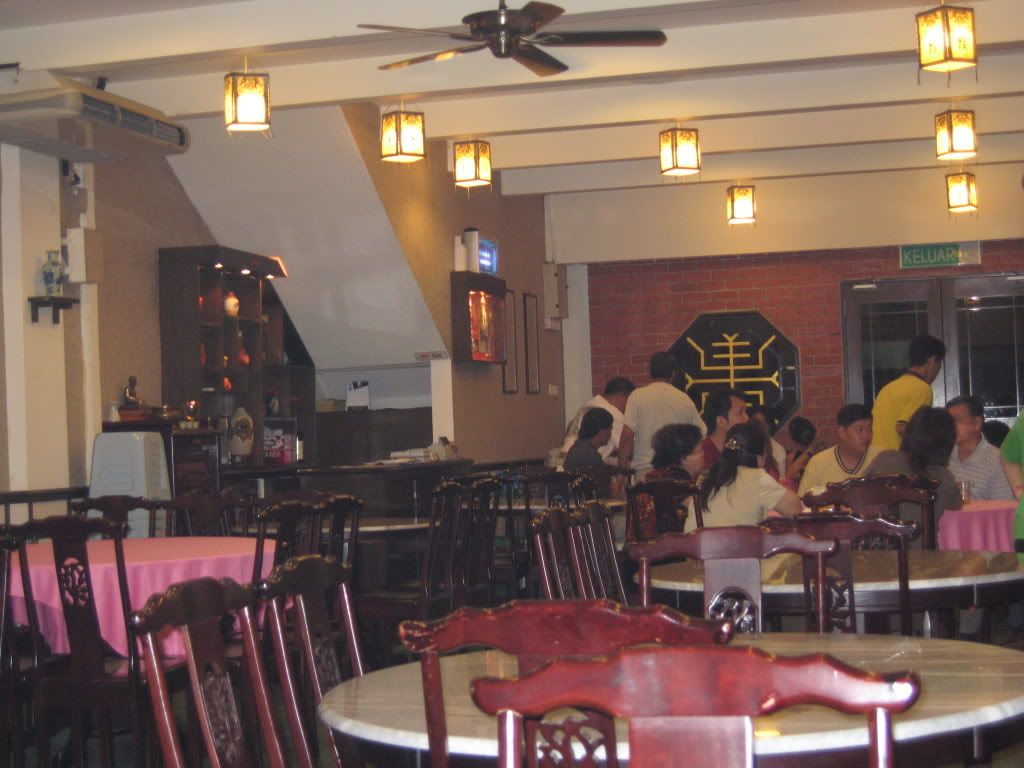 Inside De Maw


We really went all out with this dinner... even indulging in some delicious but very unpolitically correct shark's fin soup...

Controversy in a bowl


The shark's fin soup was a little teeny bit too starchy but nonetheless, tasted lovely and was packed very generously with crab meat and well, shark's fin.

Soon after that, we were served with the other dishes: the succulent fish (steamed with soya sauce, topped with fragrant fried dried prawns (that's "hae bee" to you and me)), the juicy prawns (fried with sweet and spicy sauce), the classic sweet and sour pork (Mmmm... my favourite since I was a wee child), the tantalising fried noodles (stir fried green bean kuey teow with chicken) and the yummy baby bok choy (stir fried with preserved veg).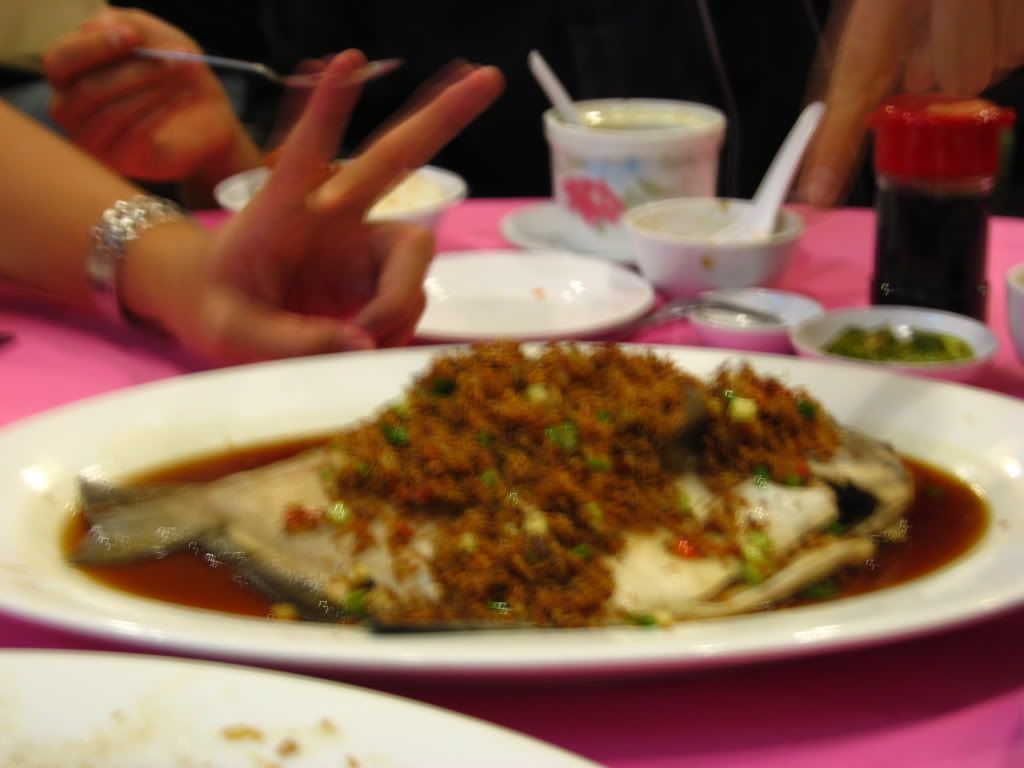 I Heart Fish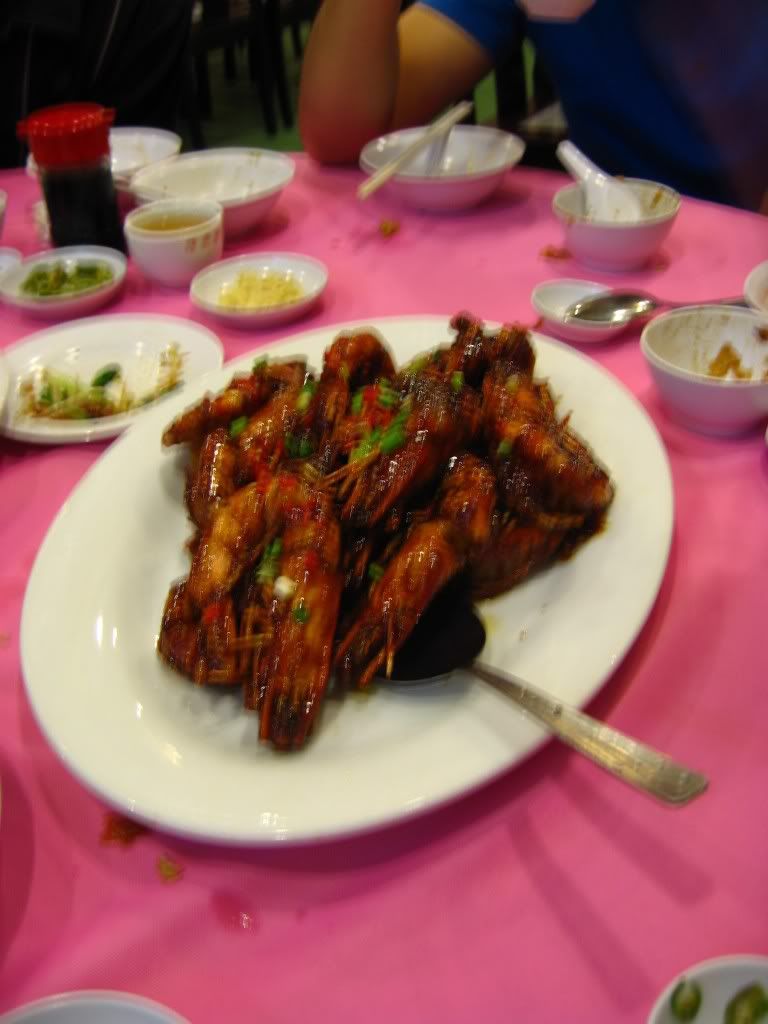 I Heart pR0n... Erm, I Mean Prawns..


At the end of the night, we topped off our already our already bulging bellies (being the gluttons that we are) with a simple gingko and longan dessert. The dessert was a tad too sweet for my taste, but other than that, the dinner was fantastic. Everything from the fish to the bok choy was done really well... and all that for only RM40/ per person? Well,... I definately have no complaints.
Restaurant Review
Summary Sheet:
Restoran De Maw@No.18, Jalan Pudu Ulu

Taste: 7
Ambience : 6
Service : 6
Price** : RM 40/++ per person
Parking: OK

** Approximation - typical chinese meal with 4 dishes+soup, excluding drinks
Telephone No.: 603 - 9285 6833
Opening Hours: 12noon - 11pm
NOT HALAL
The After(-Dinner) Party:
While the others headed back to Alvin's place for an exciting round of monopoly (oh, and Uno Domino after that *lol*), me and
Pat
headed over to
Telawi Street Bistro
(TSB) to meet up with
Huey Yee
for her birthday...
After waiting for her for about an hour (*glare*), the birthday girl arrived and the festivities began!
*woot*
No, actually, we just had a few drinks and a nice chat, but hey,... I had fun.
:)
I've been to TSB too often to be able to give a proper review on it (with objective first impressions and all).... but if I had to sum it up it probably would be: comfortable dining/restaurant downstairs, fun music (tho very rojak/ mixed) in the bar upstairs and yummy drinks.

Telawi Street Bistro @ Bangsar

1 Jln Telawi 3, Bangsar Baru
Tel : 03 - 22843168

Opening Hours
Daily: 6pm-1am (weekdays)
6pm-2am (weekends)
Happy Hours: 6pm-9pm, Sunday all night long


Ok, that's all for now.
Really should get back to work.
Hope you all had a great weekend too.
Ciao.
TAGS: Food, Blog, Weblog, Malaysia, Restaurant Review, Restaurant Reviews, Pudu, De Maw, Chinese, Kuala Lumpur