What have I been up to?
Well,... I've been going to the gym (almost) everyday for starts.
(Dah!.. dah!.. dah DAH!.. *
Eye of the tiger starts playing in background*
)
Other than that, it's a pretty relaxing holiday so far.
Anyways,.. here's another round of the ongoing series of restaurant reviews....
The Dinner:
That week, our dinner group ventured to Flamin' J Firehouse....
Located in the new Hartamas Shopping Center, this place came recommended by
Pattar
and has been recently highlighted in
the Star
newspaper.
We began with an array of starters....
Left to right: Calamari Rings, Nachos, Buffalo Chips and Baked Mussels
The starters were all OK.
(the best in my book were the Calamari Rings. The Buffalo Chips were OK and the Nachos were not so good)
Lenny
said that the Baked Mussels were nice, but I wouldn't know - cos he ate them all....
:(
Moving on, here's
Pat
showing his dinner who's boss: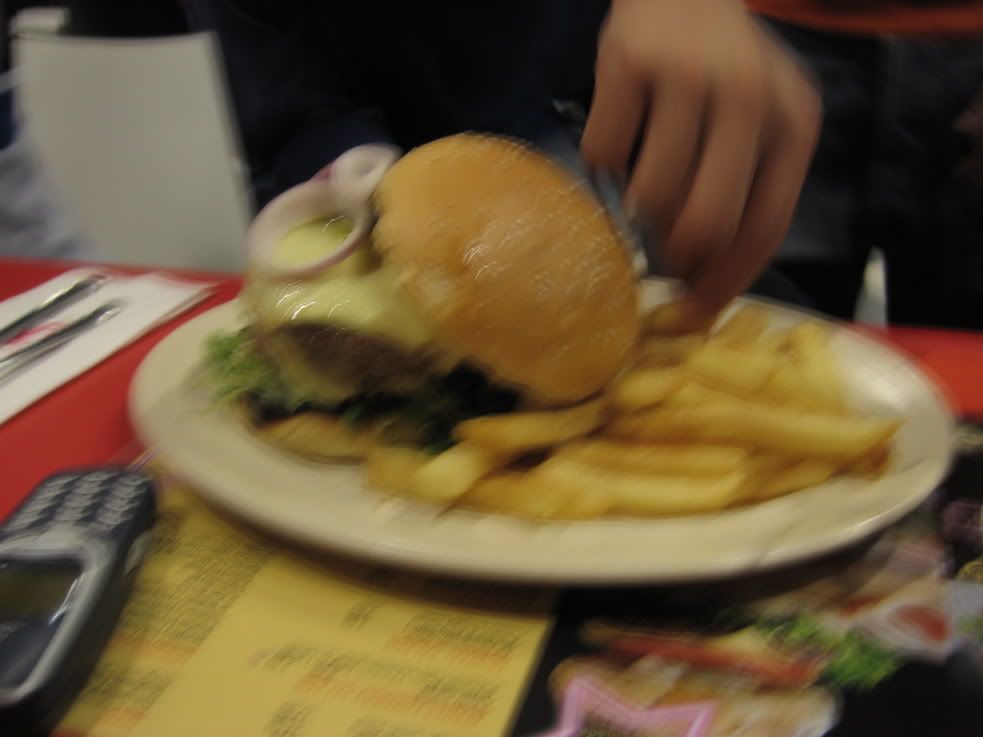 -->
*rawr* PATTAR ATTACK! *rawr*
Pat
had the Big Bertha burger (a house specialty) for his main....
... and he reports that it tastes good.
(That burger was pretty stacked - I respect the person who can actually eat it without having to take it apart first)
(Hmmm,... although that would be freaky 'cos it would probably involve unhinging the jaw first)
Here's what I had:
The Philly Cheese Steak (PCS).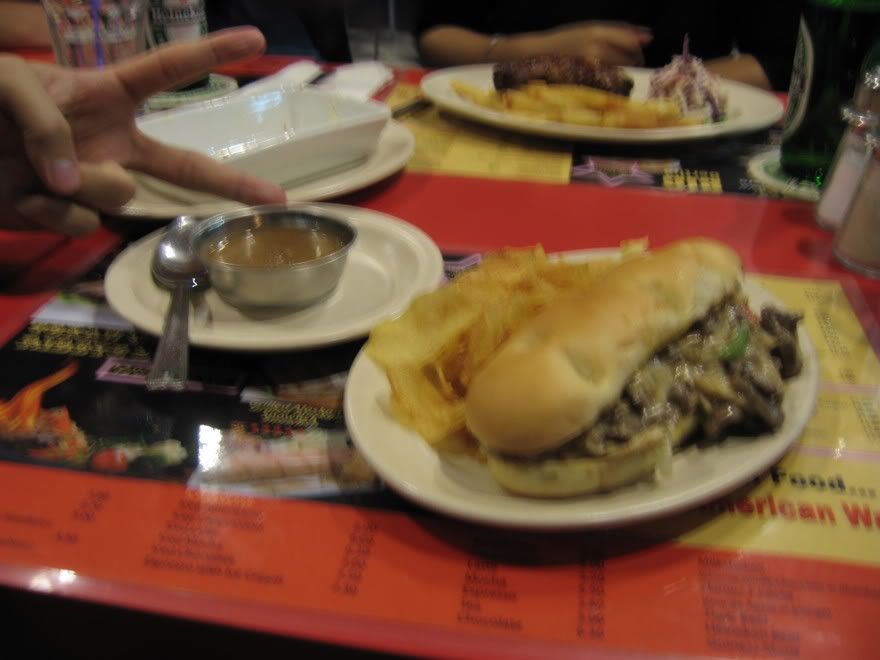 Peace!
The PCS bun (which looks suspiciously like the normal hot dog buns sold in supermarkets) was crisp on the outside and was generously filled with tender beef slices, onions, capsicum and cheese. Tasted only "OK".... but for RM 9.90, I ain't complaining.
I was pretty filled up after the main so I did not try any of the desserts.
(Not much choice there anyway... 2 kinds of cake and some variations of ice creams)
Overall,... I wasn't very impressed with the taste of the food.
(but I'm pretty hard to please la)
Still, I must say, it's darn good value for money....
Most of the desserts and starters cost less than RM 10, and the mains are also very decently priced, ranging from about RM 10 (small-ish serving) to RM 50 (enormous serving).
Mind you, very little effort is made on presentation here so please expect your food to be served on plastic plates with no garnishing.
Oh, and if you are feeling brave, they have a special item on the menu:
THE PYTHON......
The Python is a monster of a sub - 2 feet long and stuffed with meat, cheese and mushrooms.
The challenge is that if you can finish it in an hour, you'll get it for free.
(You can see it
HERE
on Pat's blog)
Warning: Do not attempt unless you have the gastro-abilities of
Takeru Kobayashi
, or have not eaten in 3 days....
Note: Please park in the Hartamas Shopping Center and NOT Plaza Damas if you can help it. Although these buildings are connected, the parking charges in Plaza Damas are much higher.
Restaurant Review
Summary Sheet:
Flamin' J Firehouse @ Hartamas Shopping Center

Taste: 5.5
Ambience : 6
Service : 8
Price** : RM 25/++ per person
Parking: OK
** Approximation - 3 course meal, excluding drinks
Telephone No.: 603 - 6201 7750

Opening Hours: 11am - late

NO PORK SERVED
The After-(Dinner) Party:
After dinner, we ventured to D'Lounge, a nearby bar located in Plaza Damas (which is situated right next to the Hartamas Shopping Center).
This bar is so cute!
It has a very kitschy retro look, with white, red and silver being the dominant colours in the theme....
... with amusing posters with unusual taglines lining the walls
... and funky chill music playing in the background...
All in all, D'Lounge is a small but comfortable lounge, with the only flaw being the very limited selection of drinks on the menu.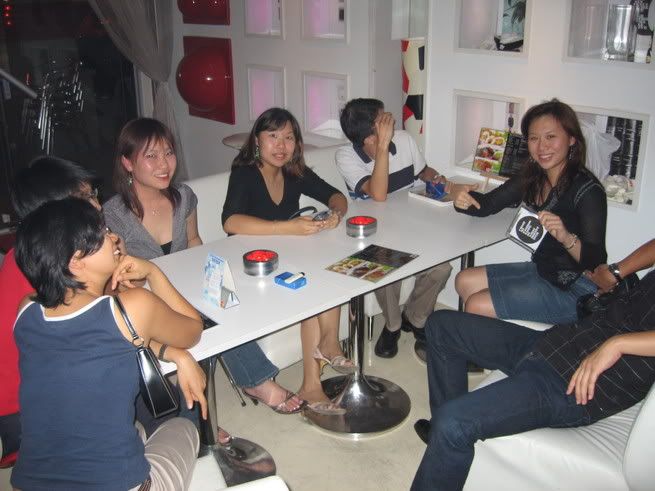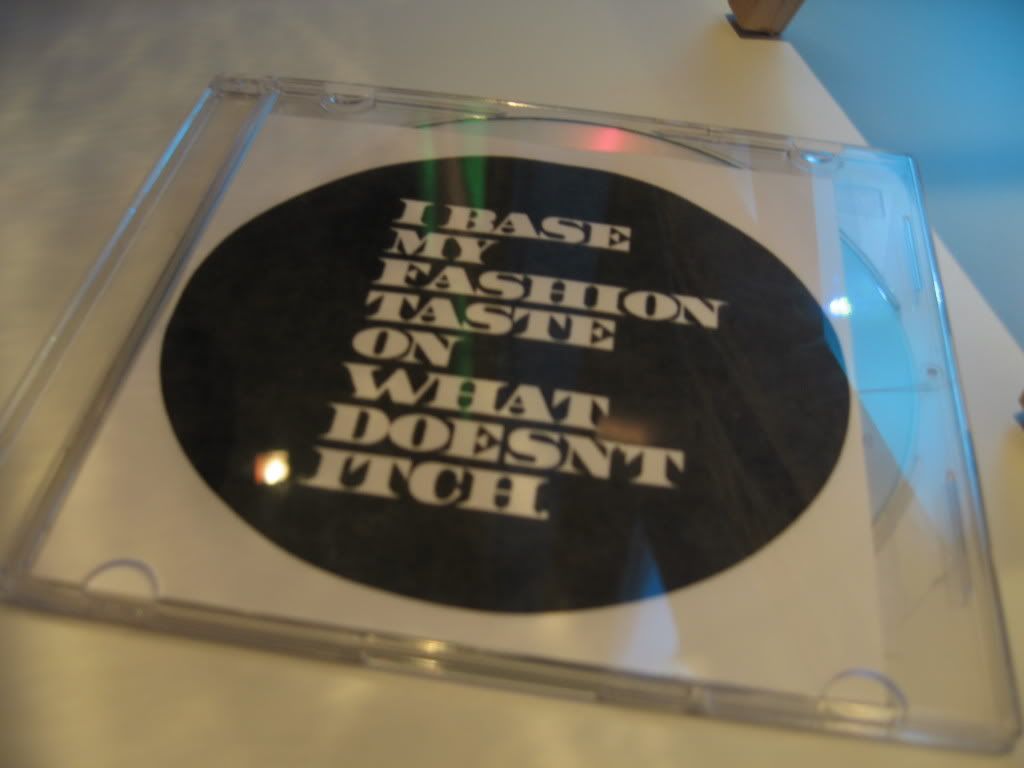 I definately wouldn't mind going back there again sometime...
It's a nice place to chill out with friends over a beer...

D'Lounge @ Plaza Damas

Unit D04, Plaza Damas
60, Jalan Sri Hartamas 1,
50480 KL
Tel : 03 - 6201 9822

Opening Hours
(sorry - forgot to note it down)
TAGS: Food, Blog, Weblog, Malaysia, Restaurant Review, Restaurant Reviews, Hartamas, Flamin' J Firehouse, Flamin J Firehouse, American, Kuala Lumpur