It's 11.40 and here I am at home,... relaxing and nibbling on a Kit Kat bar....
muahaha.
I love holidays.
(but of course, this is only for people in PJ, so sorry my KL friends)
:)
Anyway, onwards to another food review:
Dum dum dum dum.....
I know, I know...
Many other sites out there have done reviews for Delicious Cafe by Ms Read.... but anyway, here's my take on the place....
The Dinner:
Saturday night at Delicious at Bangsar Village was busy as usual, the usually cool and relaxing ambience of plush couches and relaxing blues and whites was replaced by a market-like hustle and bustle of activity.......
(Waiters looked a bit overworked and it was hard to get their attention...*gwumble*)
Even with that, our food came amazingly quickly...
I know that
Pat
was more than plesantly surprised when the Marsala Lamb Shank he ordered arrived in 5 minutes flat...: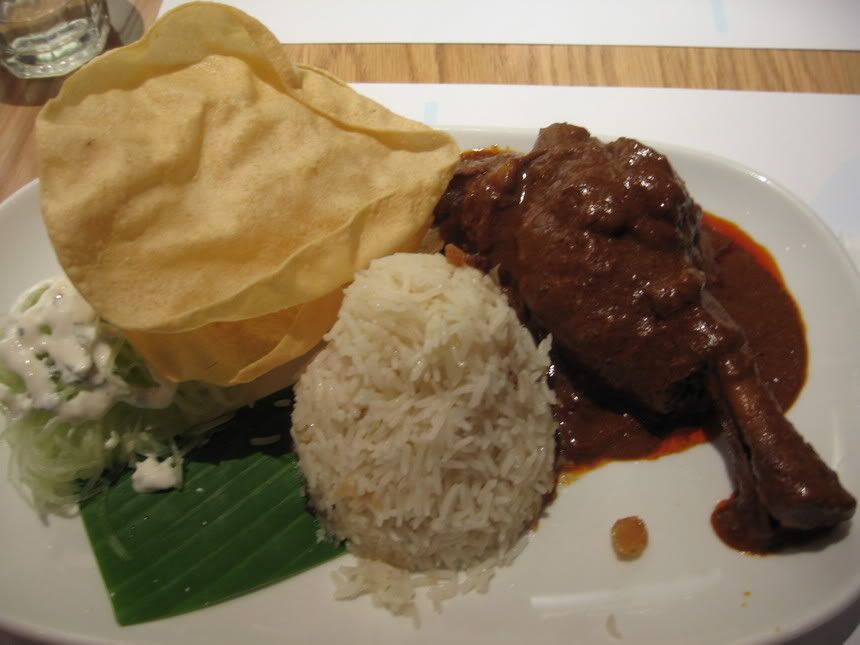 The lambshank comes very highly recommended and is not only really delicious, but an absolute steal for only RM24.... (as
Pat
himself will attest to).
I had my usual, the Duck Confit Spagettini...
This dish is one my all time favourites, with the simple oglio style spagettini beautifully paired with shredded duck meat, sun dried tomatoes and coriander.
Leaving
Pat
to clean off the large bowl of fries that we had ordered (I swear, that man has a bottomless pit for a stomach!)... I waited impatiently for the main reason I had chosen to dine at this restaurant.....
... the mouthwatering, to die for,.... Classic Chocolate Cake: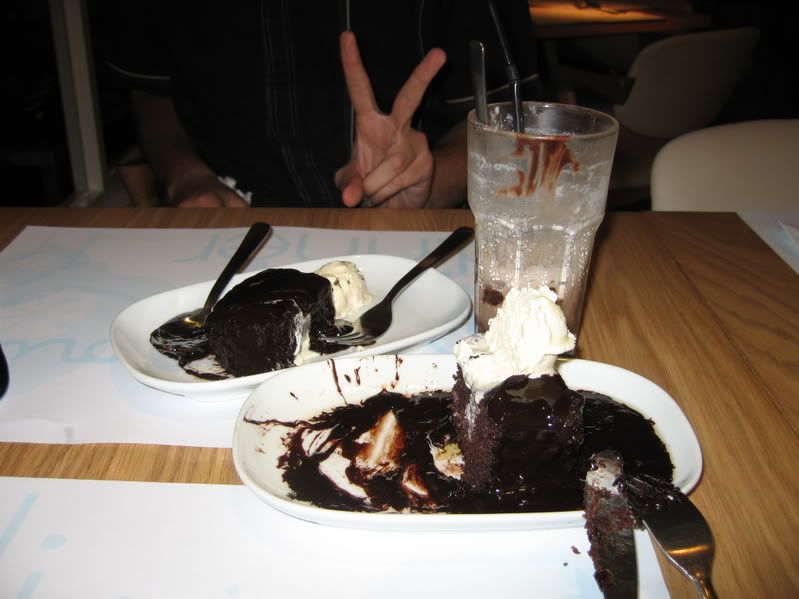 Sharing the cake aka. Sharing the calories
Now, don't let the boring, run-of-the-mill name fool you...
(ditto with the really bad photo - eek, really should have taken a photo before splitting the cake)
...for this cake is far above the normal dry chocolate spongey quasi-cakes served at many a cafe/ restaurant in Malaysia...
This cake, moist and rich, smothered with a generous serving of hot chocolate fudge and a scoop of vanilla ice cream, is the closest I have found to heaven on earth...
Be warned though, however tempted you may be, it would be foolish to attempt to finish off the entire serving by yourself (especially after having your main meal) because it is very very filling....
Pat and Chen Hoe (Pattar says: Rawr)
Twas an early night, that Saturday....
Pat raved about how good the food was for the price... but only had one complaint... that the drinks were a little overpriced (which I totally agree with)....
I was not feeling well so with my tummy bulging, I retired to bed very soon after dinner....
*snoooore*
Restaurant Review
Summary Sheet:
Delicious @ Bangsar Village

Taste: 8.5
Ambience : 6
Service : 6
Price** : RM 40/++ per person
Parking: Ample
** Approximation - 3 course meal, excluding drinks
Telephone No.: 603 - 2288 1770
Opening Hours: 11am - 11pm

HALAL

[ BEGIN EDIT ]

The phone number for their bigger outlet in One Utama is 03-7724 1086.

Cheers,
J

[ END EDIT ]
TAGS: Food, Blog, Weblog, Malaysia, Restaurant Review, Restaurant Reviews, Bangsar, Delicious, Ms Read, Fusion, Chocolate Cake, Kuala Lumpur