UPDATE: Sadly, Domain Cafe has closed down (indefinately).....
Last Saturday, we ventured to the (slightly) deeper regions of Damansara Perdana to try out Domain Cafe (aka. **The Restaurant Previously Known As The Pink Olive).

(You may view the map HERE)

Domain, located just off the main road to The Curve, is quiet and cosy, with simple modern decor.... (sadly, the ambience is somewhat marred by the mamak restaurant just opposite it... Motorcycles and cars zooming past, football game blaring on a big screen tv.... Well, you get the picture)
A peek into Domain Cafe

After we got over the fact that we were the only patrons at the restaurant that night, (it's really so quiet there!) we commenced the feasting....



The Dinner:



I started off the night with a favourite of mine: Panfried Mushrooms....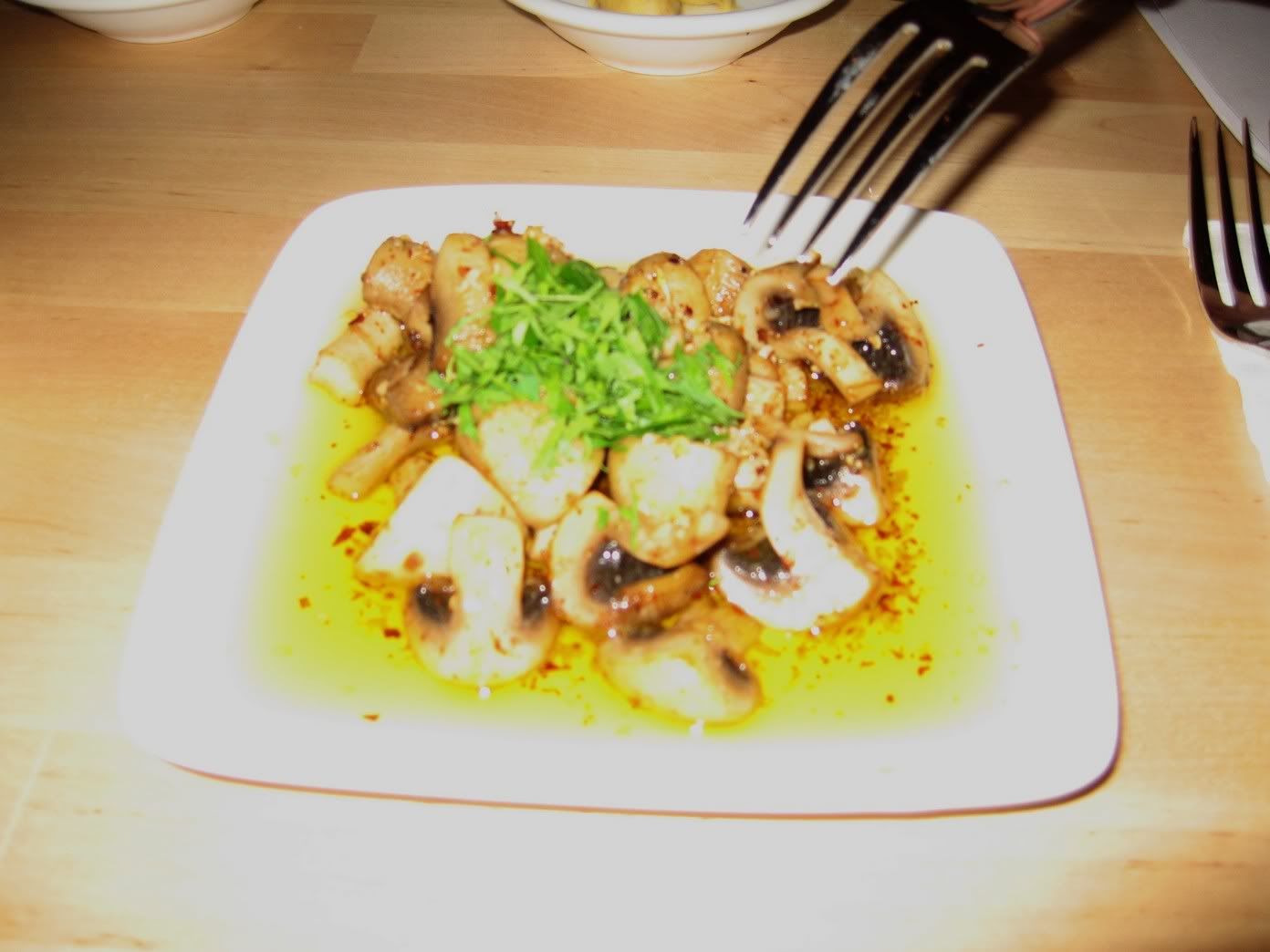 Psychedelic mushrooms
The mushrooms were simple but delicious, lightly cooked in olive oil and garlic, with a pinch of fresh herbs that accentuated its flavour...
(definately something that I would order again)

(Hmmmm,.. I don't know why the photo looks kinda scary, with the oil seeming to glow in an eerie yellow neon manner but I assure you, them mushrooms were delicious! Almost had to stab Pat in the hand with a fork to stop him from stealing too many from me)

Pat had the Grilled Chicken Ceaser Salad to start off....
Et tu, Brutus!
The salad was really tasty, with chunks of tender grilled chicken... and a real steal for only RM13.

For the mains, Pat had the Linguine Aglio Olio with Crabmeat and Lime.....
Alas Sebastian, we knew him well....
This dish, which came highly recommended by Jo-Lyn, was really nice...
(I stole a few bites)
It was a very uncomplicated dish, with the pasta (al dente, mmmmm) served with flakes of shredded crab meat and herbs....
Although the lime has been left on top as an option, I'd say that adding it is a definate must as it really brings out the flavour of this dish.

And as for me, I tried out the Baked Cod (served with mash and a bed of wilted spinach)...
How we hurt the ones we love
The cod was ok - lightly crispy on the outside and moist inside....
(and only for Rm33 too - good price)


Albert
had selected a pizza for his main, but reports that it was only "OK".
For dessert, I chose the Chocolate Cake...
(I'm rather predictable, aren't I? *grin*)
My one true love
The chocolate cake was delicious!
(...although I would say that the consistency of it is perhaps more of a "chocolate fudge brownie"...)
The "cake" was crispy outside and moist inside, with chunks of chewy chocolate fudge..
*droooool*
It is super heavy though, so I would warn you not to attempt to finish it on your own, because you will definately get "jelak"** when you are about halfway through...
(**queasy)

Mmmmmm,... and the piece de resistance: The Lemon Tart!
My new squeeze
This simple dessert was perfect.... the tartness of the smooth lemon cream paired beautifully with the crispy tart base and yummy strawberry coulis.
It was easily the best lemon tart I've tasted EVER...
(with 2 thumbs up from Albert and Patrick too)

All in all, it was a good dinner - quiet restaurant (erm,.. but a bit TOO quiet actually), good service and yummy food (at a good price too)....



Restaurant Review
Summary Sheet:

Domain Cafe @ Damansara Perdana
Taste: 7.5
Ambience : 6
Service : 8
Price** : RM 40/++ per person
Parking: Ample

** Approximation - 3 course meal, excluding drinks
Telephone No.: 603 - 7725 4778
Opening Hours: 11am - late

NO PORK SERVED




TAGS: Food, Blog, Weblog, Malaysia, Restaurant Review, Restaurant Reviews, Damansara, Domain Cafe, Western, Kuala Lumpur