*looks at calender*
Yup, it's Friday again...
*sigh of relief*
:)
Anyway, this year, my family and I ventured to the quaint and wonderfully lush
Cafe Cafe
on Jalan Maharajalela, Kuala Lumpur to celebrate my mother's birthday....
After the initial misadventure , we found ourselves at our venue of choice...
(It all began with making one wrong turn *sigh*)
(I'm hopeless with directions! - I really should have printed out the map from their
website
)
(Word of warning: although parking is ample in the general vicinity of the restaurant, the area is very dark and looks a bit dodgy so please please don't walk alone, k?)
I love this restaurant......
From the outside, with its dark finishing, it looks rather unassuming... but the moment you step through its heavy wooden doors, you will be immediately transported to another world...
... a world of decadence and lush glamour,
... with glittering crystals floating on gossamer threads from the ceiling, sparkling like stars plucked from the sky...
(seriously,... it feels like being warped a few thousand miles into a romantic Parisian cafe)
A peek into Cafe Cafe
Ok.... enough gushing about the restaurant decor.....
Onwards to the food!

The Dinner:

We started off dinner with a selection of appetizers...
- the Baked Escargots, in basil sauce (not in photo) which was ok,
- the Panfried Mushrooms in Garlic which was delicious!, and
- the Smoked Salmon Salad which was crisp and fresh (*yum*).



The salad and the mushrooms!
Soon after, the mains arrived....
Here is the Panfried Salmon in Wine Sauce which was delicious...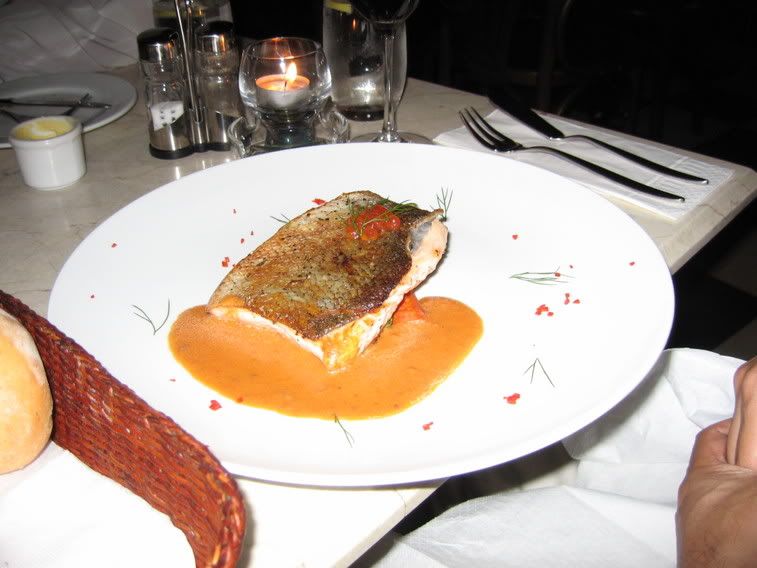 Here fishy, fishy, fishy.....

... and the monstrous Braised Lamb Shank that I had,...
(such a large serving... and only for RM 36!)
... the lamb shank, although large, was surprisingly tender and just slightly spicy...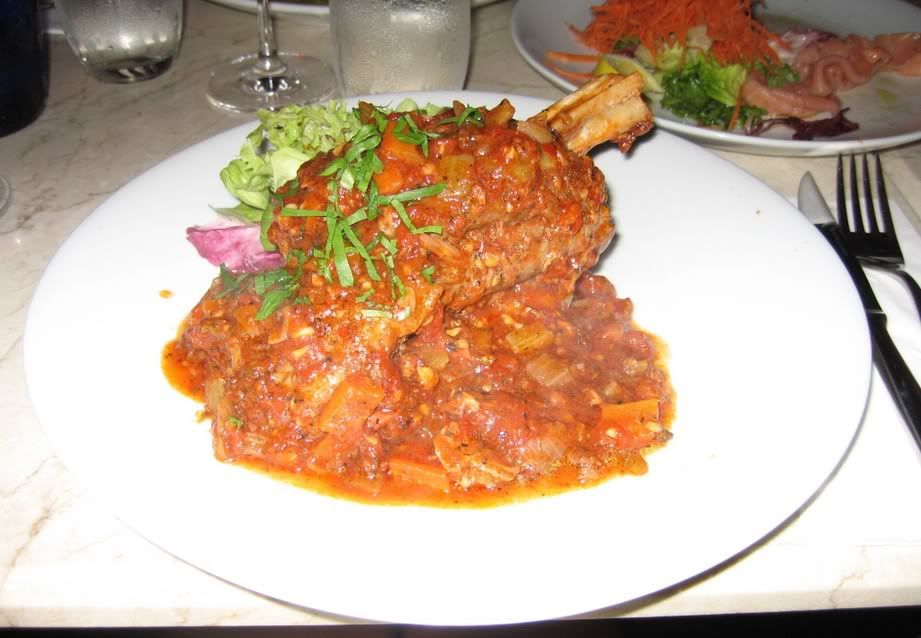 Holy moly! Look at the size of that shank!
Mmmmm,... and the creme de la creme.... The Chocolate Mousse which we had for dessert....
(It's really good!)
Eat first, regret later....?
My mum had the Chocolate Royale for dessert...
It was also really good... similar to the Mousse but with more texture as it had a delicious crumbly base....
Overall,... we all had a lovely time at the restaurant...
It has an extensive selection of wines, delicious food, charming and attentive waiters.... all beautifully packaged in a truly unique and delightful ambience.

Of course, there is always a downside to every place... and for Cafe Cafe (this is me being super super fussy), it was the oddly mixed crowd that patronises it......

It's strange:
You'll see beautiful people, dressed to the nines, giggling over wine and foie gras at one table....
... and at the next table, you'll find a groups of people dressed in t-shirts, shorts and slippers sipping on coffee....
(Not that I'm against people wearing whatever the h3ll they want, as long as they are comfortable... it just kinda spoils the ambience)

Hmmmmm.

Anyway, that's all for now.....
Restaurant Review
Summary Sheet:
Cafe Cafe @ Jln Maharajalela, KL

Taste: 8
Ambience : 8.5
Service : 8
Price** : RM 80/++ per person
Parking: OK (but very dark)

** Approximation - 3 course meal, excluding drinks
Telephone No.: 603 - 2145 8141
Opening Hours:
Mon to Sat 6pm - 12am
Sun 12pm - 12am
NO PORK SERVED
TAGS: Food, Blog, Weblog, Malaysia, Restaurant Review, Restaurant Reviews, Maharajalela, Cafe Cafe, French, Kuala Lumpur