A holiday display in Hunter's Creek, Orlando is causing quite an uproar. The display features Rudolph the Red-Nosed Reindeer hanging from a tree in the front yard of the house.

(Sound normal enough so far?)

Well, with one red light represents its nose and the rest appear to be blood draining from Rudolph's body, the display represents a hunting technique called field dressing, which is what hunters do to a deer they kill (but many neighbors say it disgusts them)

Observe: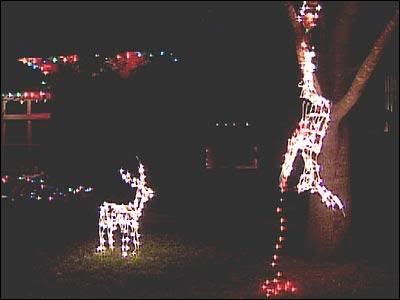 Blitzen sez: "Hey, R-man! How's it hanging?.... erm... You don't look so good...."
Rudolph sez: "OUCH."
Very unconventional, to say the least......
(You can check out the original article HERE)

:)

What a way to display Christmas cheer...!
... Kudos for originality though.....
TAGS: Weblog, Blog, Malaysia, Personal, Christmas, Rudolph, Unusual