Gutten Morgen, people......!
Monday morning already.
Time to get back in the grind....
*whine*
Anyway, ....I'm really getting a bit slack with this whole dinner review thing...
It's been about 3 weeks since we went for dinner at the
Mustard Tree
... and now I finally get around to writing the review.
Without further adue:
The Dinner:
There was a big group that week,... about 20 people strong....
Here's everyone at waiting for the food: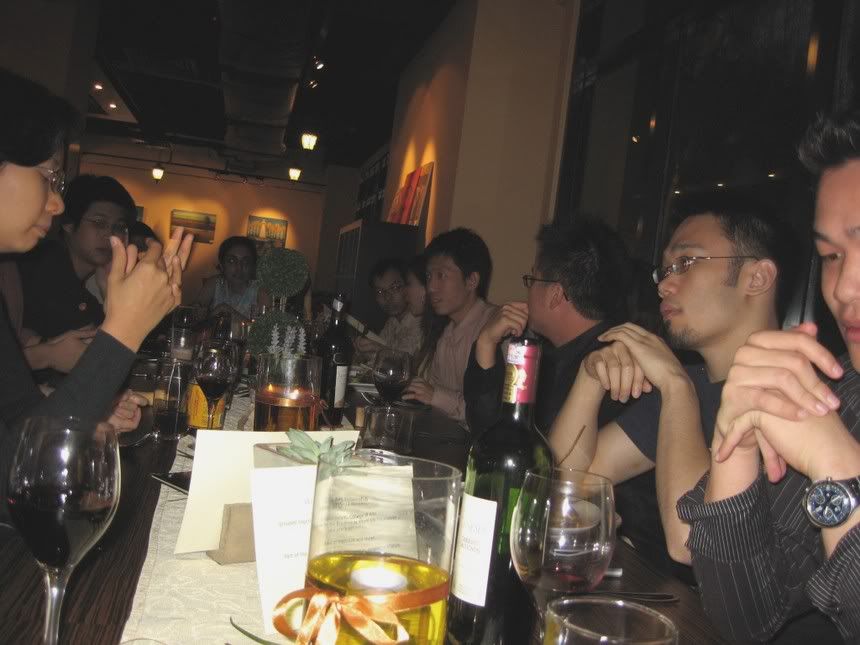 *faint sound of tummies rumbling in anticipation*
The restaurant was roomy yet cosy.... seating all us of comfortably....
The service was great.... with very attentive service the whole night from Godwin and his staff....

Soon after ordering,.... the food arrived (to our delight)....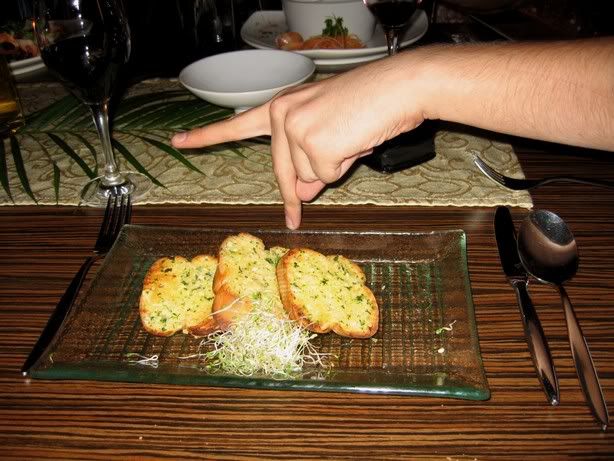 Garlic bread (less one piece) - does not necessarily come with dancing fingers
According to JJ, it was crispy and delicious..... but I think the most highly recommended appetizer for the night was the Grilled Mushrooms..... Voila:
The grilled mushrooms - yummy!
The mix of mushrooms, lightly grilled and heavily cheesed, were served on a bed of fresh greens and were well, ... cheese-a-licious!
My main was a bit of a disappointment though.... I had ordered the Grilled Fish with Almond Sauce and found it to be tasty.... but definately a bit on the dry side: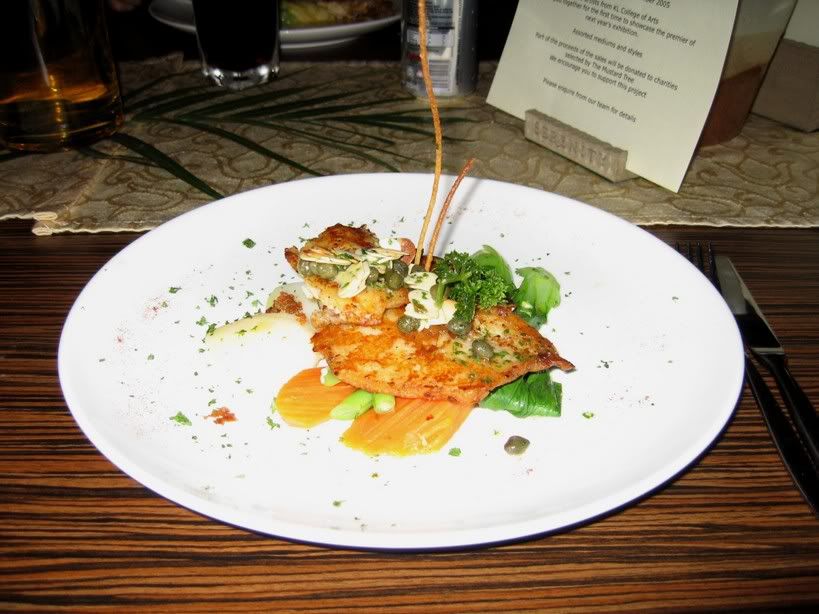 My main - grilled fish with almond sauce
Everyone else said that their mains were really good tho....
... ESPECIALLY the Mustard Lamb Chops which come with a "Satisfaction Guaranteed" stamp of approval from
Lenny
.
Last but not least,..... dessert! (Definately my favourite part of the meal).
Here's the house specialty - The Chocolate Brownie, smothered in rich hot fudge and topped with vanilla ice cream: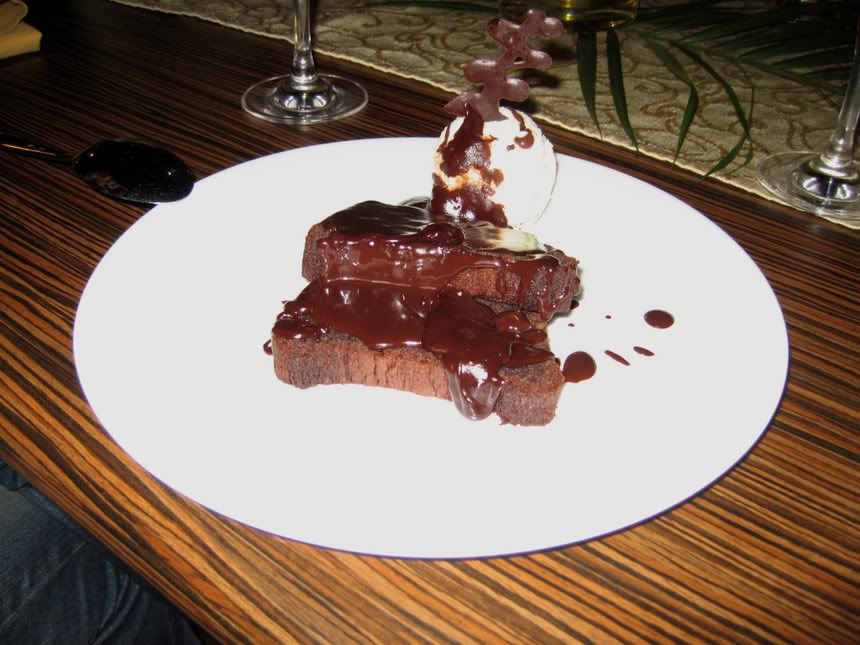 Le Dessert - Chocolate Brownie
The brownie, of which I had nicked off
Huey Yee
, was more like a really heavy chocolate cake....
Although there was nothing wrong with it..(it's actually pretty good).. I was not fully satisfied... (What can I say? I am totally spoilt after having tasted the chocolate cake at
Delicious Cafe
)
And of course, the main highlight of the night: Kwong Heng's new hairstyle:
(and before you ask, Yes. He did it voluntarily, No. He didn't lose a bet, and No. It wasn't done by a blind hairdresser with a lawnmower)
Kwong Heng's new hairstyle.... *eyes begin to bleed*
Overall, the Mustard Tree left a good impression..... The prices there are very decent, with a 3 course meal and a glass of pretty good Chilean wine only setting me back about RM 50...
(which is d@mn cheap by KL standards)

Also, Godwin was very accomodating, providing not only excellent service the whole night through but also individual billing for our whole group, which is very convenient and pretty rare....
(Kudos to Godwyn!)
(I think the only downer is the fact that it is on Jalan Ampang, where traffic is a pain in the @ss on most days)
If you want to find out more, the Mustard Tree has a beautiful website, with photos of the restaurant, current special menu selections as well as comments from patrons....
(you can check it out
HERE
)
Restaurant Review
Summary Sheet:
The Mustard Tree@AmpWalk, KL

Taste: 7
Ambience : 7
Service : 8
Price** : RM 40/++ per person
Parking: Ample

** Approximation - 3 course meal, excluding drinks
Telephone No.: 603 - 2171 2202
Opening Hours: 11am - 11pm
(Closed on Sundays, Monday nights and Public Holidays)
NO PORK SERVED

The After(-Dinner) Party: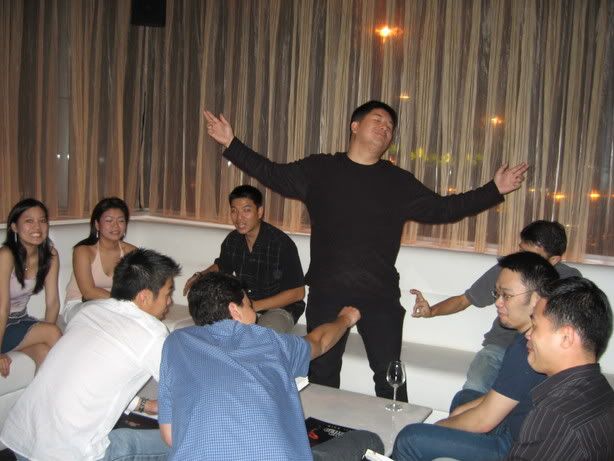 Everyone..... and JJ (erm... why is Pat putting his hand on JJ's... *aiiiieeee*)

Soon after, most of the dinner group congregated at the newly opened Cotton Club in Maju Junction, KL (near Wisma Sime Darby).
There, we all met up with Jo-Lyn (who was celebrating her cousin's birthday) as well as Alvin and Diana. The club was quite nice.... with a pretty good live band playing an assortment of popular old classics that night....
The Interior of the Cotton Club
Unfortunately,... drinks were a tad pricey.... and service was atrocious... with waiters more concerned with dancing on the bar tops, messing up orders and mixing up bills.
*sigh*
Still, it's not the place.... it's the company that counts, I suppose.

The Cotton Club @ Maju Junction, KL

G-11, Maju Junction Mall
1001, Jalan Sultan Ismail
50250 Kuala Lumpur
Tel : 03 - 2772 8588

Opening Hours
Mon – Thu : 11.30am – 1am
Fri & Sat : 11.30am – 2am
Closed on Sundays

TAGS: Food, Blog, Weblog, Malaysia, Restaurant Review, Restaurant Reviews, Ampang, Mustard Tree, Western, Kuala Lumpur