[ BEGIN EDIT ]

(as at end 2006)

Now, apparently Nine has already closed down / moved out of One Bangsar. I tried to call and email them to get more details but there is no response so far....

Hmmm...

Anyway, I will put more up when I find out the details.

:)

[ END EDIT ]Our continuing quest to tantalise our tastebuds brought us to the new, hip and happening restaurant called Nine at One Bangsar....

There, they have no ala' carte available but instead have "concept dining" where you only have a choice between 3 set meals:
1)RM 39++ --> Coffee + Dessert
('Nuff said)
2)RM 69++ --> 2 course meal
3)RM 90++ --> 3 course meal

(NOTE 1: This is how it works: You get to pick anything off the menu - eg. You pick the RM 69++ set. This means that you can then choose 1 appetizer + 1 main OR 2 mains OR 1 main + 1 dessert, etc. Also, the entire menu is seasonal - changing every 4 to 6 months)

(NOTE 2: The mains aren't THAT big, so most guys can go for 2 mains and it should be just nice)

(NOTE 3: Oh, and do watch out for certain menu items which have captions at the back - eg. +RM 40 for the Baked Cod, which means that you have to pay an additional 40 bucks on top of the price of the set you choose)



The Dinner:



Here's a look at the restaurant from the outside...
(Photos very fuzzy - sorry)



Most of our group went for the option of 2 mains...
Thus, I cannot do a proper review on the appetizers or desserts...

However, since I have dined at Nine before that night, I can say offhand that in general:
1) The appetizers are small but tasty.... Highlights being the Seared Duck as well as the Mushroom Broth....
2) The desserts are also small and not that great....
(Do avoid the Creme Brulee unless you absolutely LOVE the taste of basil)

(Disclaimer: The first time I ate at Nine, they were having a large function at the same time. Assumably, that affected the food quality. However, since first impressions last: I remain unimpressed with their food especially the very rubber-y Baked Cod I had that night)

A nice touch that Nine has is it's complimentary appetizer....
Changing from day to day, a yummy bit- sized morsel is served to you upon your arrival to tantalise your tastebuds... On this night, we enjoyed a stuffed mushroom, baked with cheese: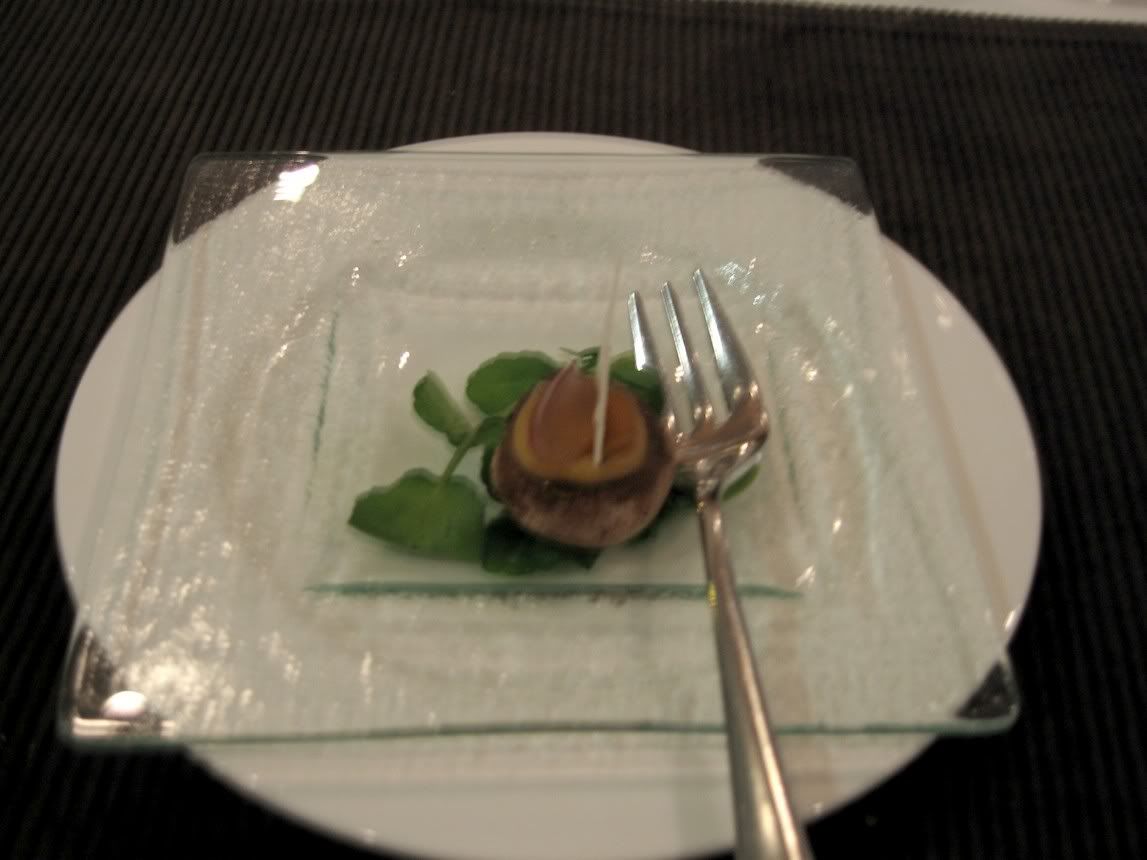 Yum!
Nine also serves a delicious Citrus Sorbet in between your first and second course to refresh your palate...
(No piccie though - was too excited and ate it before taking a shot! - Oops)
Moving on, here's are the mains that we enjoyed that night: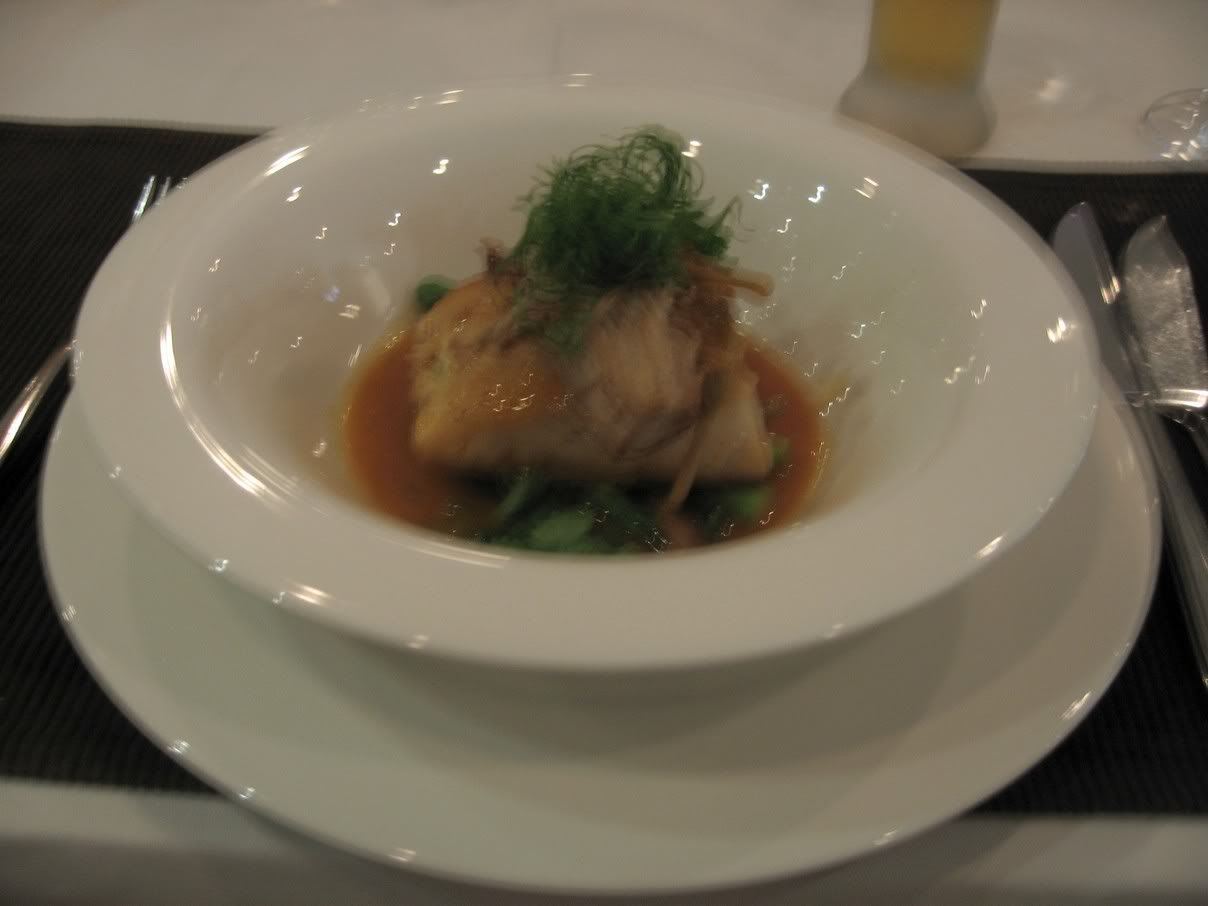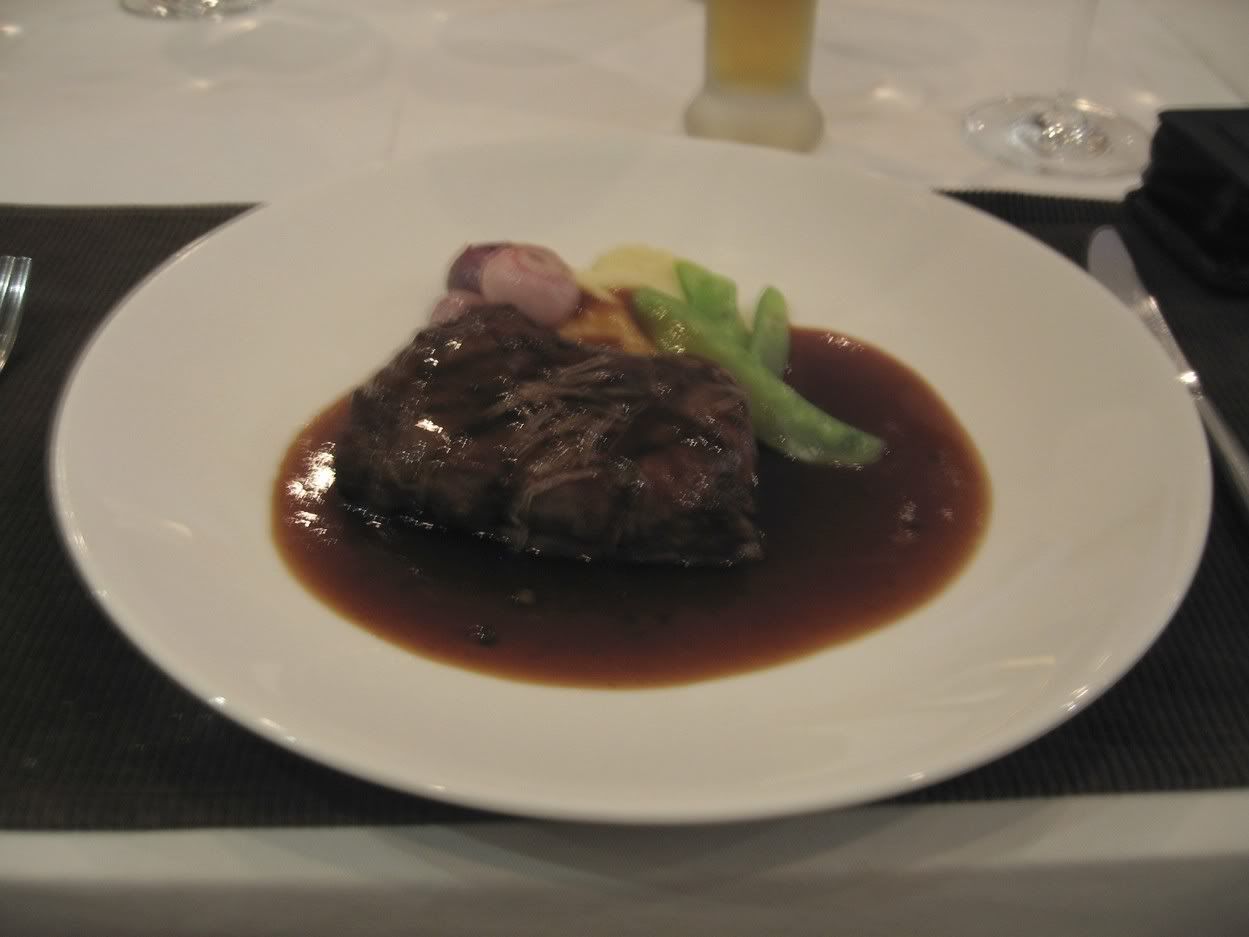 Clockwise from upper left corner: Fish with Szechuan Spices,
Grilled Lamb,
Steak with Wine Sauce,
Grilled Chicken.
The Fish with Szechuan Spices (my order) was really nice... The fish was tender and tasty, emphasised by the delicate flavours of the Szechuan sauce...
(Fusion cuisine at its best!)
Tha lamb was pretty good (
Chen Hoe
's order)... The meat was tender and juicy making the lamb a good pick....
The steak on the other hand (although a popular order that night) was only OK... I thought that mine was a bit dry, but possibly it's partly my own fault,... I had asked for it to be less bloody (medium).
Lastly, the chicken too was OK (
Pat
's order) - reportedly, nothing extraordinary...
Sneexe
was the only one who had dessert that night...
She ordered the Souffle served with Ice Cream.... and according to her, it tasted pretty good.
Here's all of us at dinner: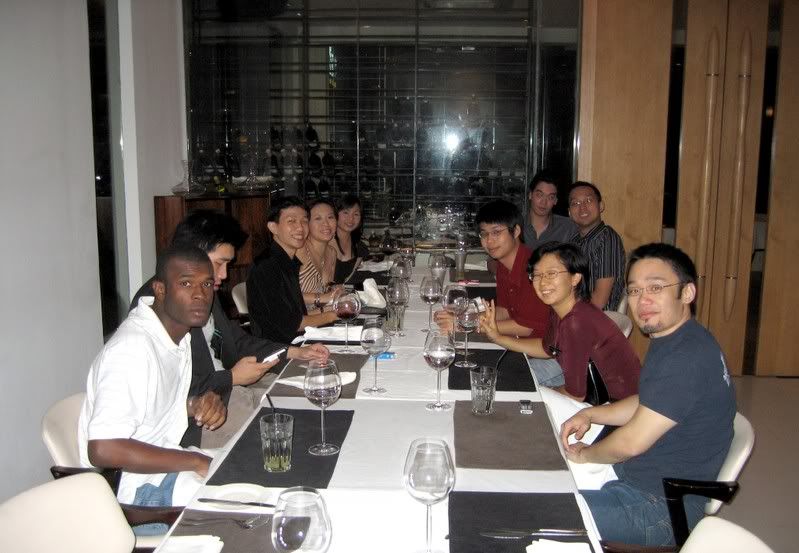 (Look at Pattar's eyes! Scary!)
Overall, I felt that the restaurant had a lot of hits and misses on its menu....
Although most of the food tasted alright... I couldn't help but feel that it was overpriced...
Also, seeing as this place has gotten rave reviews thus far, I was really expecting a LOT.
Still, the ambience is nice and the service was good, so all in all, this restaurant is worth a try.

(Another saving point though is that the drinks there are pretty affordable...
A glass of house wine goes for about RM15++ and a beer's about RM10++...)
Restaurant Review
Summary Sheet:
Nine @ One Bangsar

Taste: 6
Ambience : 8
Service : 8
Price** : RM 90/++ per person
Parking: OK

** Approximation - 3 course meal, excluding drinks
Telephone No.: 603 - 2287 9680
Opening Hours: 11am - late

NO PORK SERVED
The After(-Dinner) Party:
After we ended our glutton-fest, we proceeded to the Lounge/ Bar section of Nine @ One Bangsar(situated next to the dining area).... It was surprisingly empty for a Saturday night, so we had the whole place to ourselves...
:)
The bar was nice...(spacious and comfortable with funky chill music in the background)...and the service was impeccable (well,...we were the only people there la)... And as I mentioned before, the drinks are pretty affordable (for the Bangsar area)...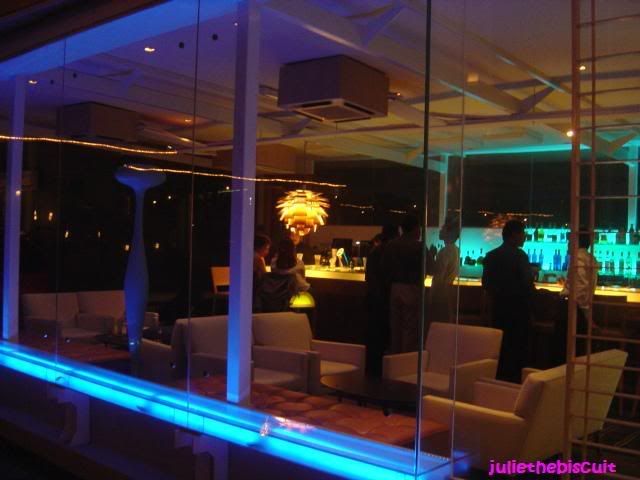 Photo of the bar ("borrowed" from Julie the Biscuit's site - thx Julie, hope you don't mind!)
Definately a great place to hang out with friends...
The only downside is that they officially close at about 1am (although the waiters were really nice and didn't rush us off or throw us dirty looks - Pssst...Thanks guys! It's much appreciated!).
Oh, and here's a piccie of
Pat
caught red-handed....
Silly Froggy! He thought he was putting on
Boon
's jacket.... and was THIS close to walking out with it until he laid his eyes on
Boon
... who had just walked out of the toilet, wearing his jacket.
Turns out it was the restaurant manager's jacket (that he had placed on the chair while he went out for a smoke)....

Nine @ One Bangsar

Pavilion 6 (1st Floor)
63c-1 Jalan Ara, Bangsar Baru,
Kuala Lumpur
Tel : 03 - 22879680

Opening Hours
Daily: 11am till 1am

TAGS: Food, Blog, Weblog, Malaysia, Restaurant Review, Restaurant Reviews, One Bangsar, Nine, Nine@One Bangsar, Fusion, Kuala Lumpur