Presenting, the hottest up and coming celebrity phenomenon in Japan now...

PROFILE
Name: Masaki Sumitami
Date of Birth: December 18, 1975
Place of Birth: Harima, Hyogo Prefecture, Japan
Education: Doshisha University (majored in Commerce)
What is his claim to fame exactly, you ask?

Well, Masaki-san is a 29 year old who's most spectacular "gei" (meaning talent in Japanese) is to turn into his TV alter ego : Hard Gay (aka "Razor Ramon") - a tall, buff faux homosexual dressed in a revealing black leather S&M outfit, whose incessant pelvis-thrusting and frequent exclamations of "WOOO!!!" has captured the hearts of Japanese, young and old....

(Good Lord,... Hard Gay's "gei" is pretending to be gay - eek... what a pun....)

Hard Gay's (HG) TV shows are loosely based on the wholesome concept of "yonaoshi", meaning social improvement. This means that he meanders down streets, attempting to help out those he perceives as being in need whilst making jokes rich with pun and innuendo (most times, whilst thrusting his crotch in the subject's direction with reckless abandon)
Hard Gay at Japan Yahoo! office
(Warning! View screenshots at your own risk!)
Wanna find out more?

Read articles on HG
HERE
and
HERE
.
Still morbidly curious? Wanna see him in action?
(Note: The following video(s) do not have English subtitles but seriously, you don't need them - it's still hilarious even if you don't understand a word he's saying.....)
HERE
- HG trying to make himself the Yahoo! mascot
Hit me again, you say? (Oh, behave!)
More videos:
HERE
- HG working at a ramen store
HERE
- HG helping the public on the streets of Japan
Curious aboout his recent cameos?
In the PS2 game: "Rakugaki Oukoku" (Graffiti Kingdom). Observe gameplay
HERE
.
HG cardboard cut-outs pimping out DVDs in stores: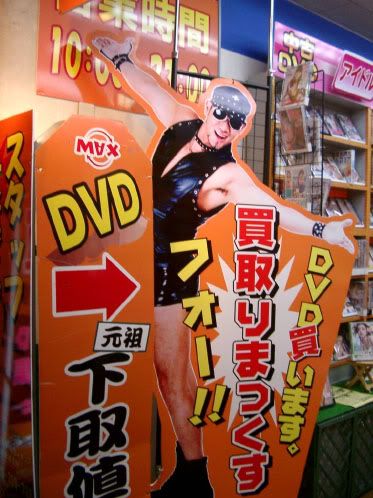 Woooooo......! Buy my DVD!
Like I said..... Only in Japan.....
:)
I'm feeling rather drained from work so thankfully, it's almost the weekend...
... and to add to that, I start my annual leave next week!
(Now, if only I can get the hours to pass by more quickly.... *wishful thinking*)
TAGS: Weblog, Blog, Malaysia, Personal, Video, Videos, Hard Gay, Razor Ramon, Japanese