A new Korean restaurant in the SS2, PJ area....
The Dinner
Whether you choose to dine inside or in the open air section outside, the decor is simple, clean and homey... It's nice that they haven't placed the tables too close together so although the place is not very big, it doesn't feel cramped at all: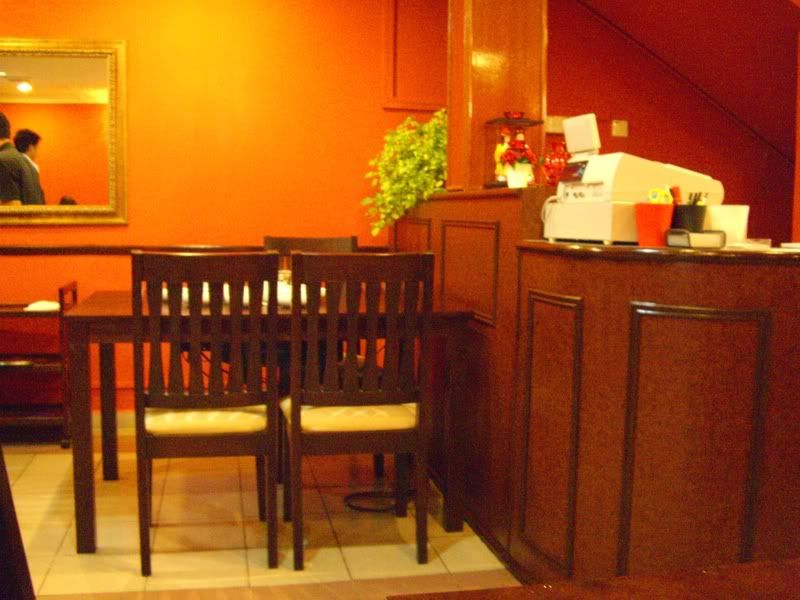 A look at Korean House.....
(FYI: It is located in the row of shop houses in the main SS2 area, just opposite all the new Wedding Shops (near the Police Station))
They have some affordable lunch sets here (about RM12++) but the main specialty here is the Korean Barbeque... They have a range of meats (chicken, pork, beef and lamb) that can range anywhere between about RM26+ to RM60++ per serving. That day we chose the Chicken (RM26++) and Spare Rib Pork (erm.. I think it was RM30++):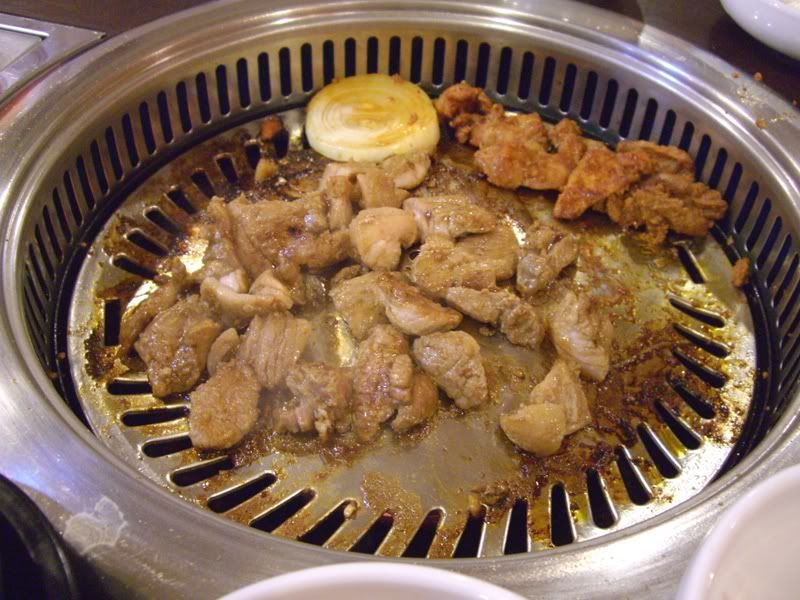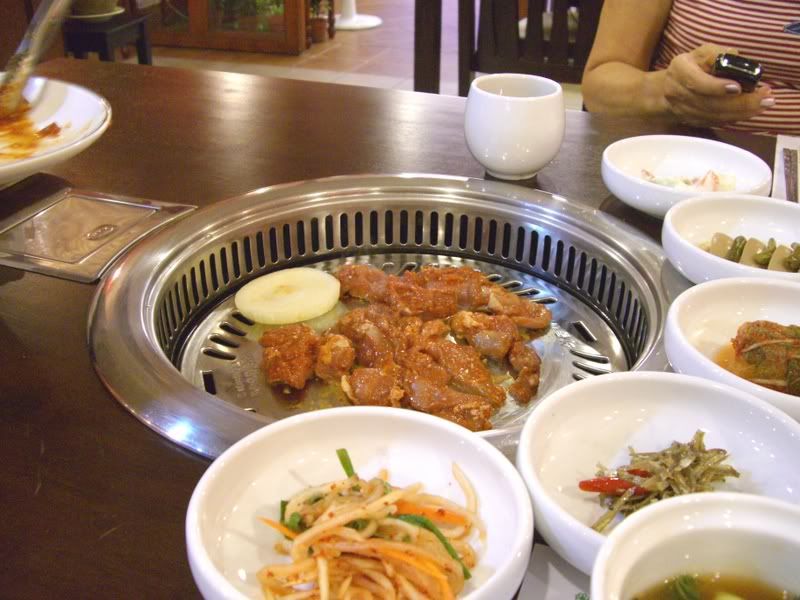 The Pork and the Chicken being cooked.....
The service here is pretty good as the friendly waiter will cook and serve the meat for you. Overall, the Chicken and the Pork were good as they were both very tender. The taste was possibly a little less salty then I would have liked but other than that, it was ok.
Of course, there is also a selection of side dishes served as well as a small salad(free of charge):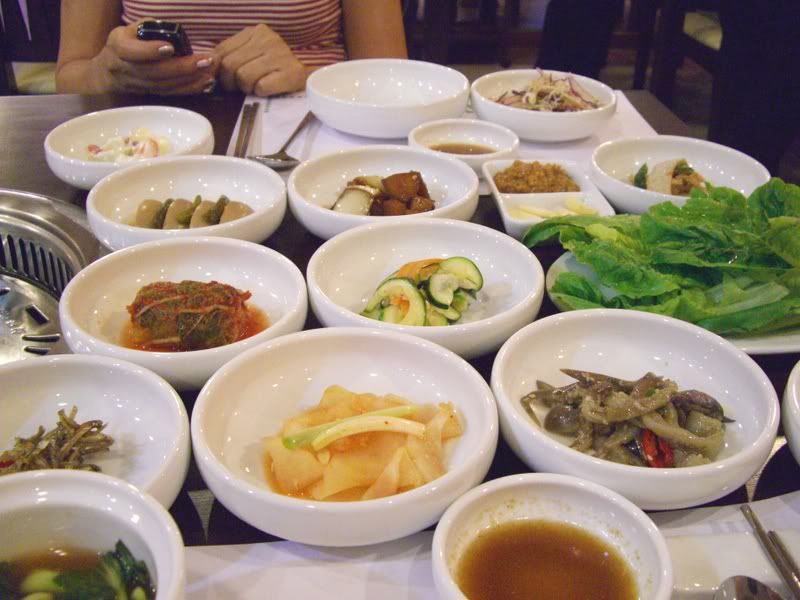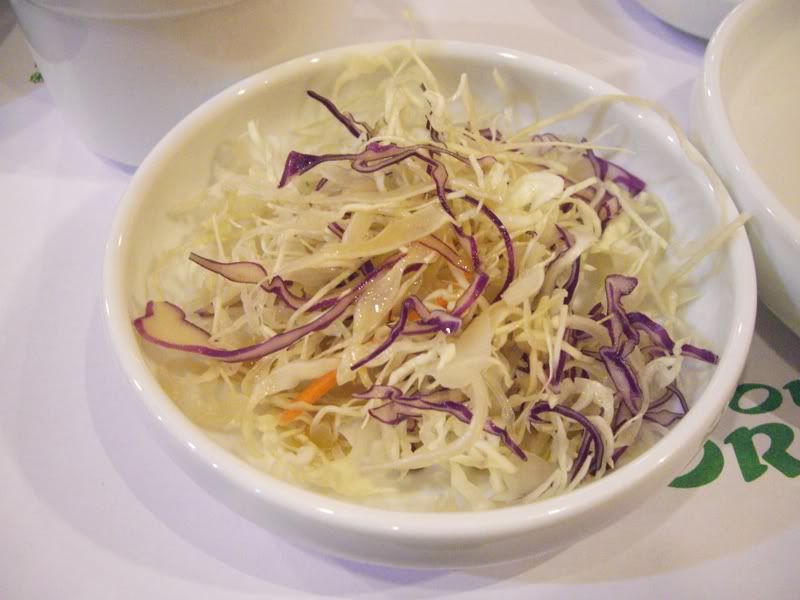 The array of side dishes and the salad.....
Fooyoorr....
There were so many!!
(About 12 kinds, specifically)
Of course they were just the usual simple Korean side dishes like Kim Chi, Pickled Cucumbers, Fried Ikan Bilis, etc... but they all tasted really nice.
They also provided a free Steamed Egg Dish (which was quite tasteless actually but hey, it's free lah):
The free steamed egg.....
At the end of our meal, the waiter brought over some (free) Watermelon as our dessert:
The yummy Watermelon.....
Hmmm..... now that I think about it, the price of the meat dishes were not very cheap (considering the serving size) but I suppose it's ok since they give so much other stuff free on the side.
Oh...!
And one more thing: The restaurant boss lady is so cute!
She is really friendly, hospitable and will literally keep bowing and saying "Kamsahamnida" (that's Korean for "thank you" btw) to you all the way from your table to the door on your way out...
So, it's: Friendly service, cosy restaurant and great selection of Korean side dishes BUT prices are ok but not THAT cheap and you end up smelling like BBQ meat when you leave...
Restaurant Review
Summary Sheet:
Korean House @ SS2, PJ

Taste: 6
Ambience : 5.5
Service : 6
Price** : RM40/++
Parking: Difficult on weekdays, particularly on Monday night (pasar malam)

** Approximation - Per person, 3 course meal, excluding drinks
Telephone No.: 03-7873 0031
Opening Hours: 11am - late
NOT HALAL
TAGS: Food, Blog, Weblog, Malaysia, Restaurant Review, Restaurant Reviews, PJ, Petaling Jaya, Korean House, SS2, Korea