Simple but nice place to have Mediterranean food in the Taman Tun Dr Ismail, KL area....
[ BEGIN EDIT ]
(July 2009)
Oops. Forgot to tell you:
Porto Romano has a new outlet in Mont Kiara (at the base of the Mont Kiara Banyan Condo, right next to the Wendy's). It's actually been open for about 6 months already.
The ambience is really nice - romantic and cosy - a sort of "high class living room" theme, with a couch, fake fireplace and various knick knacks decorating the upper floor.
Parking can be quite a pain though! (There're only about 15 spots in the small area outside the restaurant) I ended up parking illegally at the side of the main road when I went there. :(
Oh well. The food is still good and that's what really counts I guess. :)
Ciao,
J
[ END EDIT ]
Porto Romano is set in an unassuming corner shop lot in Taman Tun Dr Ismail.
(It's in the middle of the block of shop lots near Canadian Pizza/ behind La Manila. Need another landmark?: The Shell Station is nearby too)...
Here, the ambience is simple, comfortable and classy - basically, a nice place to have a nice dinner that's not too formal....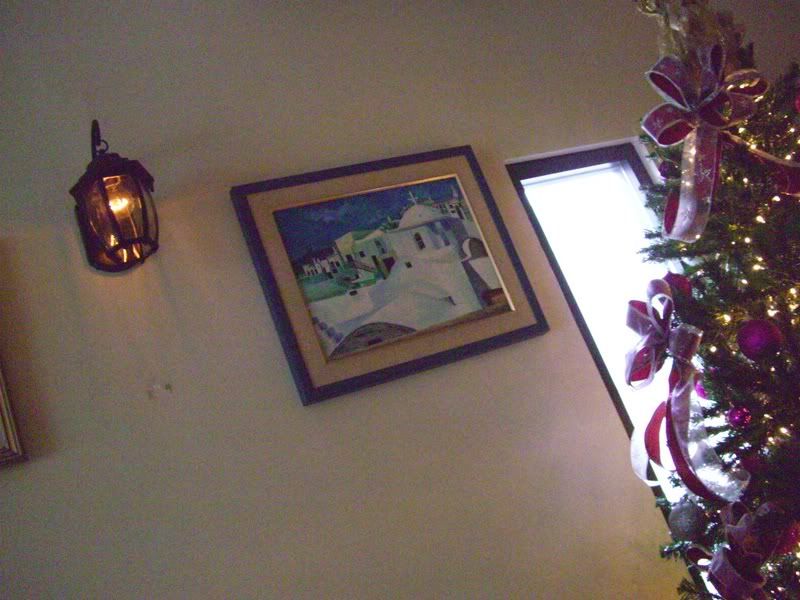 A peek inside Porto Romano.....
That day, we were having an early dinner so we skipped the starters and jumped straight to the mains... They claim to have the "best lamb shank in town" so of course being lamb lovers, we just HAD to try it out:
The Lamb Shank.....
Overall, the Lamb Shank was good (priced at about RM28++)!
I can't confidently say that it really is the absolute best in the whole of KL (as they claim) but the meat was pretty tender and the tomato based sauce was robust and wholesome, so it's a good meal.
:)
We also sampled their special Spaghetti, the Porto Romano Spaghetti: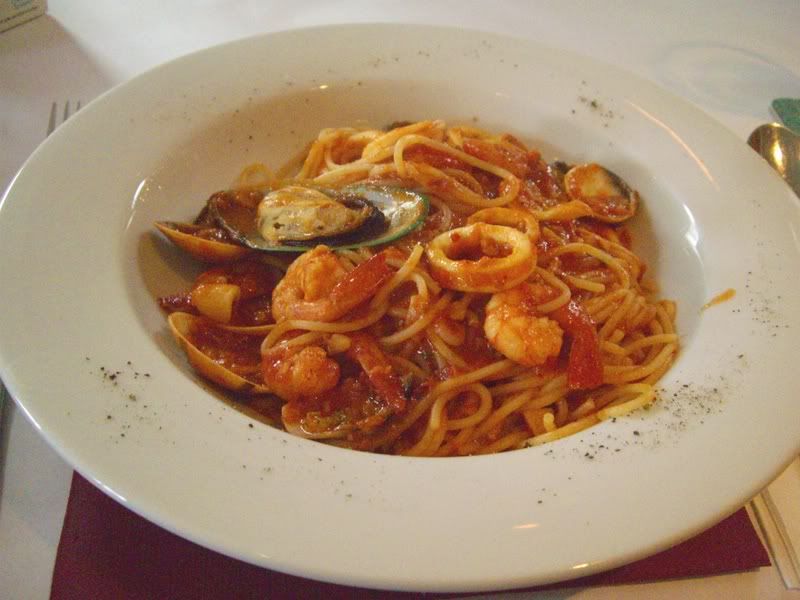 The Porto Romano Spaghetti.....
Basically, this is like a spicy version of a Marinara Spaghetti and I loved it!
The seafood was fresh, the spaghetti was al dente and the sauce was rich and flavourful with that extra added kick of spiciness.
(Would definately order this again!)
We capped off our dinner with a simple Gelato (Italian Ice Cream) selection. Basically, they charge about RM11 for a selection of up to 3 flavours from their Gelato list. I forgot to take a photo but if you like Rum & Raisin then do try the one here - it's really nice!
(Or maybe I'm just an alcoholic)
Overall, I enjoyed the food there and look forward to revisiting it to sample their other specialties...
PS/ Thanks for the recommendation,
Boo_licious
!
So, it's: Good food, comfortable ambience, friendly wait staff BUT parking in the area can be quite a pain on weekdays.
Restaurant Review
Summary Sheet:
Porto Romano @ TTDI, KL

Taste: 7
Ambience : 6
Service : 7
Price** : RM50/++ per person
Parking: Weekends - OK, Weekdays: Painful.

** Approximation - 3 course meal, excluding drinks
Telephone No.: 03-7710 0509
(Other branches:
03-2162 6799 - City Square, KL Branch
03-6207 8171 - Banyan Condo, Mont Kiara branch)
Opening Hours: 11am - late
NO PORK SERVED
TAGS: Food, Blog, Weblog, Malaysia, Restaurant Review, Restaurant Reviews, KL, Kuala Lumpur, TTDI, Taman Tun Dr Ismail, Porto Romano, Italian, Mediterranean