A simple but nice place for Shanghainese and Sze Chuan food....
The Dinner
Esquire Kitchen has been around as far as far back as I can remember, slowly but surely growing from a few scattered outlets in PJ to about 15 outlets around the KL and PJ area (as well as an outlet in Ipoh):
Esquire Kitchen signage.....
Esquire Kitchen has simple but distinctly Chinese decor....
Most of their outlets are quite popular as a good Non-Halal place to have Shanghainese and Sze Chuan food while in a shopping center. So, more often than not it's terribly packed and noisy inside (especially on weekends):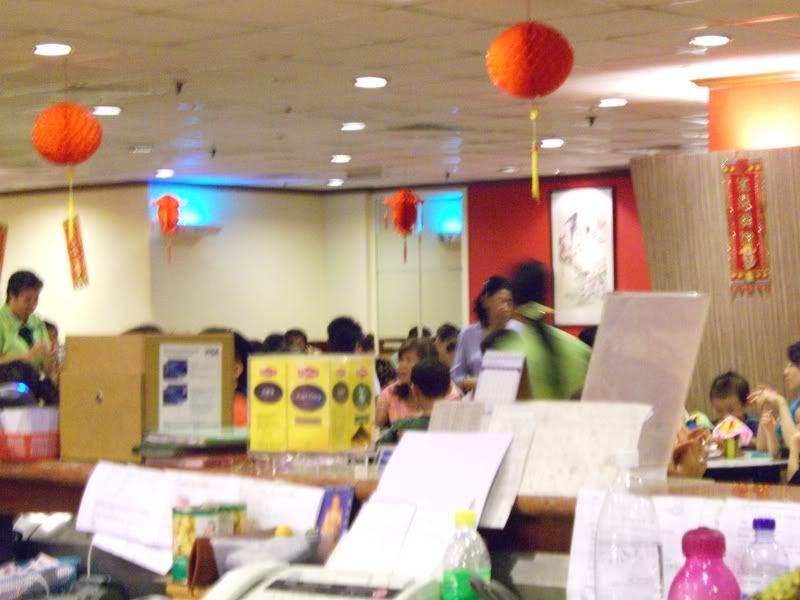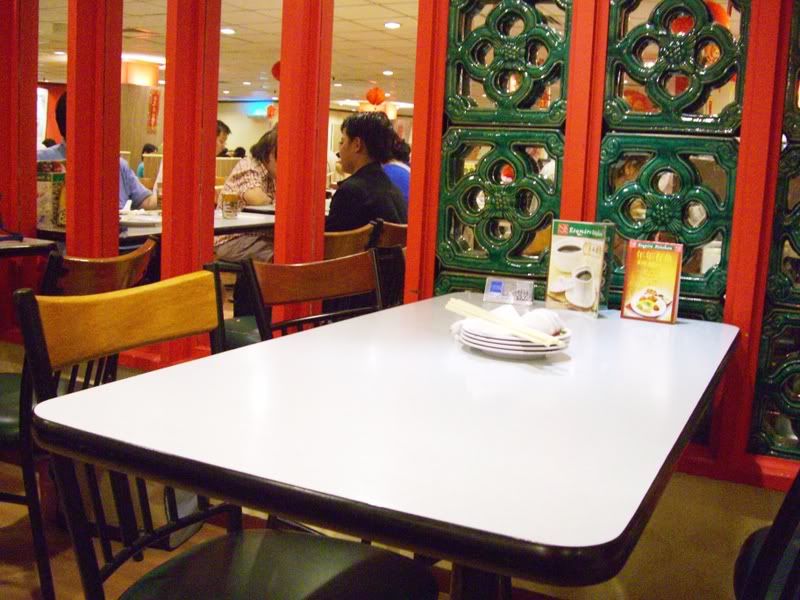 Bustling business .....
That night, we chose to dine at the outlet in Atria Shopping Center. We started off with the Fried Dumplings ("Worr Tip"):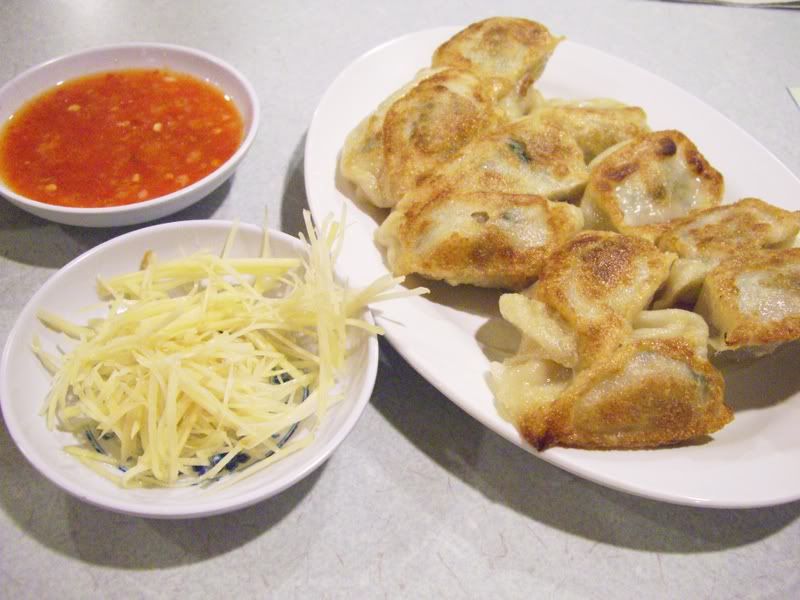 Yummy.....
This dish is considered to be one of Esquire's specialties and although it can NEVER be considered healthy (Eek. It's really oily!), it tastes pretty good.
:)
The "skin", although a bit thick, is not starchy (yay!)... and the meat filling with bits of vege in it, although not that generous, is fragrant and delicious.
(Dip it with a little of the Vinegar Ginger Sauce and it is absolutely YUMMY!)
Moving on to the mains, we had the Spare Ribs, Mapo Tofu and the Fried French Beans with Minced Meat: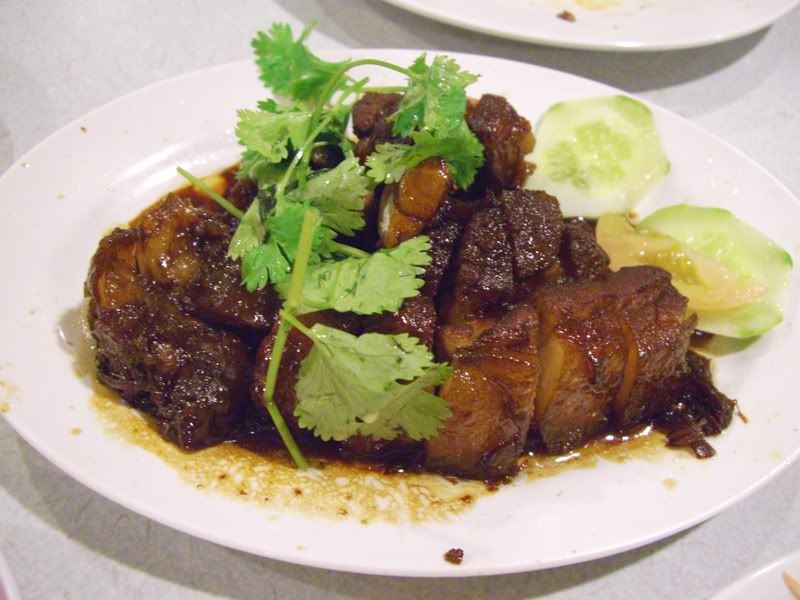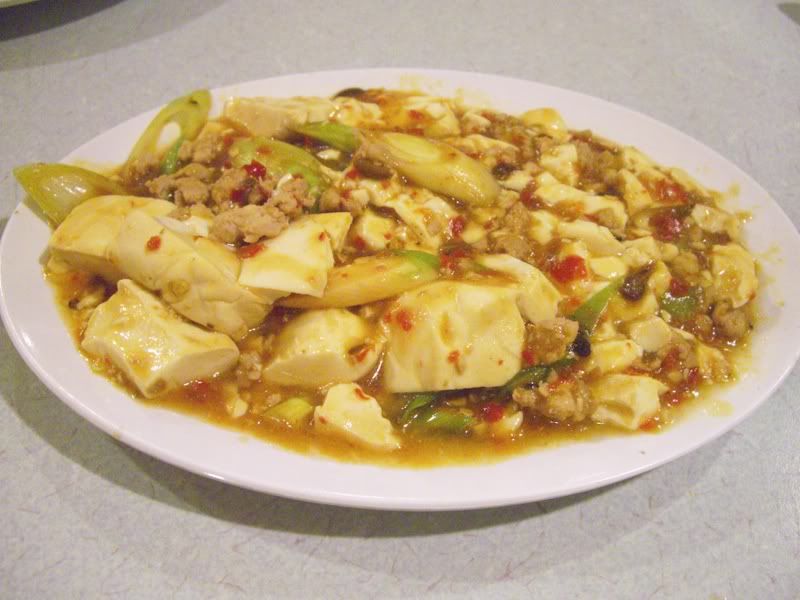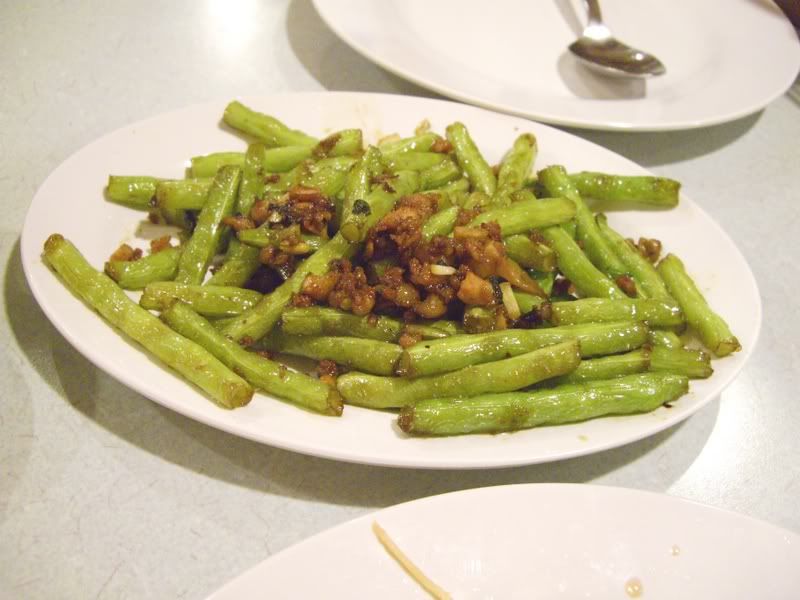 Clockwise from top: Spare Ribs, Mapo Tofu and the Fried French Beans.
Overall, everything was delicious.
(Although the serving sizes were a bit on the small side)
The Spare Ribs were reasonably tender and very flavourful.
The Fried French Beans were "crunchy" and fragrant... although a bit too oily.
The Tofu was also good with the tantalising spicy bean sauce... but it was really really spicy! I don't remember it being this spicy all the time though so maybe they just accidentally added a few too many chilis on the night that I was there.
However, my main gripe about Esquire has always been and will always be the level of service....
I mean, I love how they choose to hire older women here and I understand that the poor old dears are overworked (7 waitresses for about 40 packed tables?? Woah! Poor things.... ) but it irks me that my food is served so slowly almost every time I go there and of course, it usually all comes accompanied with an earth moving scowl.
What is the typical dining experience at Esquire, you ask?
Well, it usually goes a little something like this:
1) Order food.
2) Wait.
3) Rice is served.
4) Wait.
5) One dish is served.
6) Wait.
7) Ask for where other dishes are.
8) Response received: "On the way lah"... *waitress scowls*
9) Give up waiting for other dishes and start eating the served dish.
10) Finish eating served dish.
11) MORE waiting.
12) Repeat steps 5) to 11) for second and third and fourth dishes.
*sigh*
Still, I like the food there - especially the soup noodles for a light lunch - so I'll definately still go back for more rounds of abuse.
So, it's: Good food, reasonable prices and a casual but comfortable place to eat BUT consistently bad service especially during "peak" hours and if you're really lucky, they'll forget your order/ serve you cold food.
Restaurant Review
Summary Sheet:
Esquire Kitchen @ Atria Shopping Centre, PJ

Taste: 7
Ambience : 5
Service : 4
Price** : RM 23/++ per person
Parking: OK

** Approximation - Chinese style "sharing" meal, excluding drinks

Telephone No.: 03-7729 6563
Opening Hours: 11am to 10pm

NOT HALAL
Other Outlets:
Opening hours for all the following are 11.00 am - 10.00 pm.
• 1 st Floor, Sungei Wang Plaza, Kuala Lumpur
Phone: 03-21484506
• Kompleks Plaza OUG, Old Klang Road
Phone: 03-79831989
• 2nd Floor, IOI Mall, Kuala Lumpur
Phone: 03-58823127
• Ground Floor, Pandan Kapital, Kuala Lumpur
Phone: 03-42967250
• Level 1, Cheras Leisure Mall, Cheras
Phone: 03-91332578
• Selayang Mall Shopping Centre, Kuala Lumpur
Phone: 03-61377469
• Ground Floor, The Mines Shopping Fair, Sungai Besi
Phone: 03-89441377
• Ground Floor, Klang Parade, Klang
Phone: 03-33449251
• Ground Floor, Ipoh Parade, Ipoh
Phone: 05-2432723
• Lot 025 Ground Floor, Mid Valley Megamall, Kuala Lumpur
Phone: 03-93683609
• G-20 Ground Floor, Jaya Shopping Centre, Section 14, Petaling Jaya
Phone: 03-79570943
• LG 32, Lower Ground Floor, Subang Parade, Subang Jaya
Phone: 03-56370900
• Lot 1.14B, 1st Floor, Bangsar Shopping Centre, 285 Jalan Maarof, Bangsar
Phone: 03-2094 3135
• G003 GF, Endah Parade, No.1 Jalan 1/49E, Bandar Baru Sri Petaling, Kuala Lumpur
Phone: 03-9056 5033 / 03-7660 4808
TAGS: Food, Blog, Weblog, Malaysia, Restaurant Review, Restaurant Reviews, KL, PJ, Petaling Jaya, Chinese, Shanghainese, Sze Chuan, Sichuan, Kuala Lumpur