This time, our dinner group re-visited Sri Ayutthaya...
(Some of the others had come here last year... and I had "borrowed"
Lenny's review
previously...)
This Thai restaurant has been around for ages and usually comes highly recommended as a slightly more expensive but delicious place for Thai food in the Bukit Damansara area....
The Dinner
The ambience there was nice, lots of wood and nice touches like little elephant statues, carvings and water features....
(Like a high-class Thai "kampung house" style):
A look at Sri Ayutthaya, inside and out.....
With any visit to a Thai restaurant, one "must have" is the Tom Yam soup so we started off with that: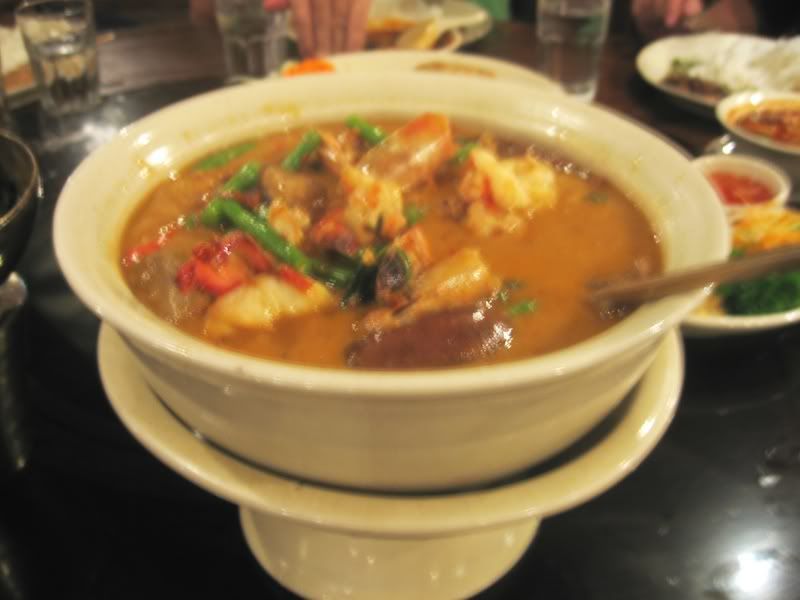 The Mixed Seafood Tom Yum Soup
Strange....
I have heard that the Tom Yum soup here is nice but I really didn't like it...
It was oily, sweet and a bit thick VS. my ideal Tom Yam soup which should be "ching" (clear), sour and smooth.
There was a rather generous amount of seafood inside though, so no complaints there.
We ordered an array of mains to share... Thai Fish Cakes, Green Curry Chicken (no photo - sorry!), Red Curry Beef, Assam Fish and Deep Fried Calamari:
Clockwise from top left: The Deep Fried Calamari, Assam Fish, Red Curry Beef and Thai Fish Cakes
Overall, I like the Calamari the best. The batter was crunchy and light but the squid was tender, with a slight sour zing.
YUMMY!
The Green Curry Chicken was also ok as the sauce was thick and flavourful...
(It tasted excellent with the rice!)
The Thai Fish Cakes (which tasted like mushy "Otak-Otak"), Red Curry Beef and the Assam Fish were only ok.
Nothing particularly wrong with them... they just didn't knock my socks off.
At the end of dinner, there will be a waiter with a large desserts tray for you to choose from: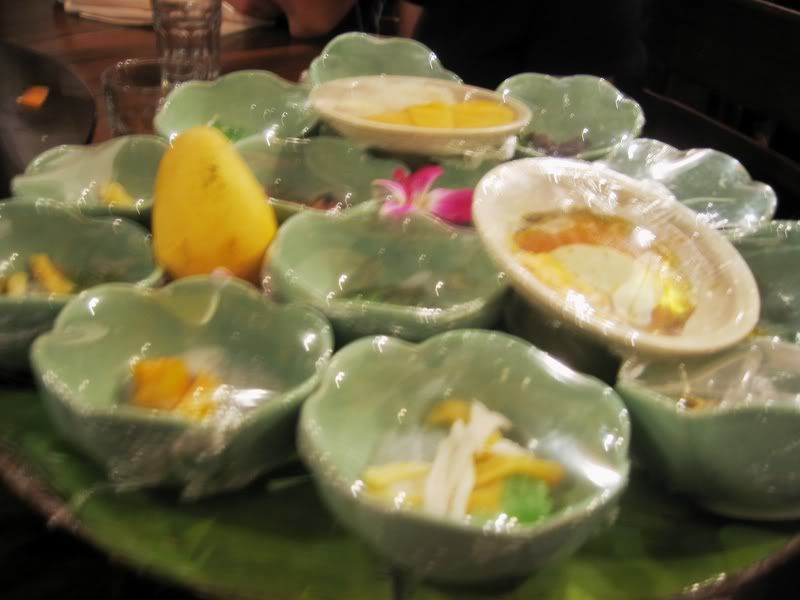 The dessert tray.....
Basically, other than the mango with glutinous rice, the little bowls show you the type of toppings you can choose to be added with the shaved ice and sugar syrup... There's quite a variety ranging from simple jellies to exotic fruits.
Here's what we chose (can't remember the names):
The desserts.....
I didn't think that they tasted that great...
(Basically, they're just like varietals of Ice Kacang except with less stuff in it)
They only cost about RM6 per bowl though, so it's ok as a simple and refreshing way to cool your tongue after all that spicy food.
:)
At the end of the night, I just couldn't help but feel a little disappointed since this place had always been recommended to me as a slightly overpriced but delicious place to eat Thai food....
Hmmmm, maybe it just didn't suit my taste buds? Or, perhaps I was expecting too much?
Oh well..... I suppose it's still worth a try if you want to dine at a Thai restaurant with a nice ambience in the KL area but I don't think I will be going back there anytime soon.
So, it's: Nice ambience, friendly waiters BUT hits & misses on the menu and the food's a bit pricey considering the quality and serving size.
Restaurant Review
Summary Sheet:
Sri Ayutthaya @ Bukit Damansara Heights
(Same row as Victoria Station in Damansara Heights)

Taste: 5.5
Ambience : 7
Service : 6
Price** : RM50++ per person
Parking: Painful if you get there after 7pm

** Approximation - "Sharing" style meal, excluding drinks
Telephone No.: 03-2094 2333
Opening Hours: 11am - late
NO PORK SERVED
TAGS: Food, Blog, Weblog, Malaysia, Restaurant Review, Restaurant Reviews, KL, Kuala Lumpur, Sri Ayutthaya, Thai, Bukit Damansara