Tasting some teeny, weeny morsels at Alexis, BSC...
The Dinner
A few weeks ago, my long lost friend CL (by no fault of hers... I am so bad in keeping contact *sigh*) came back to Malaysia for a visit so we all met up in the new-ish outlet of
Alexis
in Bangsar Shopping Center (BSC).
It's so strange how low key this place is... It's actually situated right next to Esquire Kitchen but because of it's muted white and grey tones, you'd never notice it if you were walking by (and the name of the restaurant is so discrete that you could miss it if you didn't look really really hard)....
(One of my friends, SC, even mentioned that she had eaten here before but had no idea that it was called Alexis - haha)
Anyway, overall, I quite liked the ambience... It was modern and sophisticated with a lot of whites, grey and a few silver accents here and there (and romantic dim lighting too):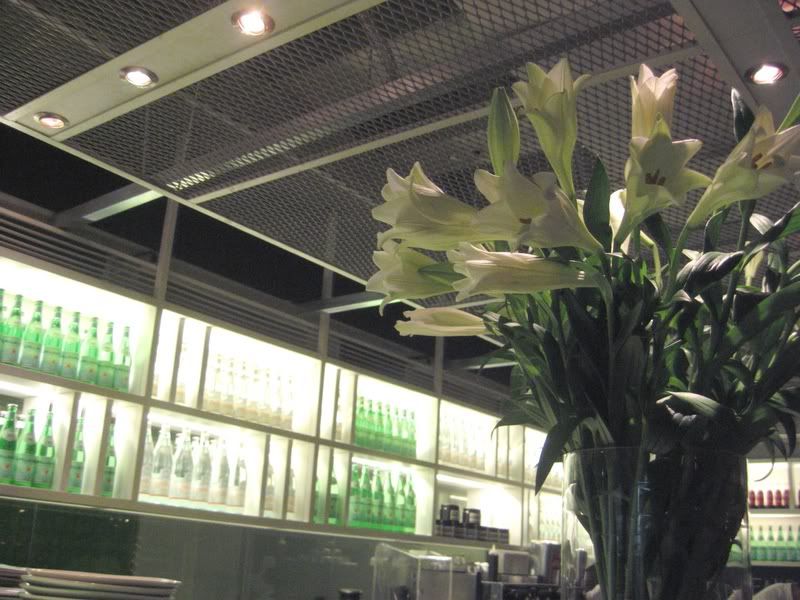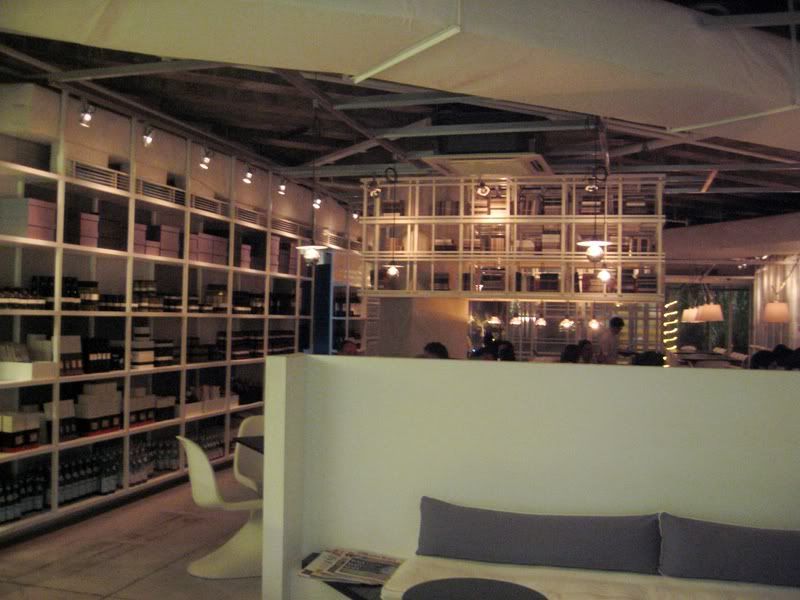 A peek at Alexis
We began the night with 3 of the recommended starters, the Thai Fish Cakes, the Calamari and the Grilled Prawns: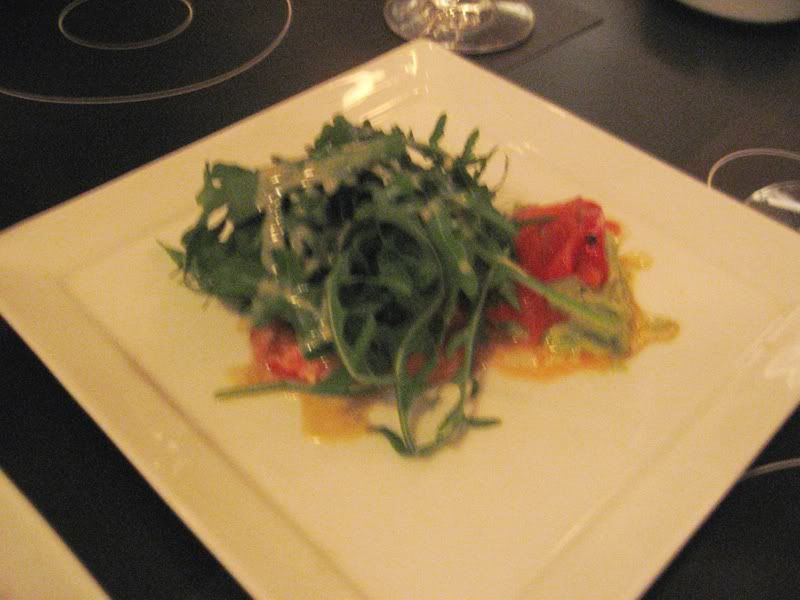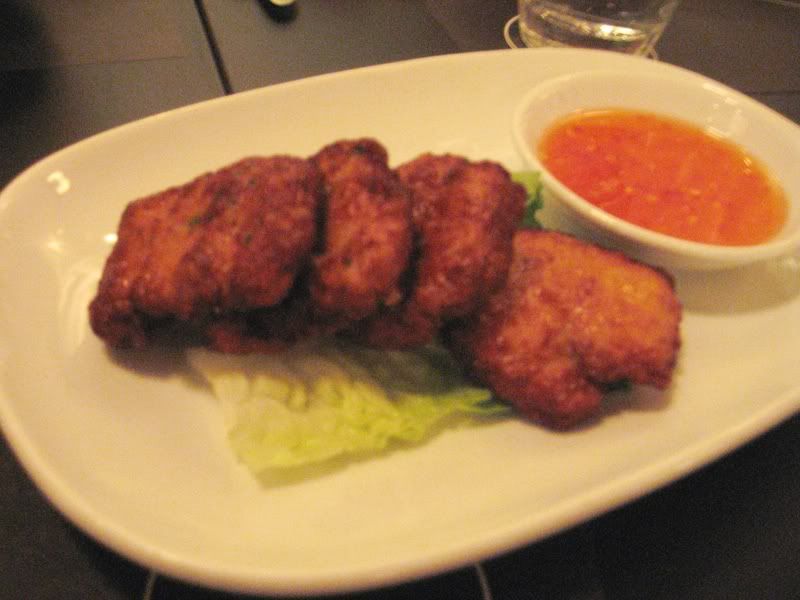 Top to bottom: The grilled prawns, calamari and Thai fish cakes
Now, to Alexis' defense, the 3 starters all tasted pretty good. However, as yummy as they were, they were also absolutely TINY for the price of about RM15 each.....
For the mains, we had the Stewed Lamb and the Grilled Cod: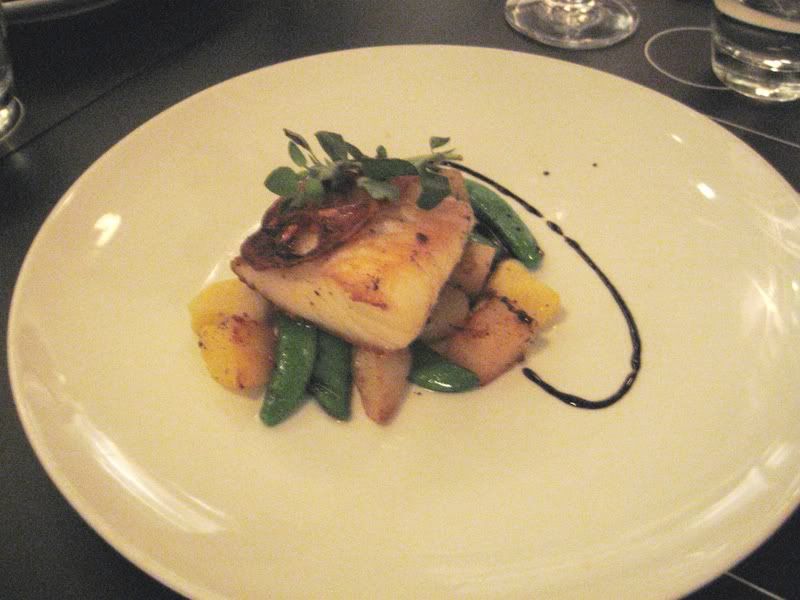 Left to right: The Stewed Lamb and the Cod
Overall, the lamb was ok - I thought at first that the serving was very small but luckily they had the accompanying serving of yummy mash managed to fill me up...
(The lamb wasn't particularly tender though - I'm not sure I'd try it again for the price tag of about RM36...)
The cod though was really nice - The texture was tender and the taste was delicious.
(It is pretty hard to go wrong with cod though, as it is a very flavourful and delicate fish)
(And again, the serving was just too small to justify the price.... If I'm not wrong this costs more than RM40)
Alexis is pretty well known for its delicious cakes and there are usually several to choose from at any one time so you will be spoilt for choice: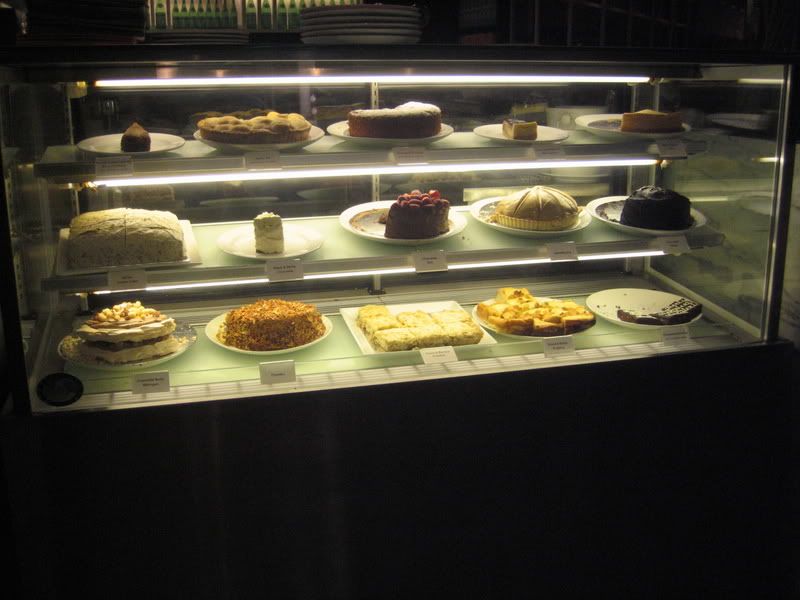 Choices, choices....
After drooling at the cake display for a while, we eventually picked 3 cakes, the Chocolate Silk, Chocolate Nutty Meringue and the Tiramisu: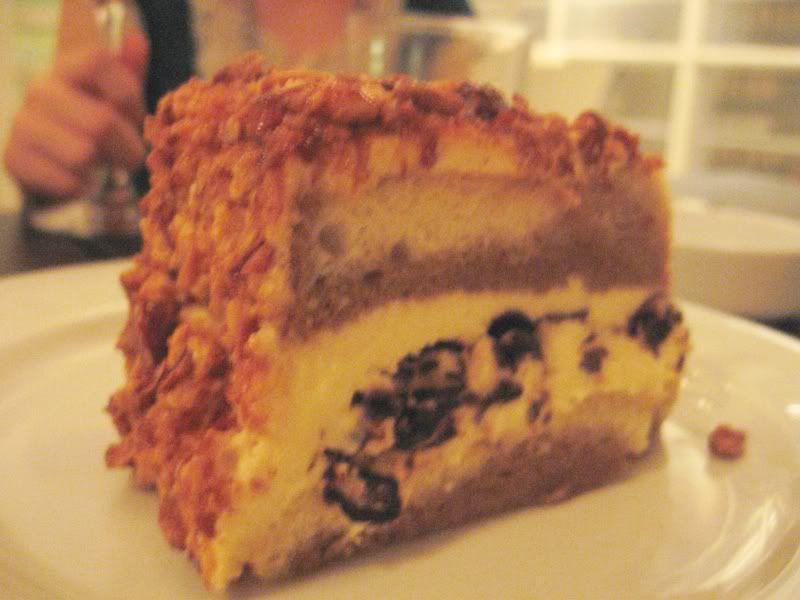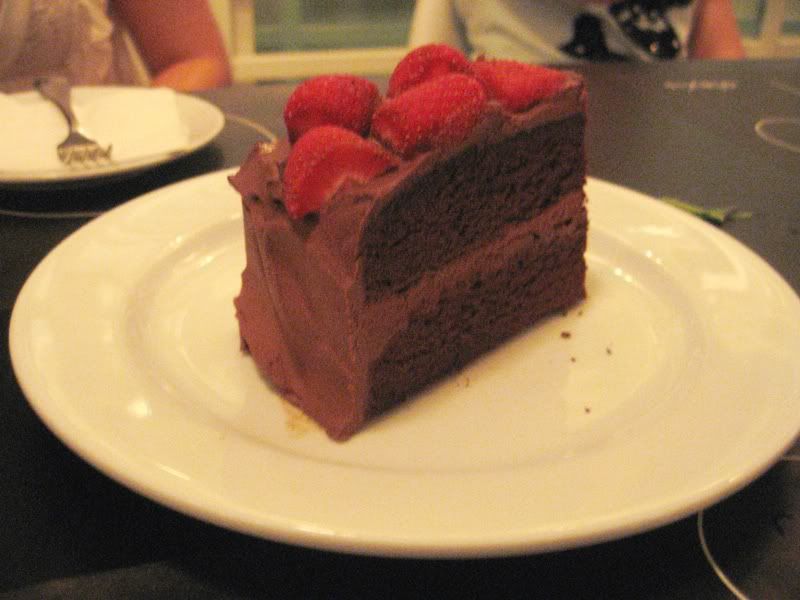 Clockwise from top: The Tiramisu, Chocolate Silk and Chocolate Nutty Meringue
First of all, the Chocolate Silk (which sounded so so good) was a disappointment. It wasn't like silk in any way (what a misleading name) and had a heavy, dry texture... Oh, and the strawberries which had looked so delicious turned out to be very sour.
(FAIL!)
The Tiramisu, which is Alexis' specialty, was good... It is different from the usual Tiramisu as it has more texture in it, with its chocolate pieces, caramelized sugar pieces and crunchy bits of nuts.
(Worth a try)
The Chocolate Nutty Meringue was my favourite though! It was light and fluffy with a delicious textural mix, sort of like a marshmallow, cream and nut filled cake.
Mind you, the cakes are not very cheap - going for about RM12 a piece....
:(
So it's: Good selection of wine, romantic, modern ambience, ok food, delicious cakes BUT such small servings...! :(
Restaurant Review
Summary Sheet:
Alexis @ Bangsar Shopping Center

Taste: 7
Ambience : 7
Service : 7
Price** : RM 65/++ per person
Parking: OK

** Approximation - 3 course meal, excluding drinks
Telephone No.: 03-2287 1388 (BSC outlet), 03-4260 2288 (Ampang outlet), 03-2284 2880 (Telawi Street, Bangsar outlet), 03-2287 2281 (Midvalley Gardens outlet)
Opening Hours: 11am - late
NO PORK SERVED
TAGS: Food, Blog, Weblog, Malaysia, Restaurant Review, Restaurant Reviews, Bangsar Shopping Center, BSC, Alexis, Fusion