A restaurant in Bukit Damansara with POWERFUL Engrish....
The Dinner
To celebrate the birthday of our loveable gentle giant,
Soo Jin
, we went to a new restaurant (less than 1 year old anyway) in the Bukit Damansara area, Chef & Brew: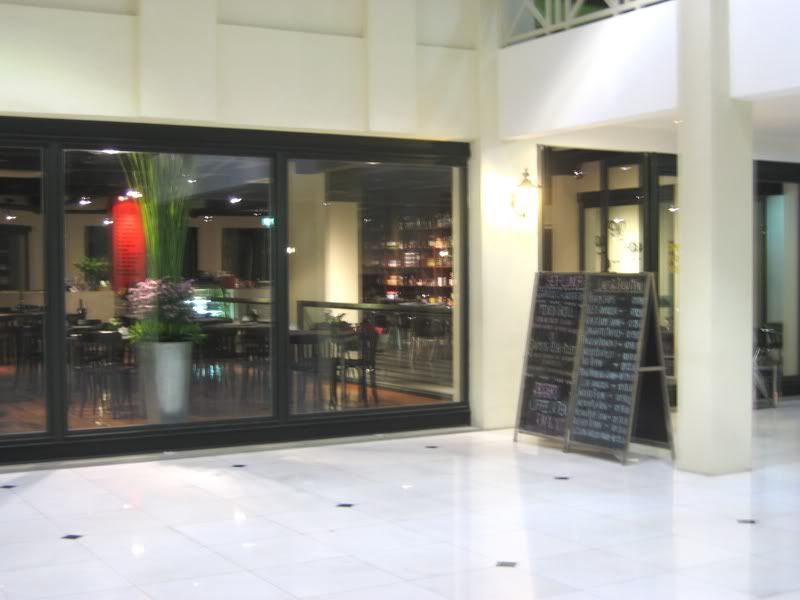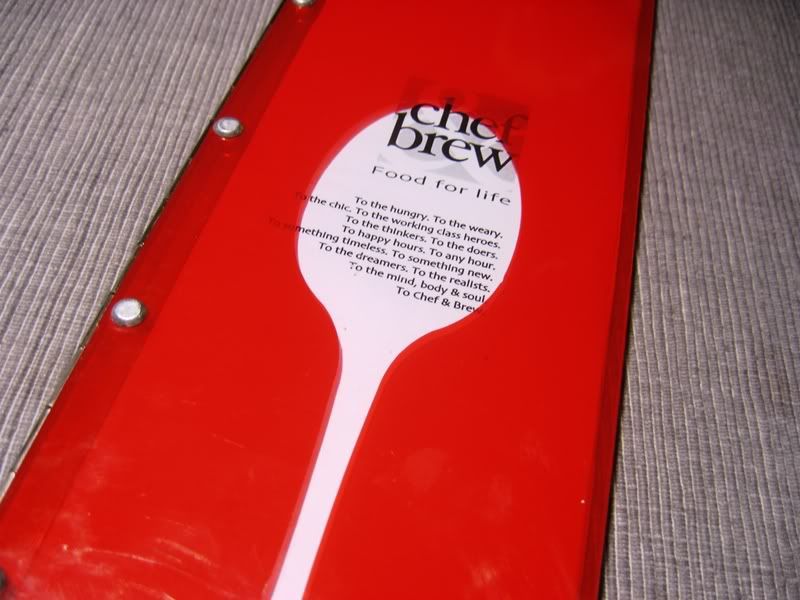 A look at Chef & Brew.....
The restaurant is comfortable and has a modern style that I like.... Overall, it's nice without being too formal.
While waiting for the birthday boy, we browsed through the menu and saw a few absolute howlers inside (I still can't figure out whether it was them being "witty" or trying too hard with a language they are not comfortable with....):
Exhibit A:
Cheese Chicken Burger:
"Chicken burger saying cheese."
Exhibit B: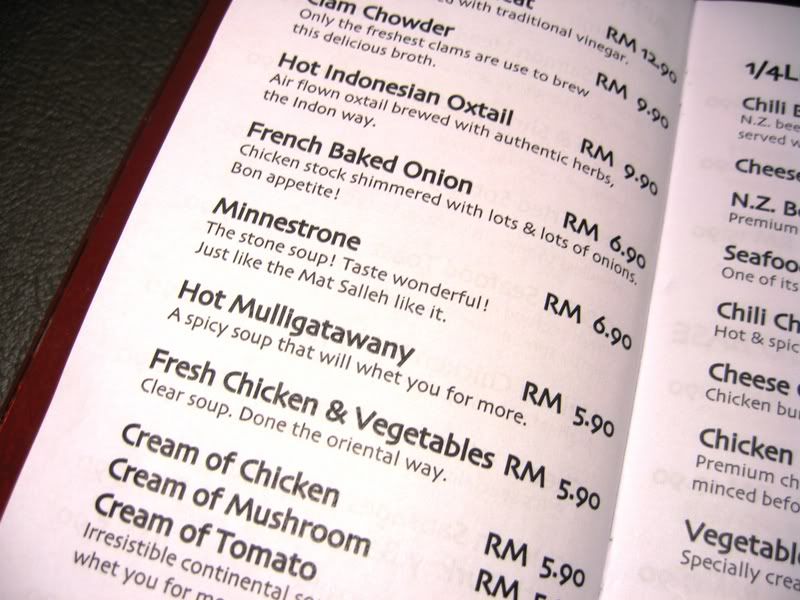 Minnestrone:
"The stone soup! Taste wonderful! Just like the Mat Salleh like it."
And here's one us depraved, filthy minded people were laughing about....
*drum roll*
Exhibit C:
Chocolate Sundae:
"This dark thick thing is ladies' greatest wants and don'ts. Temptation is at play."
*lol*
Ah... I know - we are so easily amused, right?
:)
Anyway, onwards to the food.
We started off with some soups and appetizers... the Mulligatawany Soup, Oxtail Soup, Onion Rings and Spicy Beef Slices: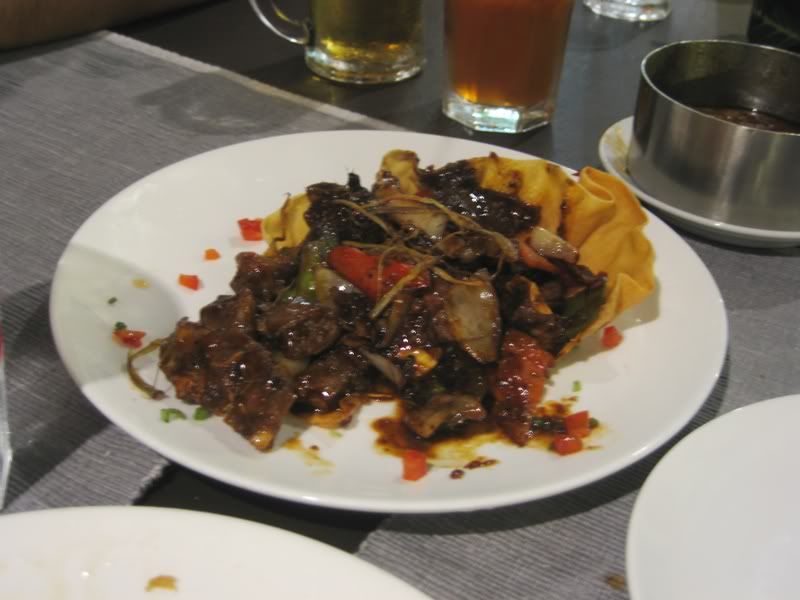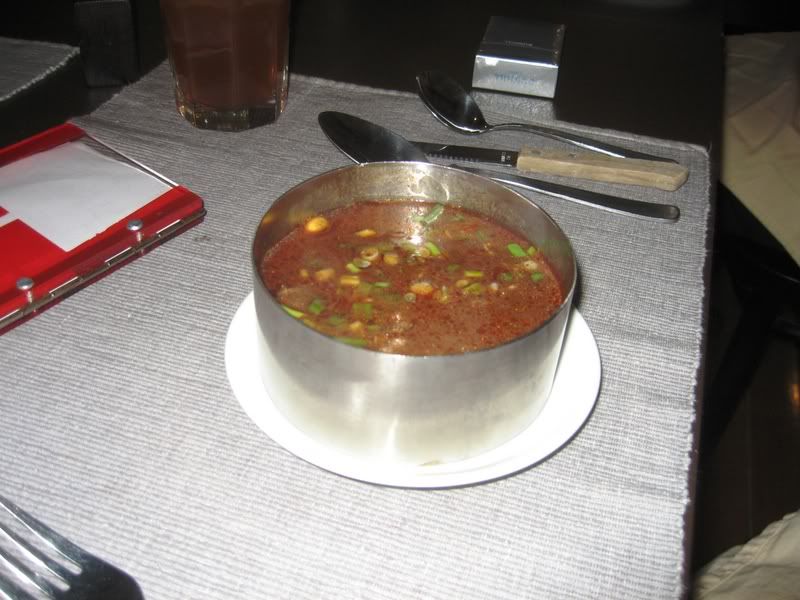 Clockwise from top left: The Spicy Beef Slices, Onion Rings, Mulligatawany Soup and Oxtail Soup
The soups were both ok.
The Mulligatawany Soup (RM5.90) was interesting - spicy with a strong curry flavour, with some rice inside the soup for texture. The Oxtail Soup (RM9.90) - made in a spicy Indonesian style - had one reasonably sized piece of meat inside but was not as robust as I like (my fave is still the one at Monte's @ BSC).
The Onion Rings (crispy!) and the Spicy Beef (spicy and tender!) were surprisingly good - wouldn't mind ordering these again.
(I can't remember how much they cost exactly but it was reasonable lah)
For the mains, we had the Beef Burger (RM15), Sizzling Chicken Chop, Black Pepper Lamb Shank and Hainanese Beef Steak: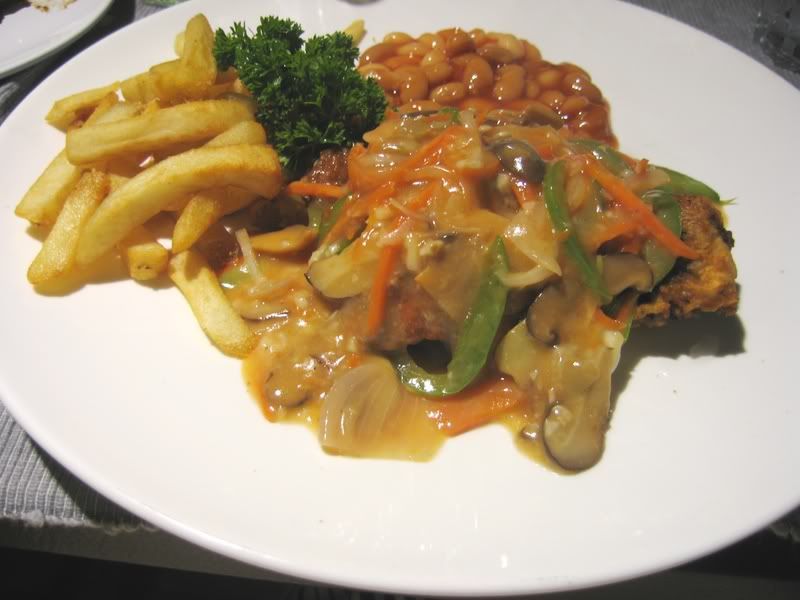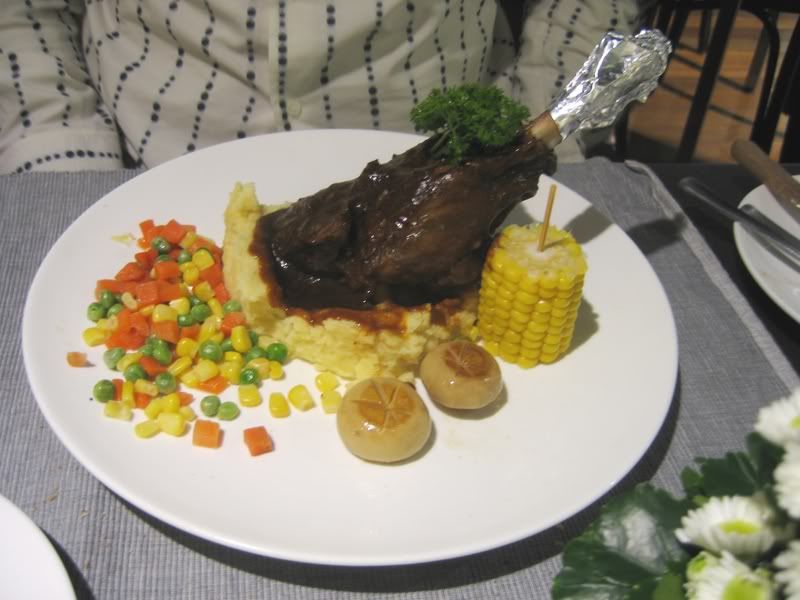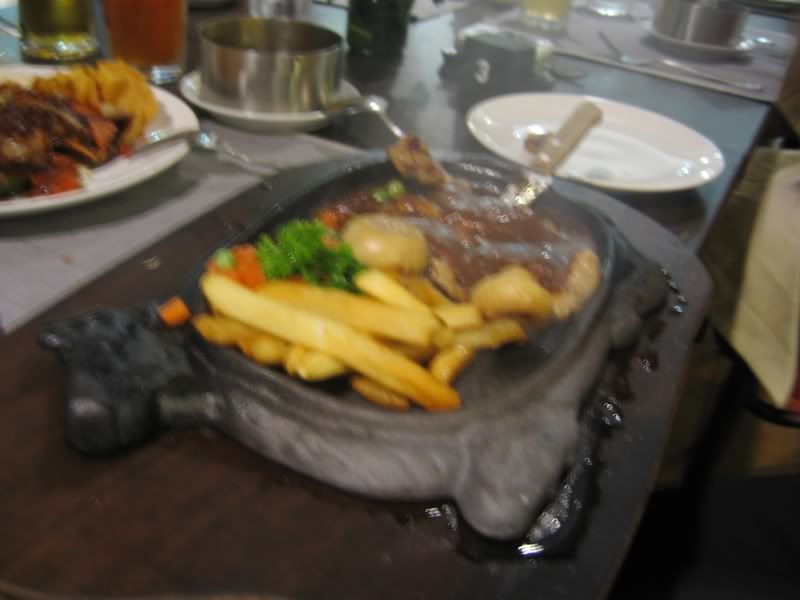 Clockwise from top left: The Hainanese Beef Steak, Black Pepper Lamb Shank, Beef Burger and Sizzling Chicken Chop.
I felt adventurous so I ordered the Hainanese Beef Steak.
The risk I took was clearly not rewarded though - It was dry, hard and generally tasteless.
(I don't like to waste food but I only managed to force myself to eat half of this dish....)
The Beef Burger and the Lamb Shank didn't fare very well either as they were both a little dry and tough.
Jo-Lyn
had the Sizzling Chicken Chop and said that it was ok (although a biiiit overcooked).
For dessert, out of sheer curiousity, I ordered the aforementioned Chocolate Sundae...: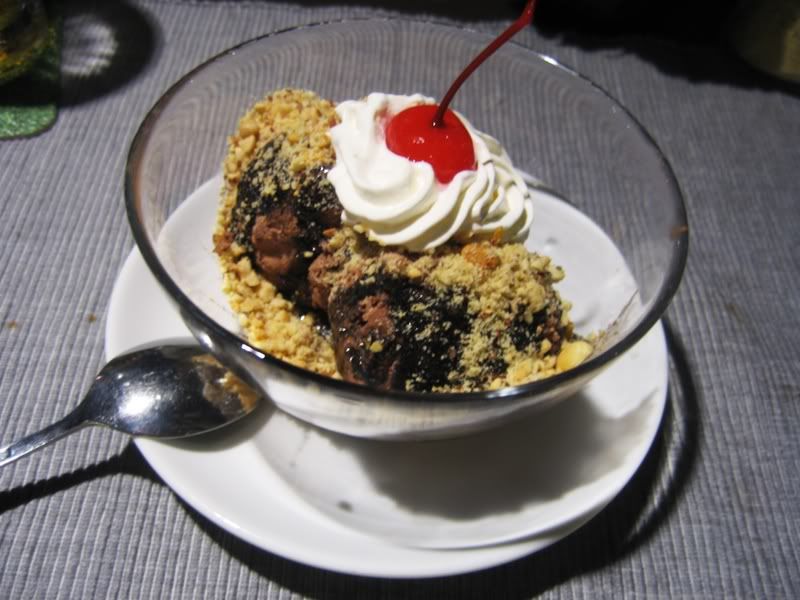 The Chocolate Sundae
.... and I feel that I wasted 6 bucks.
(Not nice!)
(Or actually, too normal!!)
[ BEGIN EDIT ]
(Narch 09)
Just to update - the desserts at Chef & Brew have improved SIGNIFICANTLY. They are now not only worth trying but are actually nice!
Why? Because they have started (I think since last year) taking desserts from Just Heavenly (which is located just opposite their outlet).
Mind you, the chocolate sundae (which is still on the menu, last I checked) still SUCKS... but the chocolate volcano and the chocolate brownie are nice! :)
[ END EDIT ]
Overall, I suppose the restaurant is ok....
The soups and appetizers were nice (oh, and the happy hour beer is good too - RM32 for a jug only) but a lot of the mains were very disappointing.... So, maybe it's a better place to have a light eat and drinks with friends rather than a nice dinner...
Oh well.
(They can't all be perfect)
So, it's: Affordable food, comfortable modern ambience BUT only so-so tasting food, hits and misses on the menu.... I'm not quite sure whether the menu speckled with hilarious English is a plus or a minus but well, it's a good laugh... :)
Restaurant Review
Summary Sheet:
Chef & Brew @ Bukit Damansara, KL

Taste: 5.5
Ambience : 7
Service : 6
Price** : RM 35/++ per person
Parking: OK

** Approximation - 3 course meal, excluding drinks
Telephone No.: 03-2095 5069
Opening Hours: 11am - late
Happy Hour: 4pm - 9pm
NO PORK SERVED
TAGS: Food, Blog, Weblog, Malaysia, Restaurant Review, Restaurant Reviews, Chef & Brew, Bukit Damansara, Chef And Brew