Round and round it goes... Where it stops? Nobody knows.....
While in Auckland, I had the chance to dine at a very highly recommended restaurant,
Orbit
, which is a revolving restaurant located right at the top of the tower in the Sky City Complex:
*J points*
"The restaurant is right on top of the Sky Tower... There! See?"
You will have to book a fair bit ahead of time as this place is incredibly popular, especially on weekends.
(I called in from Malaysia almost a week ahead and the earliest possible time slot I got for Saturday night was 9.15pm)
Anyway, dining at the restaurant buys you a free trip up to the Observation Deck area of the tower (which saves you about NZ$25) where you can enjoy a 360° view of the surrounding Auckland area.
(You can choose to go before or after your meal, between 8.30am and 10.30pm)
Orbit has been newly refurbished and has a romantic feel but with clean lines:
The view from the restaurant and a peek at the restaurant interior
"Waaaaaaah! Look at the pretty lights!" says "jakun" J.
There is also a spectacular view through the ceiling high glass panels, which revolves slowly as you dine....
(I must say, the revolving mechanism at this restaurant is really smooth! I have been at others where it becomes a bit uncomfortable because you can feel some "jerk-iness")
We started off with the Sautéed scallops with grilled radicchio, capsicum and sprout salad with beetroot dressing: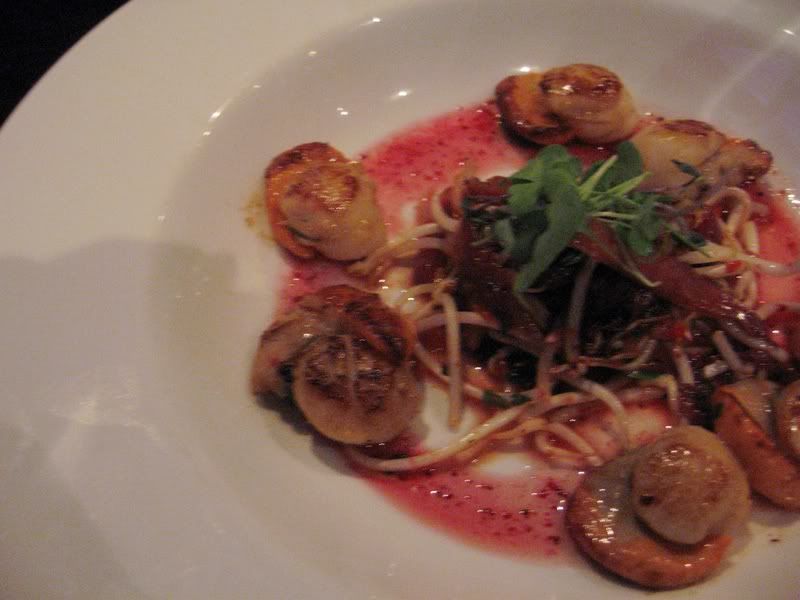 The Scallops
(I remember this cost around NZ$16 but I lost the receipt so I can't be sure. Sorry....)
It was ok, I guess - I thought that it tasted a bit "fishy" but at least the texture was pretty succulent.
Moving on to the mains, we had the Hawkes Bay lamb loin on potato mash with asparagus, grilled field mushrooms and red wine glaze and the Venison loin on a kumara and chestnut mash with braised red cabbage and a cranberry compote (they cost around NZ$28 each):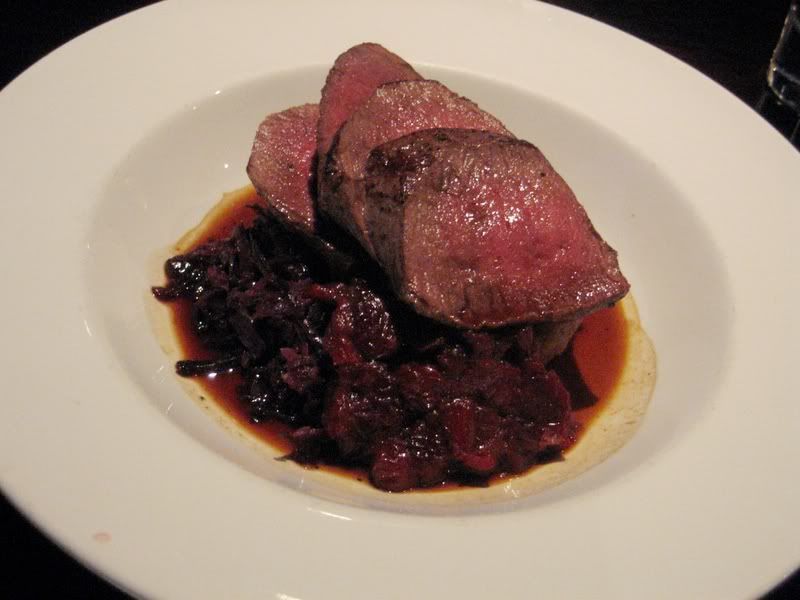 The Lamb and the Venison
The Lamb was definately the better of the two dishes.
(But, still just "ok")
The Venison was also "ok"... *rolls eyes*... it's sad but I really can't find a better word than "ok".
(And here's the night that I discovered that I really don't like the taste of Kumara, which is a local tuber which tastes like a mix between normal potato and sweet potato)
The servings were fairly large so I really didn't have any space for dessert.... The selection of wine there was quite decent though, so we had fun slowly savouring our bottle of Pinot Noir after dinner.
Overall, (if you couldn't tell already) I was unimpressed with the food.... It's not that it was bad - it was just "OK". Still, I suppose the thing that makes
Orbit
special is the incredible view!
(I cannot stress it enough though: It is
ESSENTIAL
to book at least 1 week ahead, especially for weekends - it's a very popular)
So it's: Great view, romantic ambience BUT the food's nothing special. Still, it's worth a try if you're visiting Auckland
Summary Information:

Orbit Revolving Restaurant

Monday to Friday:
11.30am to 3.00pm, 5.30pm to 11.00pm
Saturday and Sunday:
12.00pm to 3.00pm, 5.30pm to 11.00pm

Note:
A minimum charge of NZ$25 per person applies for lunch and dinner. A 15% surcharge applies on public holidays except Christmas day. Guests can also enjoy complimentary access to Sky Tower's main observation level before or after dining.

Phone: (09) 363 6000 or 0800 SKY CITY
Address: Top Floor, Sky Tower, Sky City Complex, Auckland CBD


TAGS: Food, Blog, Weblog, Holiday, Restaurant Review, Restaurant Reviews, Orbit, Romantic, Sky City, Revolving Restaurant, Auckland, CBD, North Island, New Zealand, NZ