Yesterday, I zipped off (relatively) early from work to attend the wedding dinner of my friend Kevin and his beautiful new wife, Magdalene.
(Congrats, you two! *hugs*)
It was held at the new Sime Darby Convention Center in the Hartamas area. I was wondering why on earth Kevin and Mag had chosen this place as I had never even heard of it before, and well... a convention center? I had my negative pre-conceptions. One look at the place and I was pretty impressed though: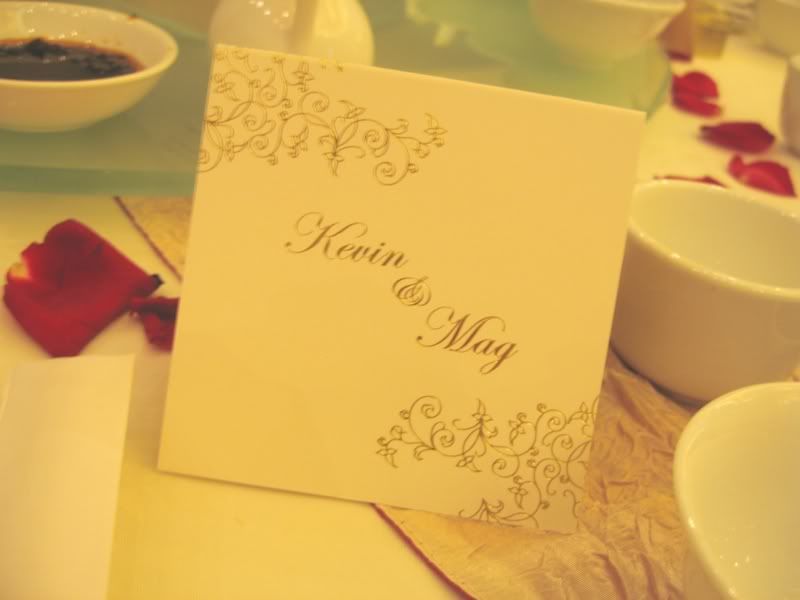 The Convention Center Interior
Parking there wasn't a pain, the setting of the dinner area was modern (with a few soft touches like rose petals on the tables) and there were strangely unique things like flame thrower like devices on the stage area.
(No photo of it, sorry)
Even the food was pretty good!
(The only weakness that night was the slow service from the wait staff but I'm just nit-picking, I guess)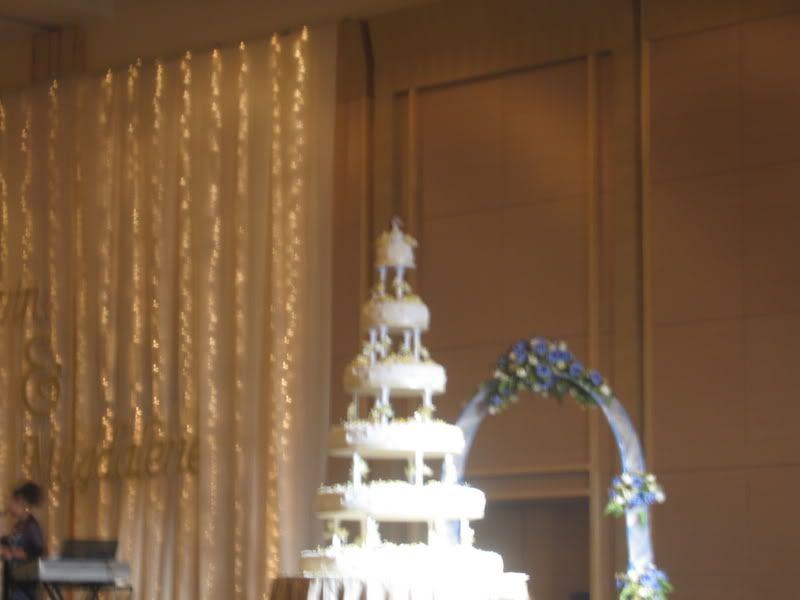 The Stage and the Huge Cake
Anyway, it was a beautiful wedding with really touching speeches from both dads (the bride's and the groom's) as well as the groom himself to his blushing bride....
"... I have searched so hard and finally I have found my better half..."
AWWwwwwwwwwwwwww.... SO sweet!
=)
It's so funny what a small world it is though....
I got to meet and chat with Tony Eusuff who was co-MCing that night.
(Turns out that he's a real sweetie - friendly, nice and funny too)
"Tony WHO?", you ask?
Well, for the uninitiated, he's one of the better "starving actors" in the Malaysian arts scene.
(Well,
I
think so anyway)
I first saw him acting as the "Dream Guy" in the
Girl From Ipoh
.
(And now, he's in
Broken Bridges
with Douglas Lim)
Also, a short shout out to the delightful people who were at table no. 67 with me: It was a pleasure meeting all of you! :)
Here's a rare posting of me doing the whole typical blogger bimbo thing with photos of me with people:
[ CENSORED ]
Me, A Friend and The Handsome Groom!
[ CENSORED ]
Me and The Beautiful Bride!
[ CENSORED ]
Me and A Friend!
[ CENSORED ]
Me and Friends!
[ CENSORED ]
Me and Tony "Dream Guy" Eusoff!
(Why Censored?)
TA-DA!
:)
(Hope you didn't mind the rather self indulgent post today)
Oh, and just one more time, to wrap things up:
Congratulations, Kevin and Magdalene! *hugs*
Cheers,
J
PS/ A big, big, big thanks to
Albert
who was my "date" for the night (because P couldn't make it).... I really appreciate it!
TAGS: Blog, Weblog, Malaysia, KL, Kuala Lumpur, Personal