[ BEGIN EDIT ]
(March 2010)
Not that it's newly opened,... but I just found out that Siu Siu has a branch in the Sungai Besi area.
Address:
No. 1, Kampung Satu Seksyen 93,
Jalan Sungai Besi,
57100 Kuala Lumpur.
Opening Hours: 11am - 11pm (Closed on Tuesday)
Phone No.: 016-370 8555
I haven't been there before, but you can refer to
AWOL's review
or
Ah King
. :)
Trying to give you more options,
J
[ END EDIT ]
Quite a few Saturdays ago, Nick was a darling and invited a few of us for dinner at a nearby Chinese restaurant called Siu Siu in the Taman Seputih area.
(So that we could help him spend his bonus money - muahaha)
Now, anyone who was in the KL/ PJ area last Saturday will know how insanely heavy the rainfall was that night - drains overflowing, people up to their ankles in water (and rising), etc and the corresponding traffic jams, of course....
It was basically the sorta rain that you could get soaked-to-the-bone wet in 2 seconds if you didn't have an umbrella OR soaked-to-the-bone wet in 10 seconds if you DID have an umbrella.
(Bloody torrential tropical rainfall *grumble*)
The Dinner
Anyway, we finally made it to the restaurant, settled down and ordered our food... We were all wet, cold and hungry so we may have gone a little overboard with the ordering....
(Hmmm,... 6 people eating 7 dishes and 1 soup? So greedy!)
The restaurant was very basic in terms of ambience - concrete floor, zinc roofing, round wooden tables with washed out holey red tablecloths and plastic chairs... but it was clear that this place was popular as it was absolutely packed that night:
The restaurant interior....
It was so funny though, there was rain water dripping from some parts of the roof which dripped onto some of the flourescent lights, making the entire restaurant black out TWICE.... That, and one of the drains behind the restaurant overflowed leading to a sudden mini "flash flood" of muddy water across half the restaurant.
*lol*
Yeah, it was a pretty eventful night.
We started off that night with a Salted Vegetables and Tofu soup to warm ourselves up:
The Salted Veg and Tofu Soup.....
The soup was good - wholesome and robust.
(I would have prefered it a little saltier though)
Then, onwards to the mains...
We had the Roast Duck, Claypot Crabs, Chili Crabs (served with optional "Man Tao"), Marmite Spare Ribs, 4 Heavenly Kings Vegetables (minus the Petai) and the Butter Prawns.....
First up, the Sweet and Sour Crabs with Deep Fried "Man Tao" (chinese buns):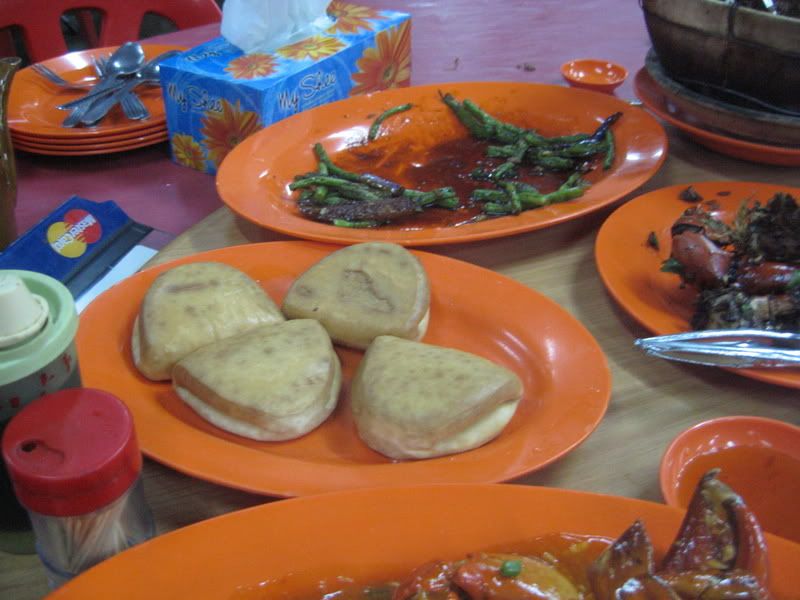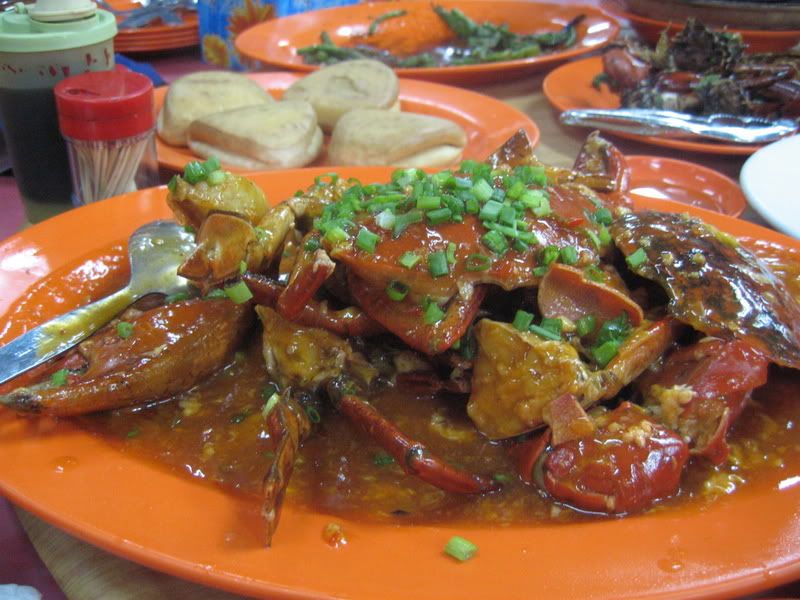 The Claypot Crab: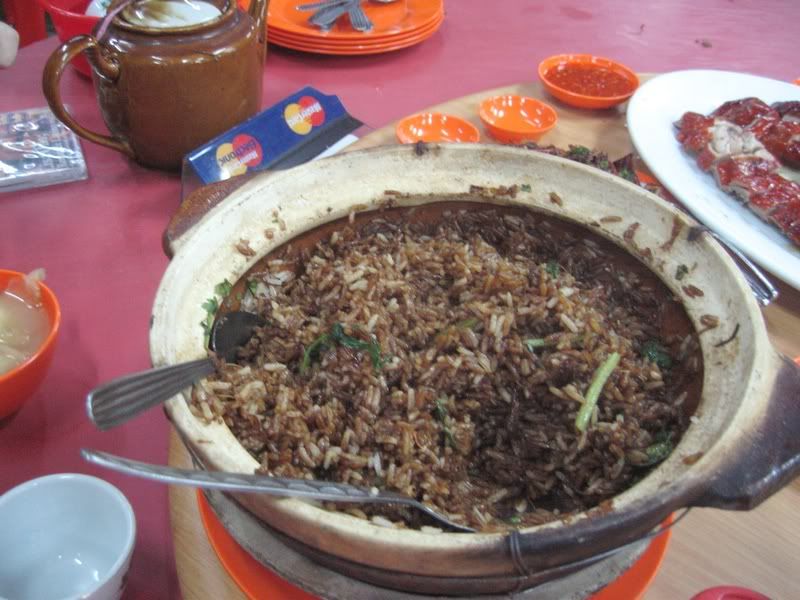 The Roast Duck: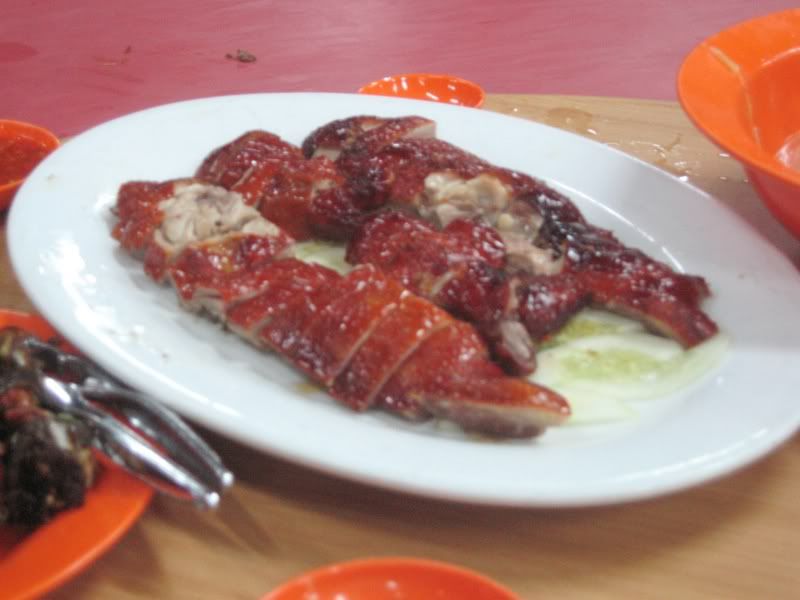 The Butter Prawns: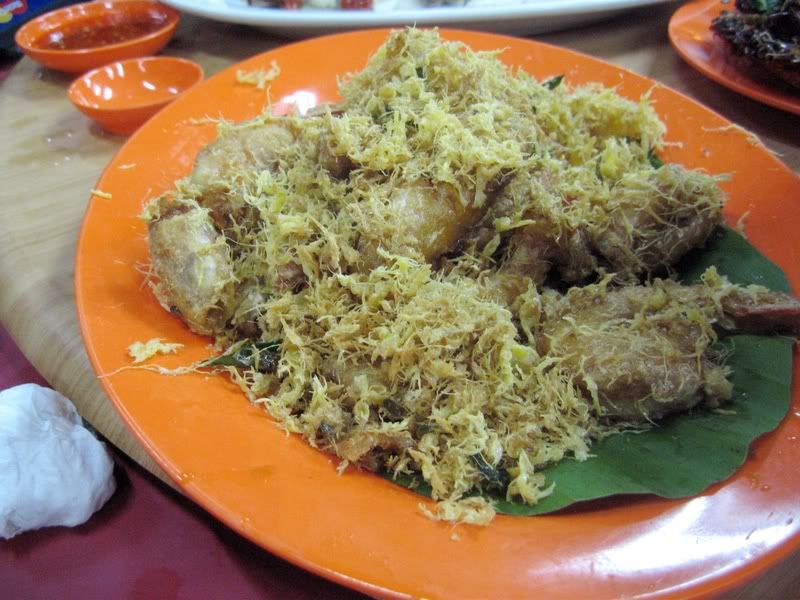 The Marmite Spare Ribs and the "4 Heavenly Kings" Vegetables: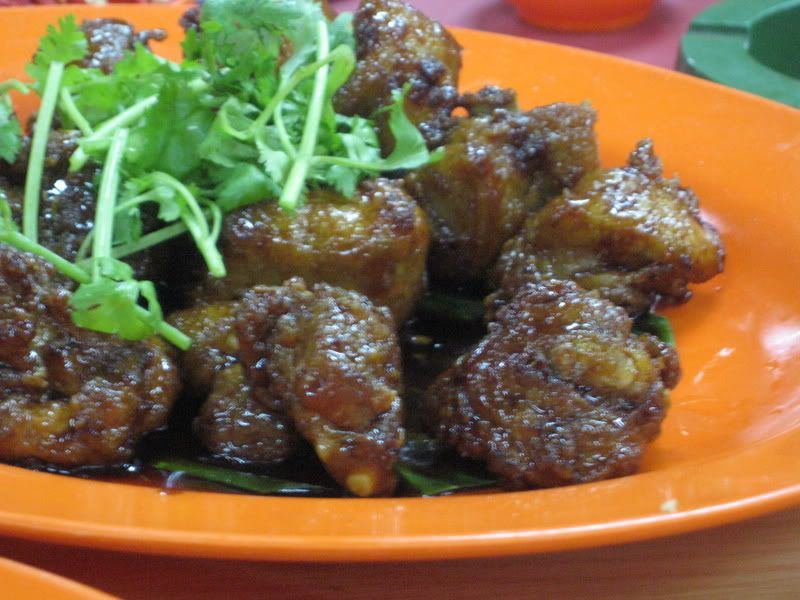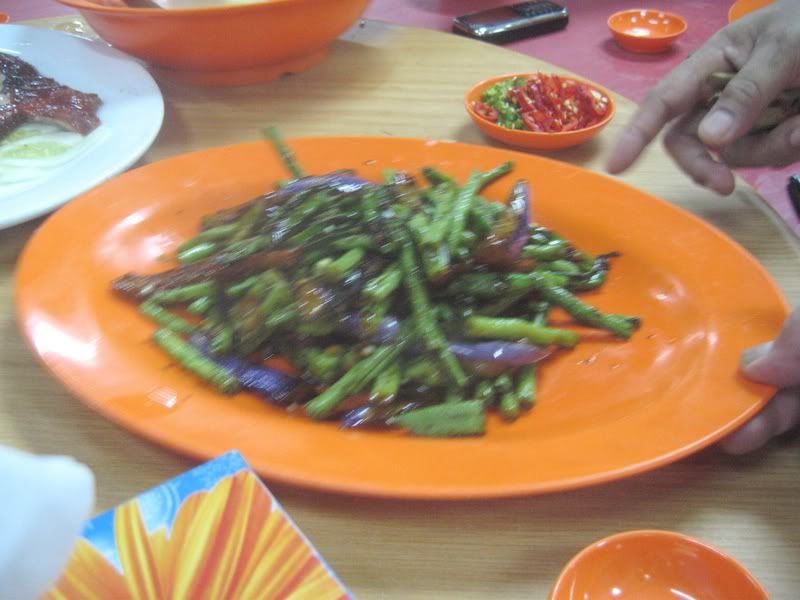 (Haha - so much, right?)
:)
Anyway, let's put it in order of how much I liked the dishes...
Good -
Both type of Crabs, Butter Prawns.
The crabs were fresh, meaty and fragrant (yum)...
The Butter Prawns were also good - fresh and delicious. If they were just a biiiiit crispier though, then they would have been great.
OK -
Marmite Spare Ribs, Roast Duck, 4 Heavenly Kings Vegetables (minus the Petai).
Spare Ribs were ok - a bit too salty and sticky for my taste....
The meat of the Roast Duck was nice but the skin was sadly, not crispy at all. Luckily it wasn't too "fat" so it wasn't all bad....
The 4 Heavenly Kings Vegetables (a fancy name for a dish of fried long beans, four angle beans, brinjals and petai), fried with Belacan was not too spicy but generally, just ok.
Overall, it was a good meal...
(THANK YOU, NICK!)
:)
However, as we were rushing off after dinner (since it was still raining lightly at the time) I forgot to take a business card from the restaurant.
(Bah! Silly, silly J!)
I will try to update the contact details soon.....
(Sorry!)
So it's: Good food at good prices BUT horrible parking and slightly run down, "rustic" ambience
Restaurant Review
Summary Sheet:
Restaurant Siu Siu @ Lorong Syed Putra Kiri, KL (near Taman Seputih area)

No. 15-11, Lorong Syed Putra Kiri,
50450 Kuala Lumpur

Taste: 7
Ambience : 4
Service : 6
Price** : RM 25/++ per person
Parking: OK ***

** Approximation - Chinese meal, excluding drinks
*** They have a small, run down parking area just opposite.
Telephone No.: 016-370 8555/ 016-309 8038
Opening Hours: 11am - late (Closed on Mondays)
NOT HALAL
TAGS: Food, Blog, Weblog, Malaysia, Restaurant Review, Restaurant Reviews, KL, Kuala Lumpur, Sui Sui, Local Food, Siu Siu, Seafood, Taman Seputih, Chinese