A nice Japanese dinner at the Kuala Lumpur Shangri-La with P, mumsy and daddy...
The Dinner
This year, we ventured to the KL Shangri-La for my mum's birthday dinner.....
She had a hankering for some good Japanese food so we made a bee-line for
Zipangu
: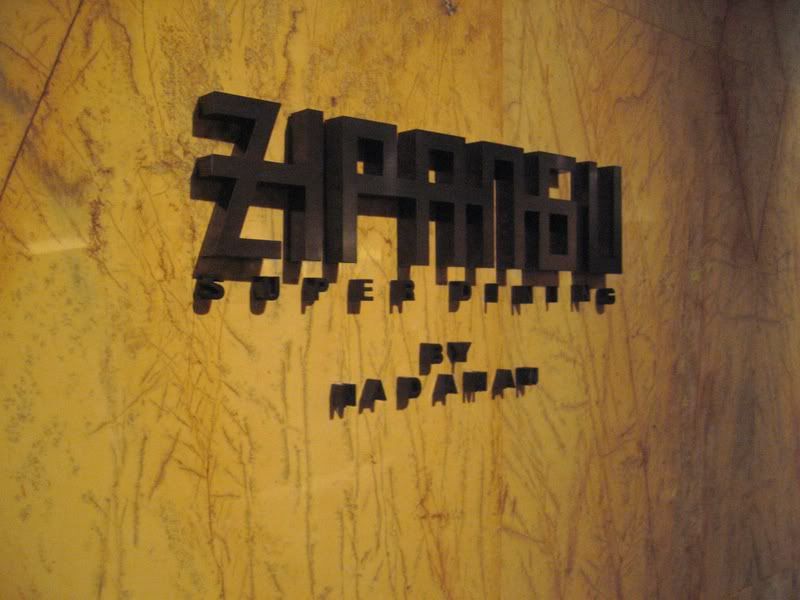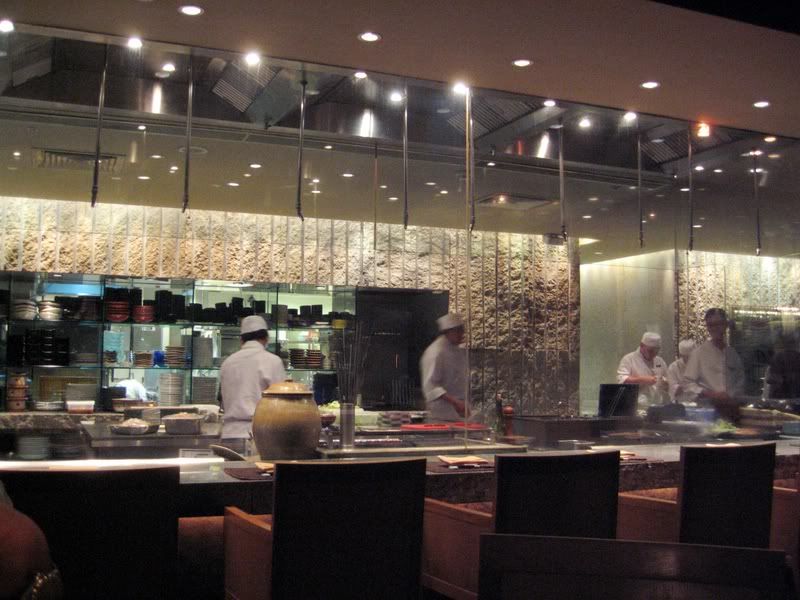 A peek at Zipangu.....
I really like the ambience there - modern yet with that uniquely Japanese touch. It was nice how they used a multitude of natural textures: wood, stone, water and plants (mostly on the outside - seen through the large ceiling to floor glass panels).
They serve an extensive array of Japanese food, ranging from the more traditional dishes to some more contemporary ones. Individual a la carte menu items can range anywhere from RM10 to over RM150. The sets/ bentos also vary widely from RM100 to more than RM300.
There's also a very commendable range of wines... but they're a little on the higher end (ie. EXPENSIVE).....
(60 bucks for ONE GLASS of Pinot Noir?? Sheeeet....)
Here are some of the items we chose off the a la carte menu.... the Maguro (tuna) Sashimi, Mixed Tempura, Grilled Cod and Garlic Fried Rice: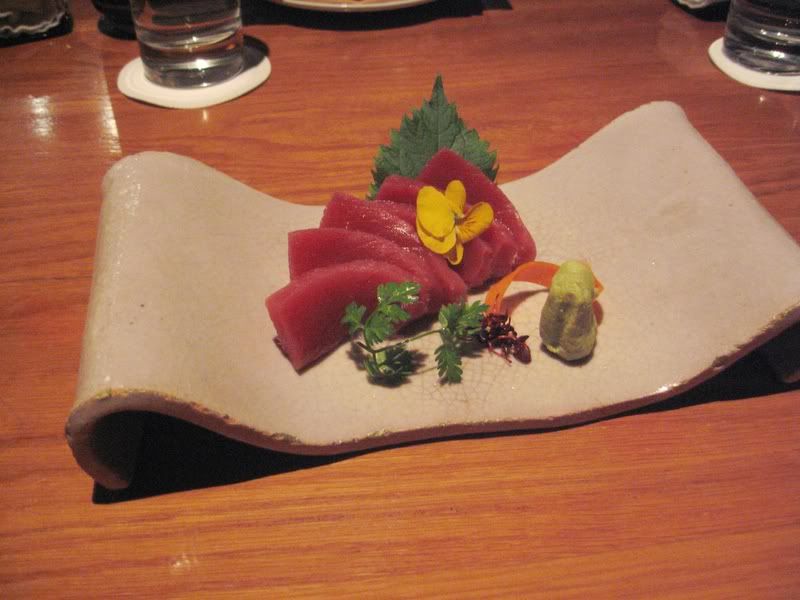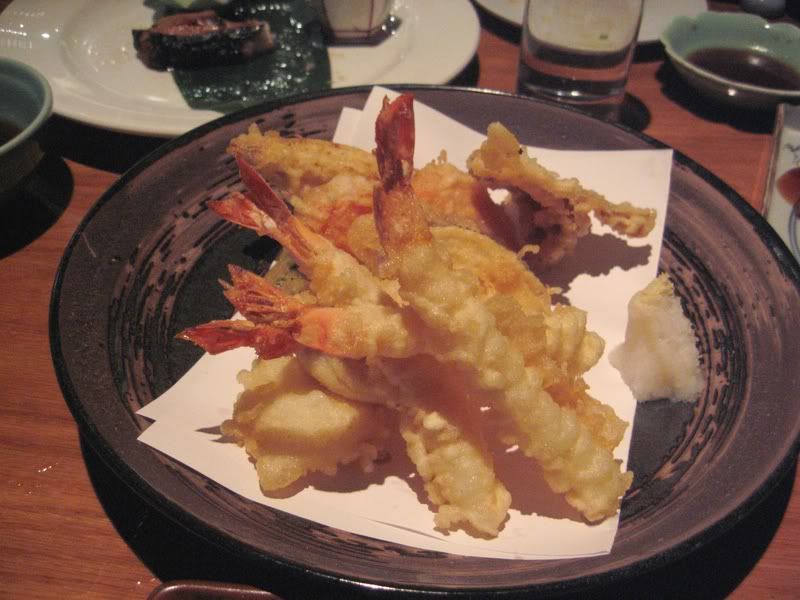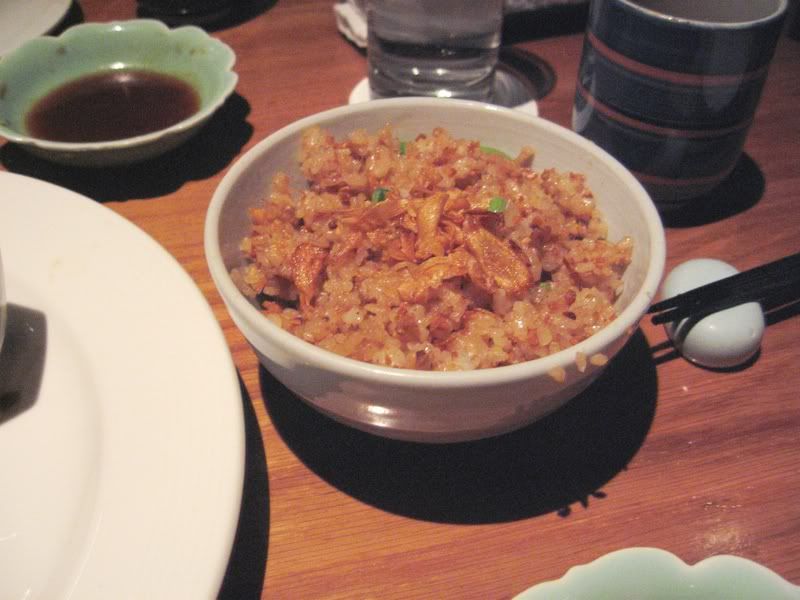 Clockwise from top left: The Maguro (tuna) Sashimi,
Mixed Tempura, Garlic Fried Rice and Grilled Cod
Yum yum.
The Sashimi was really good - I don't eat raw stuff personally, but have reports from my dad and P that it was super fresh and absolutely "melt in your mouth" good.
(Of course, it had
better
be... since it costs about RM80 for 5 medium sized slices!)
The other dishes were also nice:
~ Grilled Cod (RM50) - tasty and tender,
~ Mixed Tempura (RM40) - crispy and fresh (the piece of Tempura Squid was a tad chewy though, but that's just me nitpicking), AND
~ Garlic Fried Rice (RM11) - fragrant....
(I felt like the servings were a little small but hey, these are hotel prices lah)
We also chose one of the dinner sets to share, the Beef Set (RM120):
The Teppanyaki Beef and the Foie Gras with Melon
A Fresh Salad and Teapot Soup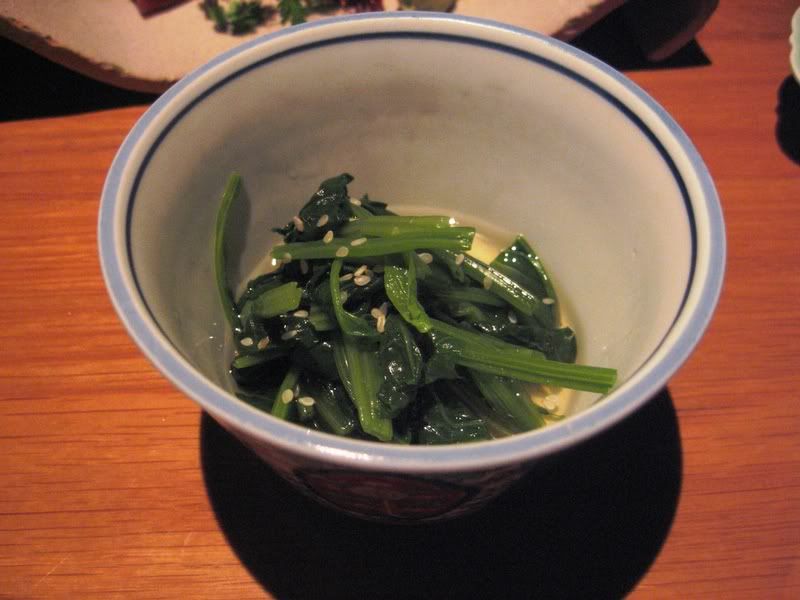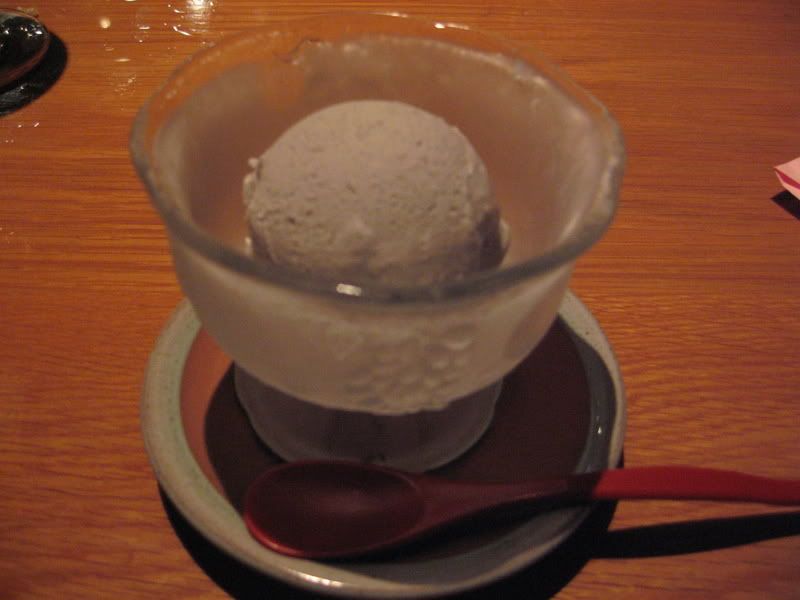 Simple Vegetable Appetizer and Ice Cream!
(oh, and not photographed - the Pickled Veg, Miso Soup and Rice that comes with the set)
Oh man....
The beef.
*droooool*
It was so, so good.
(Seriously)
The texture was tender..... and the taste was good on its own but when you dab on some of the accompanying mustard sauce - YUM! Glorious....
The accompanying Foie Gras was also nice... The strong flavour of the seared goose liver balanced really well with the simple melon broth/ sauce.
For dessert, we had the Black Sesame Pudding (RM15):
The Black Sesame Pudding
If you like black sesame, you really should not miss out on this dish.
It was fragrant, bursting with that wonderful black sesame taste, and the texture was wonderfully smooth....
(You can tell that they have taken a lot of care into grinding the sesame into a fine enough texture to avoid any grainy-ness)
(Here's a rather random photo of my mum's present, just for fun:)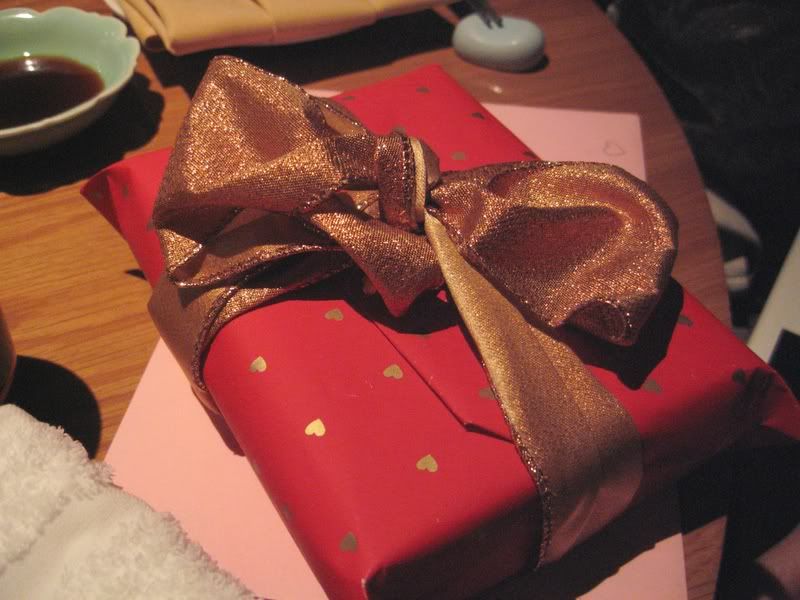 Pressie!
:)
We discovered that the daughter of a close family friend happened to be apprenticing at Zipangu that night. When she found out it was my mum's birthday, she arranged for a special show.
(So sweet of her......!)
What was it?
A pillar of fire.........................................!: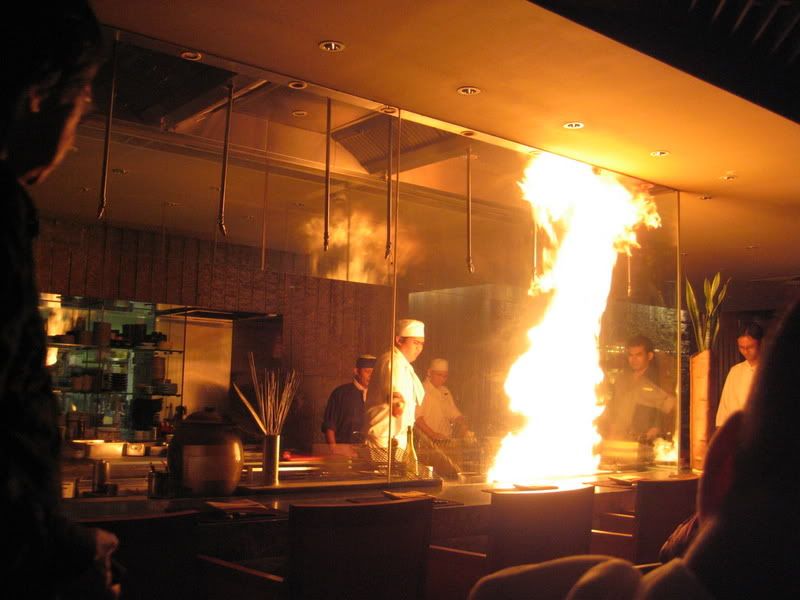 Phwoaaar.....
Overall, I had a lot of fun that night.....
:)
Ooh.
Just FYI:
They have a popular brunch buffet on weekends (from around 11am till 2pm) for about RM85++ which sounds very "worth it". I haven't tried it myself but have heard that it's good.
So, it's: Sophisticated ambience, good service, great selection of (expensive) wines, beautifully presented and delicious food BUT small servings for the price....
Restaurant Review
Summary Sheet:
Zipangu @ Shangri-La Hotel, KL

Taste: 8.5
Ambience : 8.5
Service : 8
Price** : RM 100/++ per person
Parking: OK. (Flat rate of RM7 after 6pm)

** Approximation - 3 course meal, excluding drinks
Telephone No.:
03-2032 2388 (Ask for Zipangu)
03-2074 3903 (Reservation line)
Opening Hours:
Lunch - 12 noon to 2.30 pm
Dinner - 6.30 pm to 11pm
Bar - 6 pm to 11pm
NO PORK SERVED
TAGS: Food, Blog, Weblog, Malaysia, Restaurant Review, Restaurant Reviews, KL, Kuala Lumpur, Shangri-la Hotel, Super Dining By Nadaman, Zipangu, Japanese, Shangrila