I hate to kick someone when they are already down but this place really isn't very good...
The Dinner
Placed in the Taman Tun area (in the same row of shops as
the Boathouse
), Pasta Fredo looks nice enough.... simple but classy fittings, comfortable seating, etc:
A peek at Pasta Fredo
At first we were feeling a little wary of trying this place out, as it was completely empty...
(You know the usual rule of restaurants lah: If it's empty, that means that there's a high chance that something is wrong with it)
... but we decided to take a risk and just give the place a chance.
That night we started off with the Deep Fried Calamari:
The Calamari!
Overall, it was pretty good.... The calamari tasted fresh and the batter was wonderfully crispy...
:)
However, the mains are a different story....
That evening, we had the Lamb Shank and the Mushroom and (Turkey) Ham Pizza: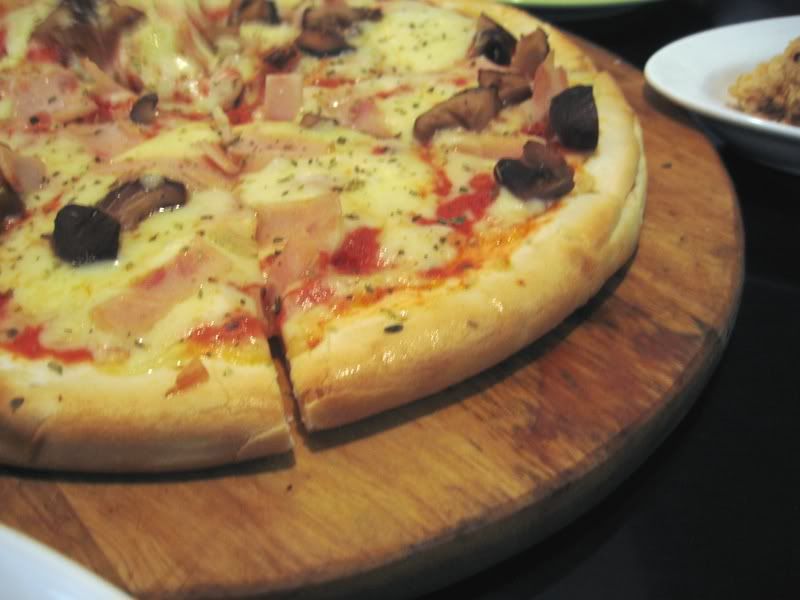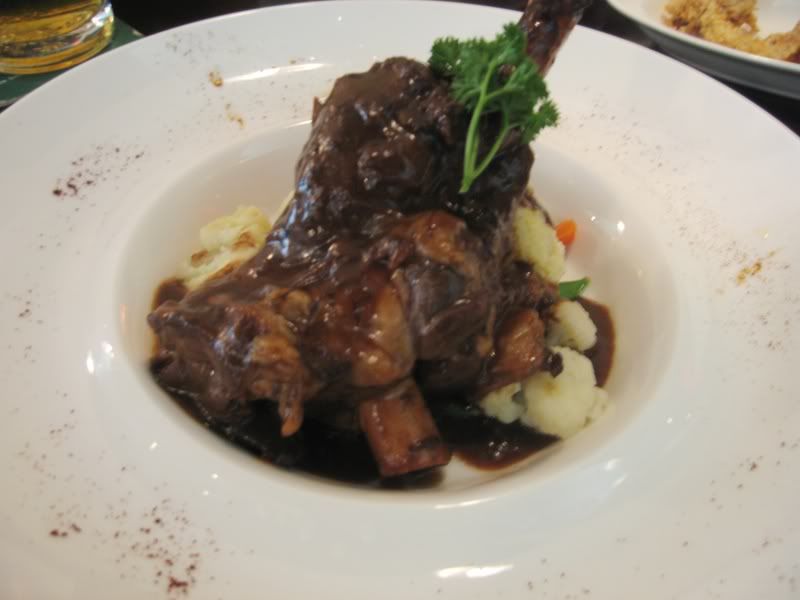 Left to right: The Pizza and the Lamb Shank
Both these dishes were reputed (by the friendly waiter) to be the restaurant's specialty.
Ermmmmm, ok.....
Well, if these are the specialties then I don't know what the rest will taste like.
First of all, the Lamb Shank was pretty tough and the brown sauce was just a bit too salty... The Mushroom and (Turkey) Ham Pizza was also a total disappointment - it had a starchy, soft pizza base with negligable amounts of toppings....
:(
(Actually, that pizza tasted suspiciously like the generic frozen pizza that you can get from any supermarket freezer)
I lost the receipt but I remember (vaguely) that the Lamb Shank cost about RM28 and the Pizza was about RM22.
(Don't take my word on it though)
In any case, whatever the exact price was, I felt a little cheated.
Probably the only thing I would order again is the calamari.....
(IF I ever go back there, that is)
So, it's: Friendly waiters, comfortable ambience BUT the food really isn't that great....
Restaurant Review
Summary Sheet:
Pasta Fredo La Cucina Mediterrane @ Taman Tun Dr Ismail, KL

Taste: 4.5
Ambience : 6
Service : 6
Price** : RM 50/++ per person
Parking: Difficult on weekdays, OK on weekends

** Approximation - 3 course meal, excluding drinks
Telephone No.: 03-7710 0021
Opening Hours: 12pm - 2.30pm, 6.30pm - 11.30pm
NO PORK SERVED
TAGS: Food, Blog, Weblog, Malaysia, Restaurant Review, Restaurant Reviews, TTDI, Pasta Fredo, Italian, Kuala Lumpur, KL, Taman Tun Dr Ismail