I must admit, for as long as I have lived in Malaysia I have actually never gone to the famous Jalan Alor area to eat (as I always considered the place a little seedy/ touristy)....
Just recently though, I went there with P and his friend from Down Under, B (who was visiting):
A look at Meng Kee
There are many restaurants/ eateries along the entire stretch of the road but we went to the one near the end (on the left side) called Meng Kee.
Due to it's very limited indoor space, the restaurant dining area has escaped the regular brick and mortar environment and sprawls along the roadside....
(Good luck to you if it rains.....)
There were singing minstrels walking around too, to add that extra special touch or ambience to the night:
"La, la, la, la....."
There were also a irritatingly frequent amount of kids/ crazy people/ hobos/ misc people who were asking for money/ selling tissue/ selling tidbits/ etc....
I don't mean to sound insensitive - I really don't mind donating money, according to my means, but for the one hour we were eating there, we were approached at least 5 times....
(And to me, that's a LOT)
Anyway, we started off with a selection of satay..... lamb, chicken and beef: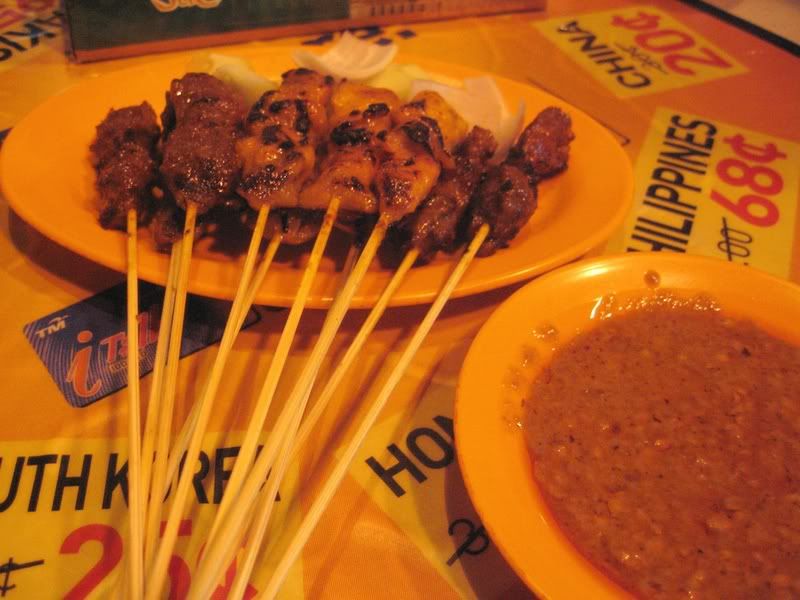 The satay!
The satay was not bad....
The meat was tender, with a good balance of sinful fatty bits... but the accompanying peanut sauce did not have enough kick.
(Still prefer Haji Samuri's)
We also tried the restaurant's specialty the Ikan Bakar (Grilled Fish). There is a choice of various types of fish but we chose to have the sting ray that night:
The Ikan Bakar!
*squints*
Oh man, the fish looks a little burnt in the photos...
I assure you, it tasted fine though.
:)
The accompanying sauce was also nice - spicy with a sour zing.
We also ordered B's favourite dish, the Butter Prawns: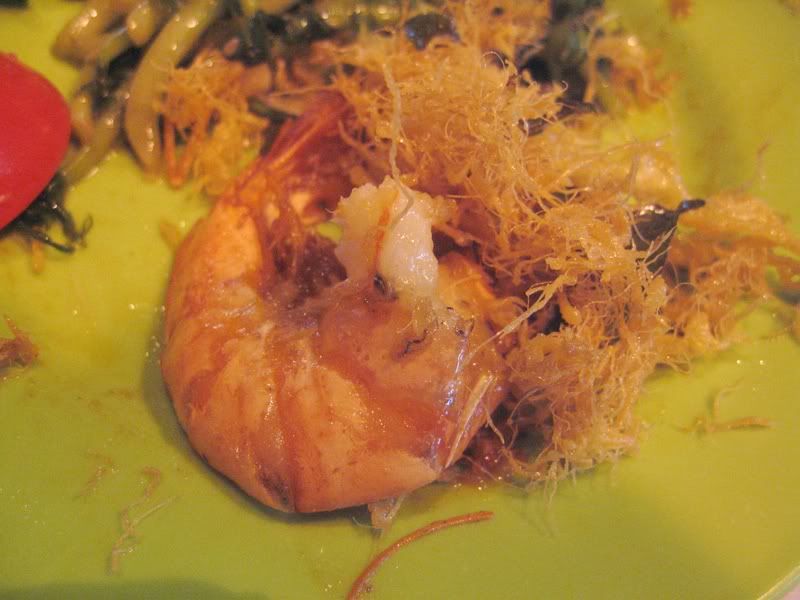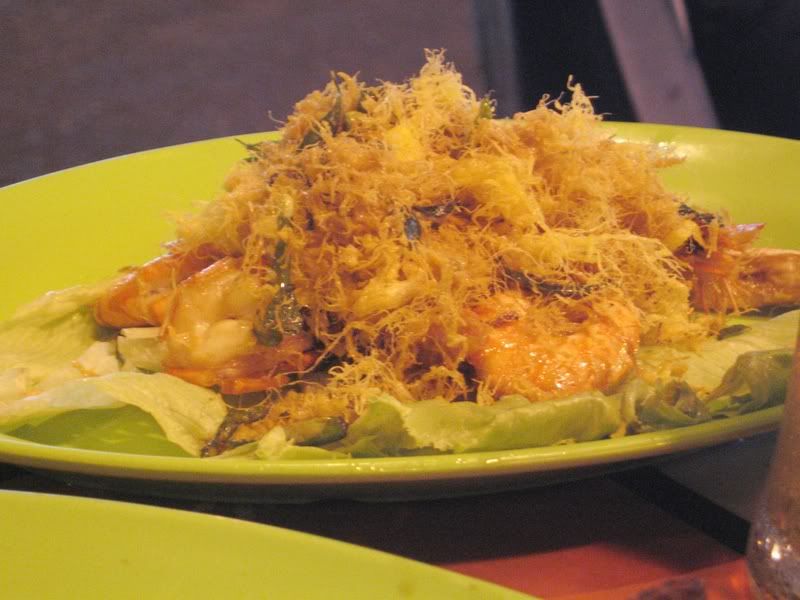 Mmmm, Butter Prawns....
The Butter Prawns here are actually not bad...
The prawns are fresh, the texture is crispy and it was very fragrant.
(yum!)
Other dishes that we order that night were the Tau Mew Fried with Garlic, Yong Chow Fried Rice, Deep Fried Sotong and Orr Chien (Oyster Ommelette):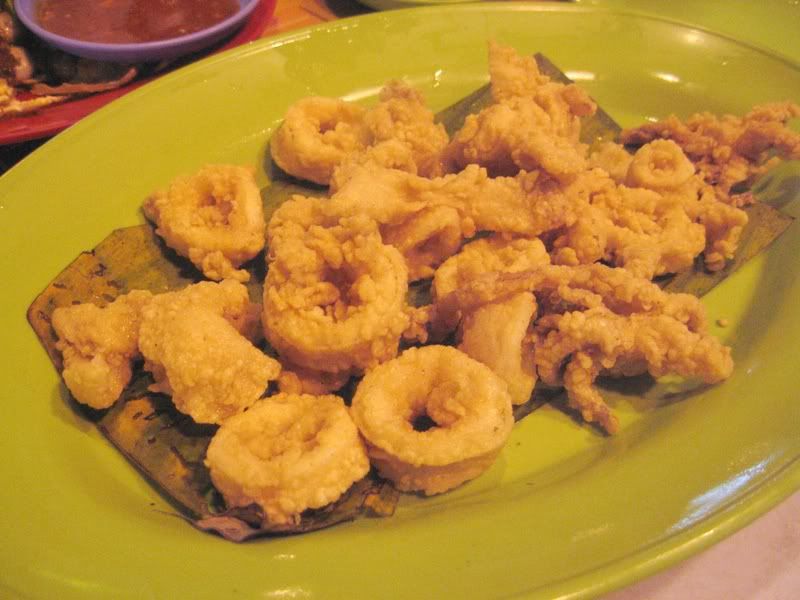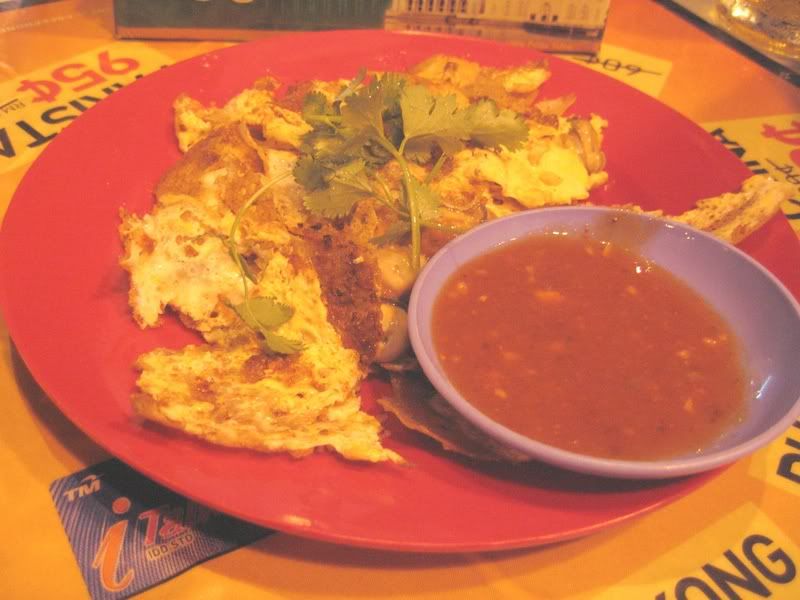 Clockwise from top left: The Tau Mew Fried with Garlic, Yong Chow Fried Rice, Orr Chien (Oyster Ommelette) and Deep Fried Sotong....
Overall, all of them tasted good (except the fried rice - very normal) but my favourite was the Deep Fried Sotong - crispy on the outside but tender on the inside.
:)
I didn't pay for dinner so I don't know how much everything costs exactly.... but I do remember the prices being reasonable as I was flipping through the menu that night.
Summary Information:
Restoren Meng Kee Grill Fish @ Jalan Alor, Kuala Lumpur

Opening Hours: 6pm to 3am (except Tuesdays)
Phone: 012-213 3082 (Ah Meng/ Ah Leng), 03-9283 4523
Address: 39, Jalan Alor, Bukit Bintang, KL (Opposite Wisma City Tower)


TAGS: Food, Blog, Weblog, Malaysia, Restaurant Review, Restaurant Reviews, KL, Kuala Lumpur, Sate, Local Food, Seafood