Back to New Zealand for more Unhalal food.....
While roaming around the North Island of New Zealand, we stopped by Tauranga, in the Bay Of Plenty area..... It was a nice seaside town, modern but quiet and there were a few interesting places to eat there.
One such noteable place is
Harbourside
, which is just off the "town center"... somewhere behind the tallest building for miles and miles, the Hotel On Devonport.
The restaurant, which is situated in the old Yacht Club Building, sits quaintly on stilts over the water's edge:
From the outside....
Inside, it is cosy due to its bright, warm colour scheme... The furniture is only so-so though (mostly plastic tables and chairs):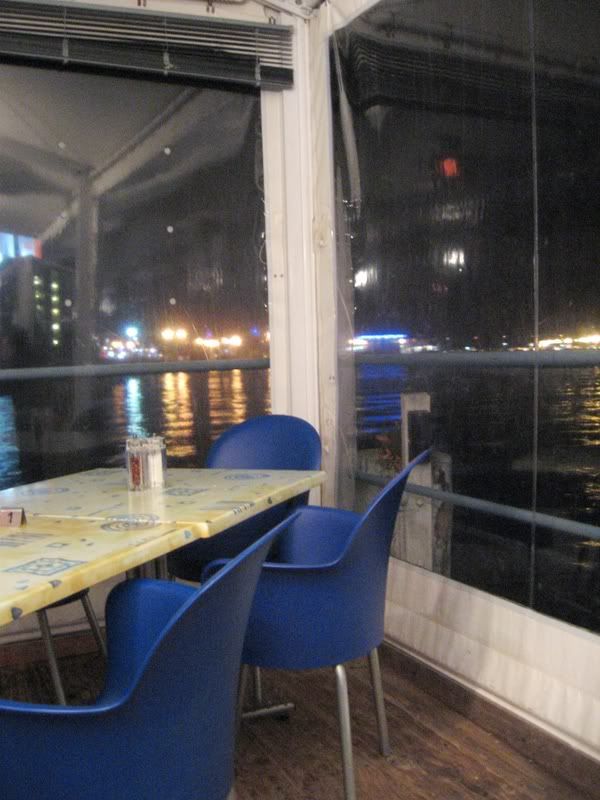 A peek inside....
We had heard that the servings here were big so we skipped appetizers and jumped straight to the mains, the Fish and Chips, Rack of Lamb and Pork Ribs: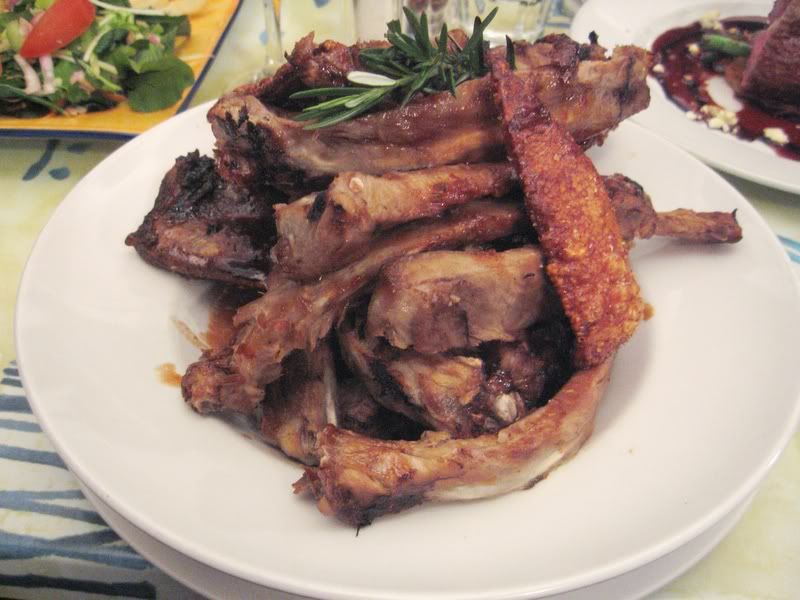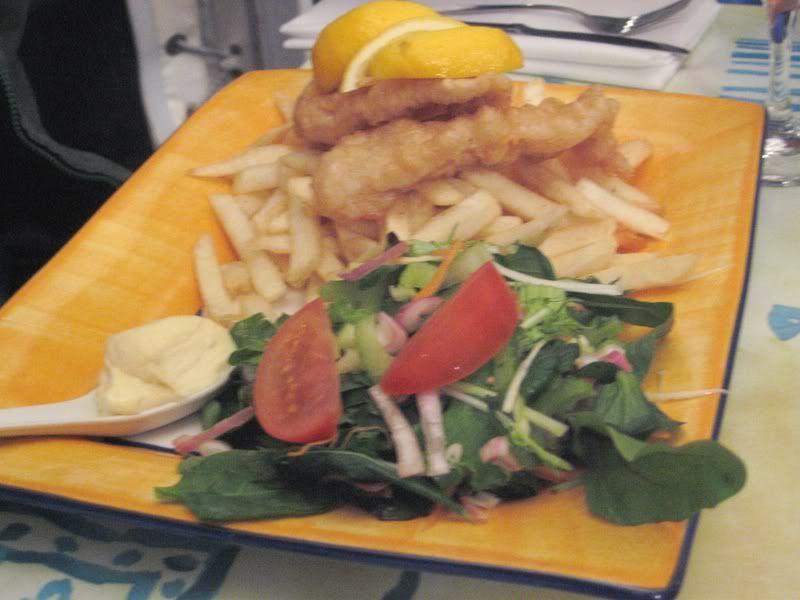 Top to bottom: The Pork Ribs, Fish & Chips and Lamb Rack.....
The Roasted Lamb Rack on pommes anna, feta, green beans and balsamic jus (NZ$31.50) was nice... The meat was tender and flavourful - so much so that I almost had to fight P to get more than 2 bites of it...
:)
The Pork Spare Ribs baked with a mahogany marinade, & crackling (Crackling = crispy pork skin)(NZ$18.50) was also good..... and the serving was HUGE!
Well, there wasn't much meat on each rib, but it was tender, tasty - yummy!
(I could only finish about half of the serving and had to call for back up)
The Fish & Chips - Crispy beer battered snapper with mesclun greens and remolade sauce (NZ$22.50) was ok. The fish was fresh and the batter was crispy but otherwise, nothing fantastic....
Generally, it costs around NZ$50 per person for a 3 course meal, excluding drinks...
I know, you're thinking:
"Faaaaarrrk. So expensive!"
O_o
"That's almost RM130 for ONE meal!!"
It sounds pricey, but honestly, to the average Malaysian it would probably only cost NZ$30 for two people because some of the mains (like the Pork Ribs and the Rack Of Lamb) are damn big....
:)
(Just be careful what you order lah.... 'cos some of the other stuff like the fish and chips are not that big)
So, it's: Unpretentious but comfortable dining, quaint setting by the waterside, good food, large servings BUT NZD to RM forex hurts soooo bad! *ouch*
Summary Information:
Harbourside Brasserie and Bar @ Tauranga

Opening Hours: 10.30am till late.
Phone: +64 7 571 0520/ 0800 721 714
Fax: +64 7 571 0520
Address: Old Yacht Club Building South End of The Strand, Tauranga Central, Tauranga, Bay Of Plenty

NOT HALAL

TAGS: Food, Blog, Weblog, Malaysia, Restaurant Review, Restaurant Reviews, Tauranga, Bay Of Plenty, Harbourside, Fusion, New Zealand