Meat, meat, meat and more meat...
Last Friday, we ventured to Carnaval Churrascaria in Damansara Jaya for Chen's surprise birthday party...
There, they serve a Brazilian Buffet meal.
What is that, you ask? - Well, it's an array of freshly grilled meats brought to your table on large skewers and served onto your place by friendly waiters till you say:
"No more for me, sir... I think my arteries are clogging up!".
:)
The Dinner
Located at a corner lot shop in the old Parkson Atria area, the interior of Carnaval is dimly lit but has a cheerful colour scheme - mostly yellows and orange, with a simple but otherwise comfortable ambience: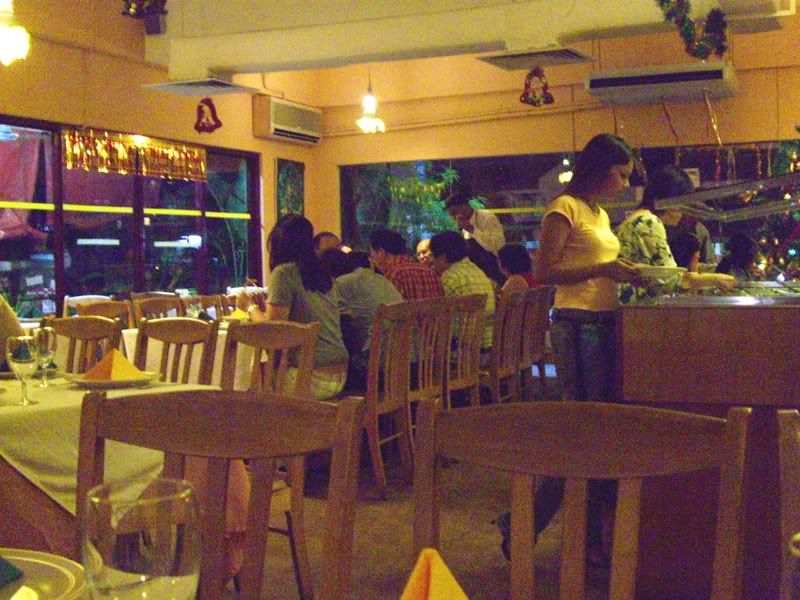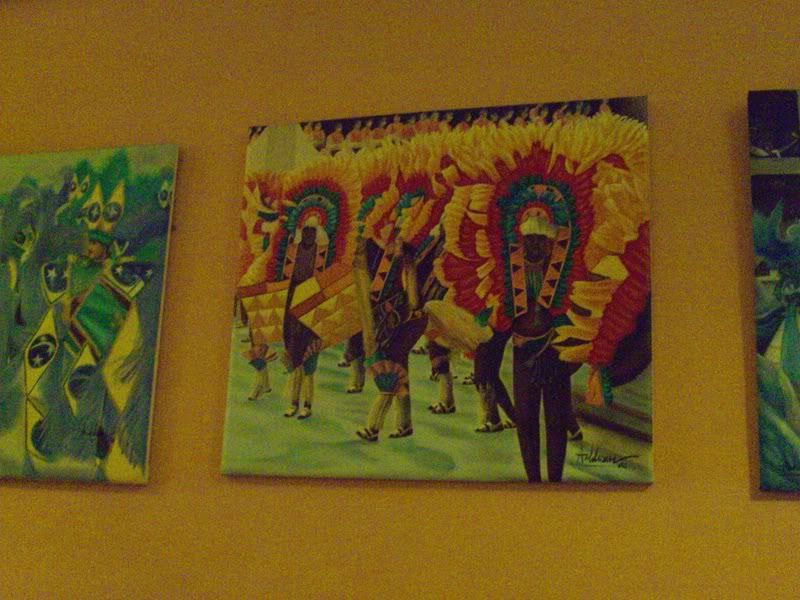 A look at Carnaval, outside and inside.....
There are basically 2 choices here:
1) RM30++ for the Salad buffet, or
2) RM45++ for the Salad & Meat buffet.
The salad bar was excellent!
There was a wide range of yummy vegetable dishes (at least 14 different kinds)... from Asian tasting Vermicelli salads to the more traditional Western style Potato Wedges and Coleslaw.
(Ooh, the Tomatoes with Vinaigrette and the Deep Fried Eggplant were excellent!)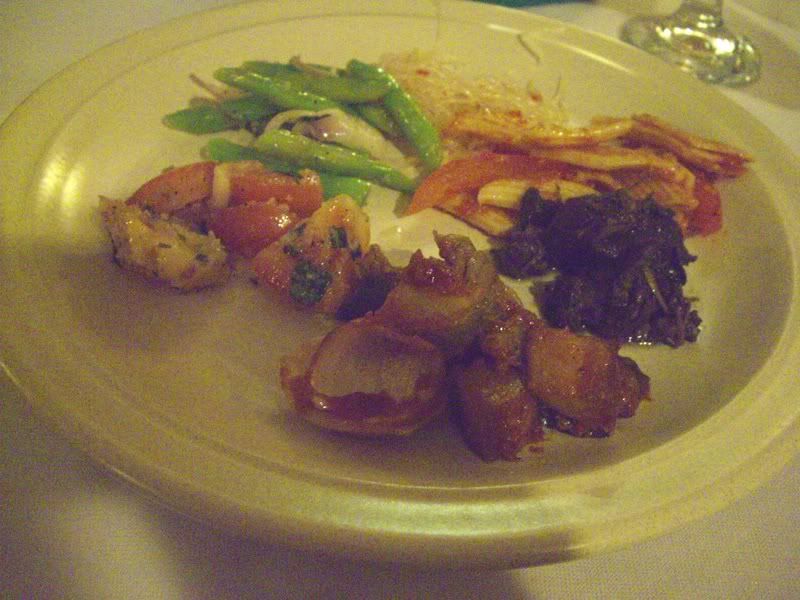 Some of the yummy vegs that I ate.....
What about the meats?
Well, there was a wide array of choices for all you carnivores out there.... They had 2 kinds of lamb, 2 kinds of beef, 2 kinds of chicken, fish, prawns, sausages and (for the more adventurous) chicken giblets and even grilled pineapple.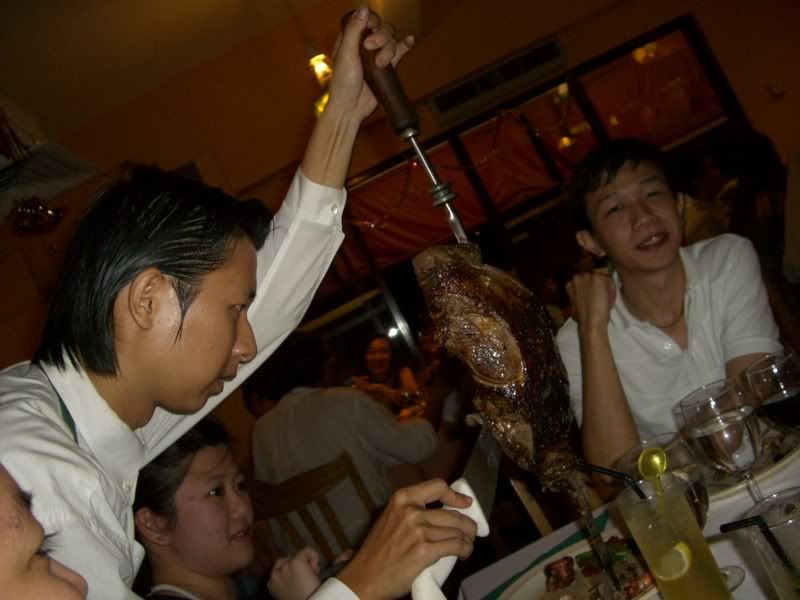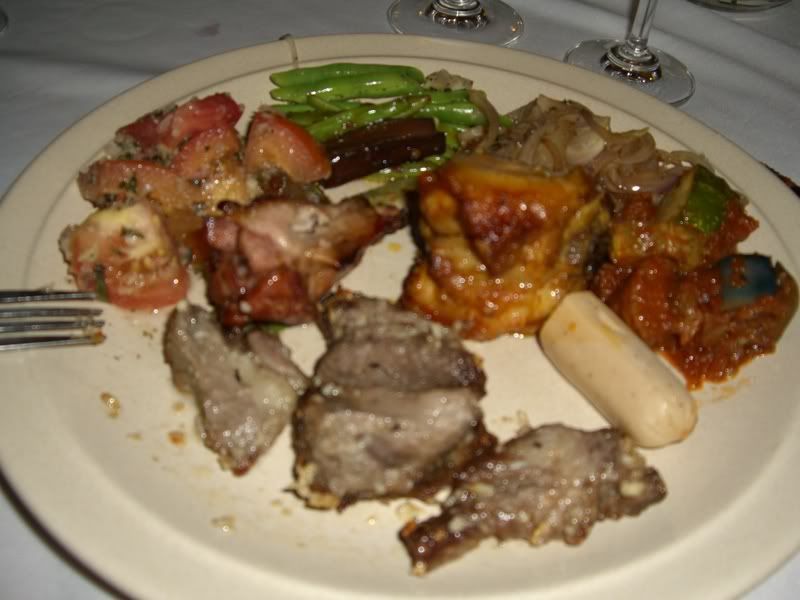 The waiter serving meat and my plate of gluttony.....
Overall:
1) Beef (both types): Not so good (Slightly tough...)
2) Lamb (both types): Great! (Juicy and tasty...)
3) Fish: OK (Tender but not very flavorful)
4) Prawns: OK (Nothing special...)
5) Sausages: OK (Again, nothing special...)
6) Chicken Wings: Delicious!
7) Chicken Meat: OK (Also nothing special...)
8) Grilled Pineapple: Yummy! (Juicy and very appetising, with slightly sour taste)
All in all, I was pretty satisfied with the selection of grilled meat (as well as the pineapple). If I have one complaint about this place though, it would not be on the food, it's on how severely overpriced the water is.
Yes, you heard me (and let this be a warning to you):
Each bottle of water costs RM10++
.... And mind you, it's not any kind of fancy-shmancy imported water either, it was Eu Claire... which probably sells for less than RM2.50 at any given grocery shop: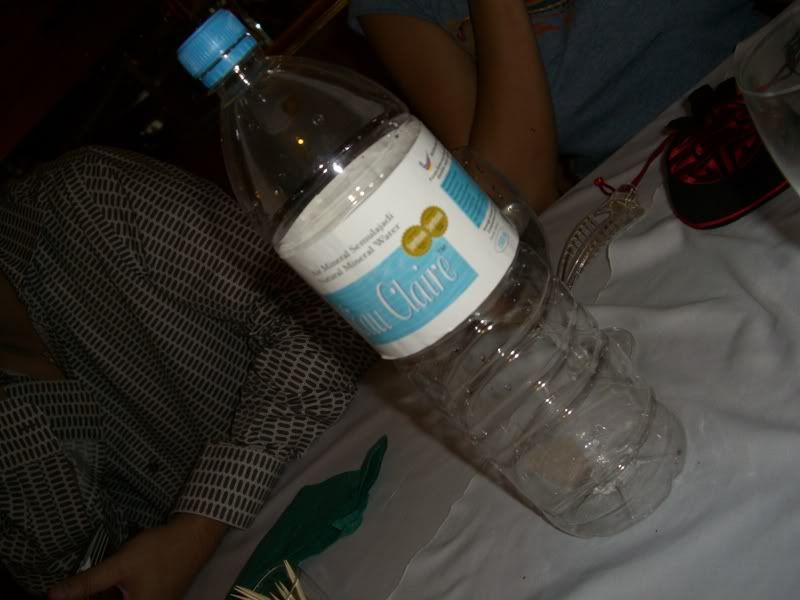 Expensive water.....
No wonder the waiters were so happily and attentively refilling our glasses and bringing new bottles of water for us!
:(
*sigh*
I suppose since their actual buffet is pretty cheap (as compared to let's say, Bom Brazil in KL which goes for about RM60++), they have to try to "make up for it" by charging higher prices on drinks....
(Floyd said that they usually do not charge for water on normal weekdays (Mon - Thurs)... but I can't verify that because I've only been there once)
So it's: Casual, comfortable ambience, friendly waiters, great range of meat and salads BUT hits & misses for the meats and EXPENSIVE drinks (the water, specifically)
Restaurant Review
Summary Sheet:
Carnaval Churrascaria @ Damansara Jaya, PJ

Taste: 6
Ambience : 6
Service : 7
Price : RM30/++ (Salad bar only) OR RM45/++ (Salad Bar & Meat) per person
Parking: OK

** Buffet (as stated), excluding drinks

Telephone No.: 03-7725 2252/ 7728 5411
Opening Hours: 6pm - 10pm
NO PORK SERVED
TAGS: Food, Blog, Weblog, Malaysia, Restaurant Review, Restaurant Reviews, Damansara Jaya, Petaling Jaya, All You Can Eat, Brazilian Buffet, Carnaval Churrascaria, Buffet