A blast from the past...
(Note:
Prices have been adjusted to reflect changes as at July 2010
)
The Lunch
Yut Kee is really a wonderful piece of KL's history...
From its simple fittings, marble top tables, dark wooden chairs, hand written prices and the paint peeling off the ceiling: It's a peek into the years gone by and that makes it feel really, well, comforting....
(Like a walk down memory lane)
If you come to Yut Kee often enough, you'll begin to notice that it's ALWAYS packed to the brim, even on weekend mornings... In fact, most of the time you will have to share your table with strangers (for that wonderful feeling of togetherness).
:)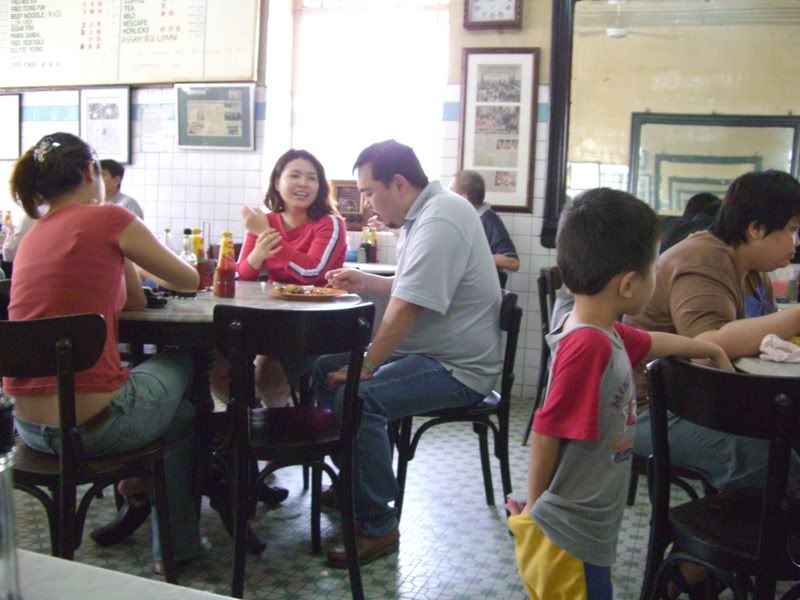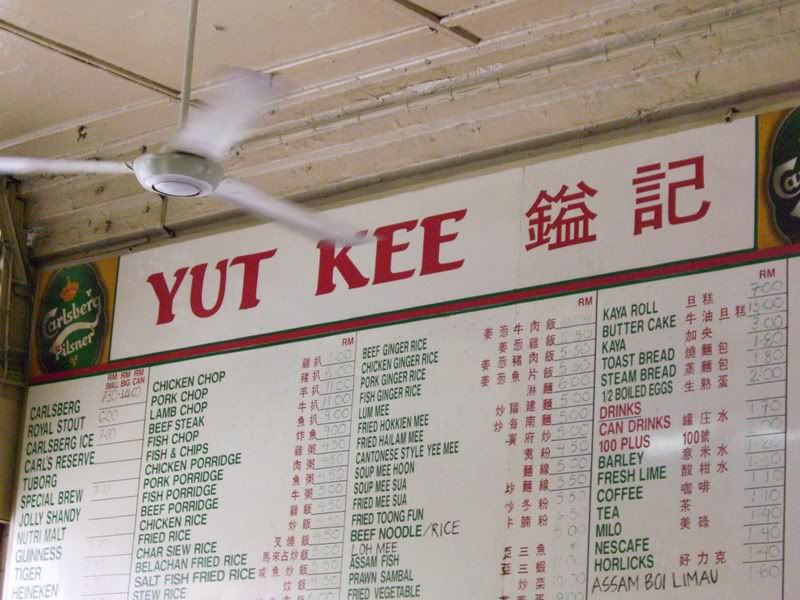 Yut Kee interior....
They've been around for at least 40 years (as many of our parents and grandparents remember, very fondly, eating there) and is now being run by the son of the original owner.
Their signature dishes are the classic Hainanese Pork Chop and their "Roti Babi" (Pork Bread):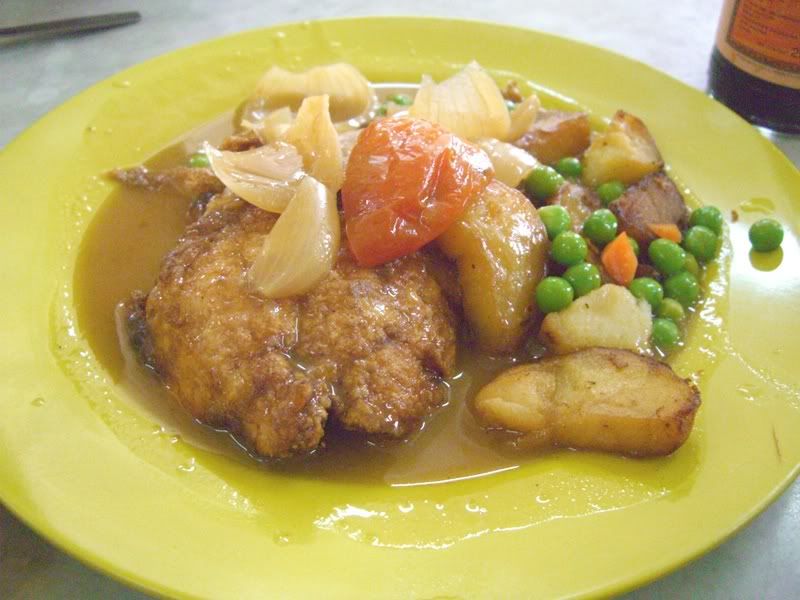 Yummy yummy Pork Chop!
I have difficulty trying out the other food here because I just can't get past the Pork Chop (
RM8.50
RM 9.00
)....
Prepared in the classic Hainanese style, it is lightly coated with egg and pan fried till it's slightly crispy on the outside but still moist on the inside... Then, it's dished up with a rich, wholesome brown sauce with caramelized onions (YUMMMMM) and some delish potatoes (and also some forgetable mixed peas/ carrots/ corn).
*drool*
(For that extra zing, you can add a dash of the Worcesteshire sauce that they have on each table)
The Roti Babi - inside and out....
The "Roti Babi" (
RM6.50
RM 7.50
) is basically bits of pork, "lapp cheong" (chinese sausage) and onions encased in fluffy bread, coated with egg and lightly fried.
(I suppose it's like a really sinful stuffed French Toast)
YUM!
There are also many other tasty items on the menu: Various other "chops" (lamb/ chicken) as well as an assortment of noodle and rice dishes (which are pretty decent too).
If you are looking for something lighter though, don't miss out on their traditional Kaya Bread.
(For the unitiated, Kaya is a yummy traditional Malaysian jam made of egg, sugar and coconut milk)
The Kaya Bread
This simple dish is one of those that are "easy to prepare but difficult to get juuuust right".... but I think Yut Kee's done a really good job: The bread is crispy without any starchiness and the Kaya is fragrant but not overly sweet.
I used to come here pretty often for lunch, when I was still working in the KL area.... but since my office is in PJ now, it's become more of a rare weekend treat.
(Fight through the traffic jam to KL from PJ for lunch on a weekday? No way! I'll probably get road rage within the first hour...)
So, it's: Yummy food, decent prices, very simple but wonderfully quaint traditional "coffee shop"/ restaurant setting BUT nothing much bad really... except that it can be a pain to find parking in this area during week days and sometimes you have to wait quite a while for a table.
Restaurant Review
Summary Sheet:
Yut Kee Restaurant @ Jalan Dang Wangi, KL

Taste: 7
Ambience : 4*
Service : 6
Price** : RM 15/++ per person
Parking: Weekdays - Painful, Weekends - OK.
(The cops here are pretty active so try not to park illegally)

* Sorry, I think it's nice for a coffeeshop but it's STILL a coffeeshop - no aircond, rustic, noisy, etc.
** Approximation - 2 course meal, excluding drinks
Telephone No.: 03-2698 8108
Opening Hours: 8am - 5pm (Closed on Monday)
NOT HALAL
TAGS: Food, Blog, Weblog, Malaysia, Local Food, Restaurant Review, Restaurant Reviews, Jalan Dang Wangi, Yut Kee, Kuala Lumpur, KL