Look, look!
It's me!
In 2D, as a cartoon....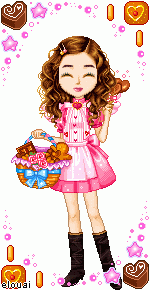 Singing happily: "Lalalalala, Choccy, choccy, yummy chocciiiiiies....."
..... oh, and on a GREAT hair day, without about
5kg
10kg
of excess flab....
:)
[ BEGIN EDIT ]
Someone close to me has very RUDELY pointed out that I should increase this to at least 10kg of excess flab to be realistic. *wail* Ok la. I put it in already. Are you happy now?
:(
Meanie!
Hmmph. Dowan to friend you already.
[ END EDIT ]
Obviously I am very bored with my
life
work and decided to waste some time on doing something so very pointless.
Other than that, it's been a bad week so far.
Still sick.
HATE
being sick and having no time to be sick....
Too busy to even schedule a visit to the doctor right now - Have so far been sticking to regular doses of the Malaysian "cure all drug" - Panadol....
*sigh*
Ok.
Shall end this grumpy post and get back to work.
Ciao,
J
TAGS: Blog, Doll, Weblog, Malaysia, Kuala Lumpur, Personal