[ BEGIN EDIT ]
As a pre-renovation special,
Villa Danieli
is offering a 30% discount off food and drinks when you use your Citibank Visa card!
(Only until the end of May 2007)
(And btw, I am not receiving any payment for posting this up - I just thought it's a pretty good discount... unless you have the Starwood Hotels membership card, that is - you can get up to 50% discount with that so it's even better)
[ END EDIT ]
We have just found out first hand how misleading some reviews can be....
Don't want to point fingers or name names but honestly, any review that tells you that you can eat at Villa Danieli for around RM50 is really streeeeeetching the truth.
Technically, it's not an all out lie of course, because you can get a pizza/ pasta and a glass of water for around RM40++. Still, you will not be able to have a full dinner as most of the starters here cost >RM30++, the pizzas/ pastas >RM35++, the mains (meats/ seafood) cost >RM 50++ and the desserts cost >RM25++.
Oh well, let's not dwell on this and just move on to the review, shall we?
The Dinner
Cosy and romantic, Villa Danieli is situated next to the pool area on the 5th floor of the Sheraton Imperial Hotel, KL.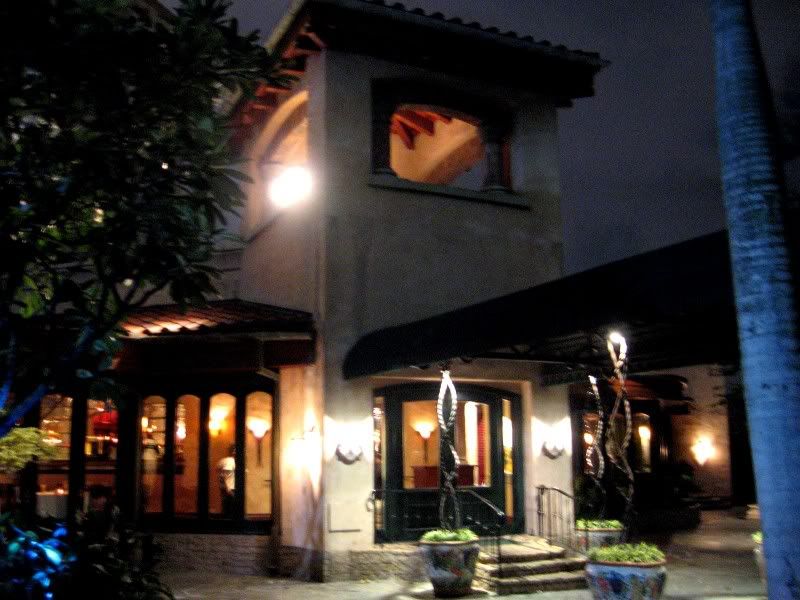 The Exterior of Villa Danieli
Full of earthy terracotta, red and wooden tones, it is definately a good place to wine and dine your loved ones or impress business associates...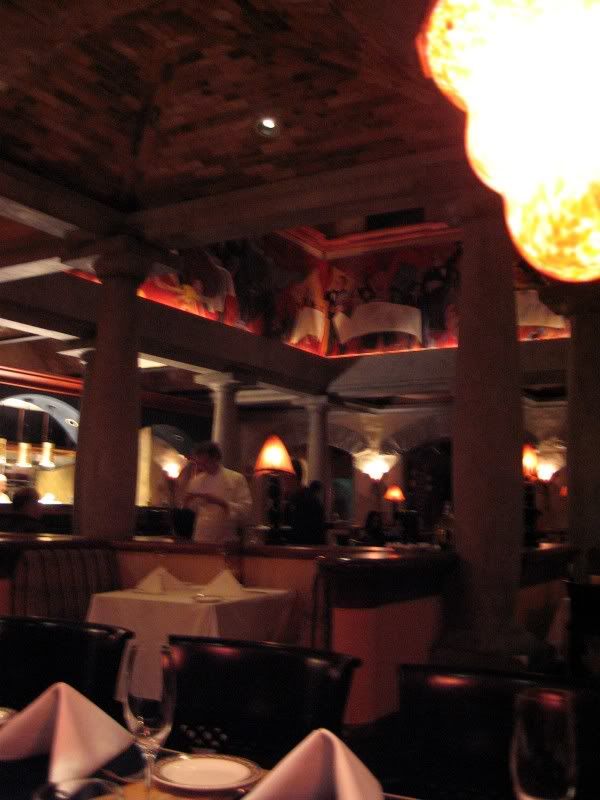 The Interior of Villa Danieli, Mariachis and All
The food here is Italian, brought to you by award winning chef
Gianluca Re Fraschini
. We started off the night with the Grilled Calamari, Beef Carpaccio, Cauliflower Soup and the Seafood Lasagnette: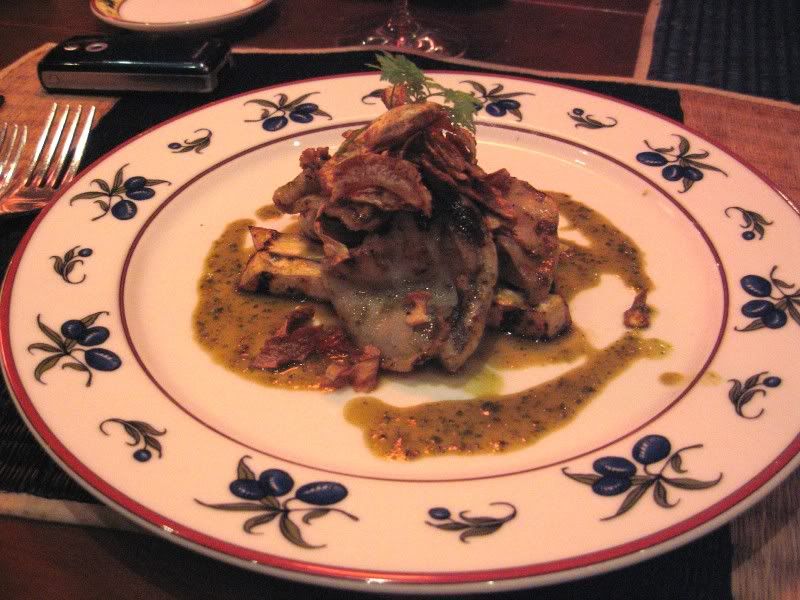 Clockwise from top left: Grilled Calamari, Beef Carpaccio, Seafood Lasagnette and Cauliflower Soup
The Seafood Lasagnette (which is actually some sort of a broth) was ok - clear with a delicate, uncomplicated flavour (arguably not salty/ flavorful enough).
The Cauliflower Soup on the other hand was deliciously creamy and robust.
(I'm not sure if I'd pay RM30++ for to try it again though...)
The Grilled Calamari was good too - the lightly seared pieces of squid were fresh and juicy, going well with herb sauce and artichoke hearts.
No comments on the Beef Carpaccio (sorry) - it looked good but I do not eat raw meat so I didn't steal any off
SooJ
. He did say that it was pretty good though.
Onwards to the mains....
That night, we tried the Risotto with Porcini Mushrooms, Lamb Cutlets and the Braised Lamb Shank....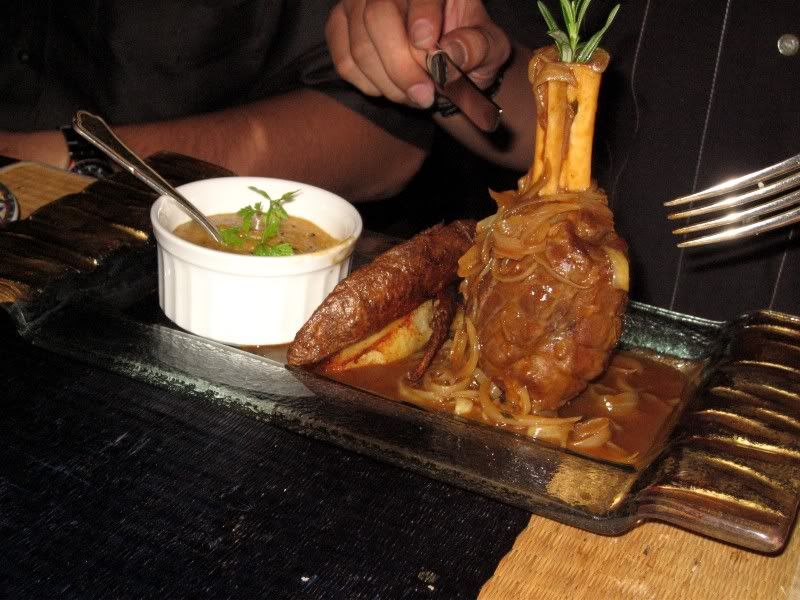 Clockwise from top left: Lamb Cutlets, Braised Lamb Shank and Risotto with Porcini Mushrooms
OMG.
The Lamb Cutlets were just to die for! - the meat was juicy and downright succulent, with a wonderfully crispy outer layer.
Pat
and
SooJ
pretty much picked the bones clean. I would definately recommend this dish but will warn you ahead of time that although it is
DELICIOUS
, it costs RM65++ for a pretty small serving.
The Risotto was also pretty good (as far as risottos go) - wholesome and bursting with the natural flavours of the Porcini mushroom. It only tasted great while it was hot though, and quickly became very "jelak" as it cooled down due to its increasingly starchy texture...
(That, and there wasn't anything to break the monotony of the rice and (the very few) mushrooms - no meat, no other veg... nothing!)
The Braised Lamb Shank was also pretty good - it didn't knock my socks off but generally, it was tender and tasty.
(
Lenny
raved about how fragrant the onions in the sauce were but again, I didn't eat any so I can't really comment)
As for the desserts, we didn't try any:
(Again, sorry)
1) We were already quite full after filling ourselves with the yummy complimentary bread, and
2) None of the limited choice of desserts sounded interesting enough to justify the price.
(As much as I aim to do exhaustive reviews - fact of the matter is: I am not made of money)
So, it's: Cosy, romantic Italian restaurant with ok food (and GREAT lamb) BUT for a price, boring (sounding) desserts (still, a great place to impress dates/ business associates/ make wedding proposals)
On another note: Here are some pictures of us being thick-skinned and goofing around in a swanky Italian restaurant!
J's Motto: Keep Your Friends Close.... and Your Enemies Closer!
"Killer Fork Attack! Kyaaah!"
Desperate Smoker Resorts to Breadstick
Restaurant Review
Summary Sheet:
Villa Danieli @ Sheraton, KL

Taste: 7 (The Lamb Cutlet, on its own, is a 9 tho!)
Ambience : 8
Service : 7
Price** : RM 110/++ per person
Parking: OK

** Approximation - 3 course meal, excluding drinks
Telephone No.: 03-2717 9922
Opening Hours: 12.00pm - 2.30pm; 6.30pm - 10.30pm
NO PORK SERVED
TAGS: Food, Blog, Weblog, Malaysia, Restaurant Review, Restaurant Reviews, Sheraton Hotel, Sheraton Imperial, Villa Danieli, Italian, Romantic, KL, Kuala Lumpur, Romantic Restaurant, Italian Food