Oh
Cendol
, dear darling
Cendol
....
Your soothing, sticky sweet taste is so comforting on a hot Malaysian day....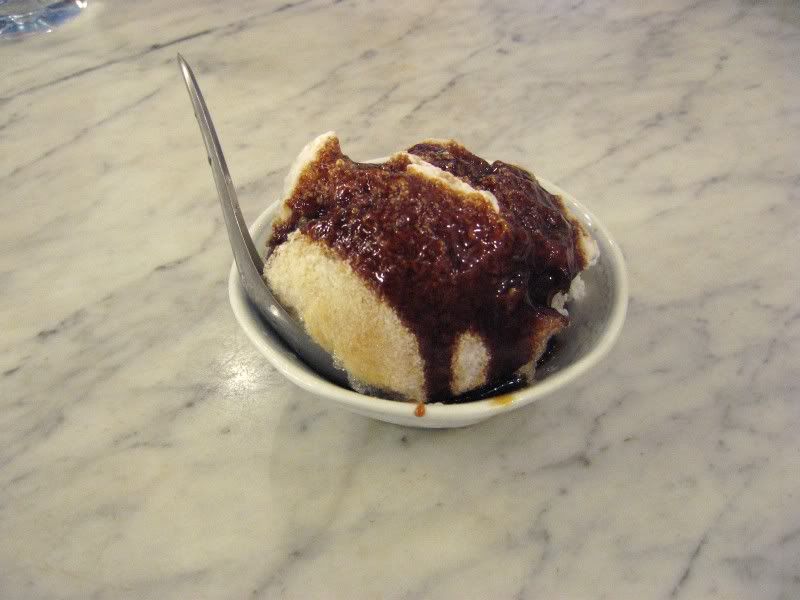 Mmmm... cendol
Oh glorious mountain of shaved ice and gula melaka!
You are perfect honey - I wouldn't have you any other way...
:)
Went on a day trip to Melaka last weekend.
Twas fun.
Sadly, while I was there I only managed to gobble one bowl of
Cendol
, half a bowl of Baba
Laksa
(yum!)....
Laksa, Baba Style
... and half a bowl of Assam
Laksa
(yum-yum!)....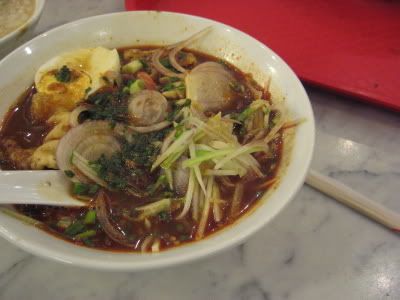 Assam Laksa: You either love it or hate it
Where did I go for all this
Laksa
+
Cendol
, you ask?
It was this little coffee shop on one end of the Jonker Street area....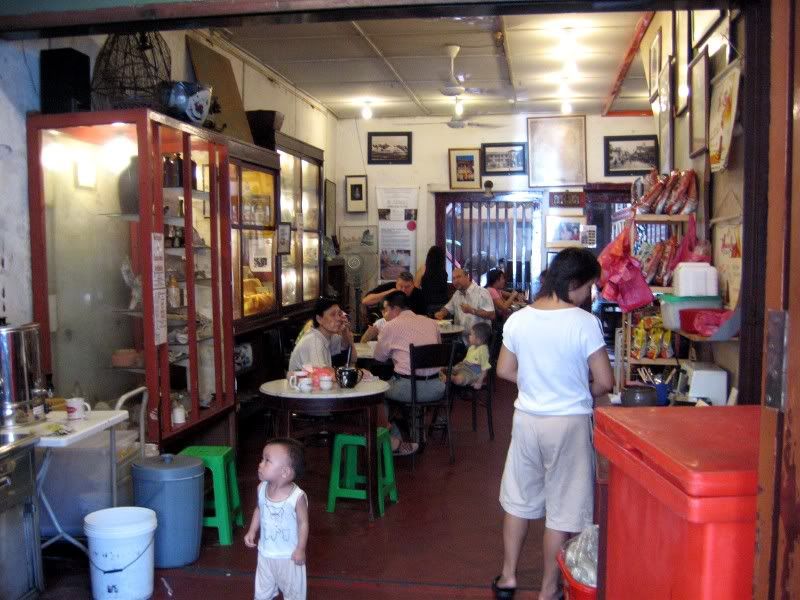 View of the laksa place - inside and out
The (new) name of the place is "The Museum Cafe" and the phone number is 06-286 8786.
Oh, and holy commercialism! They have a
website too
!
Overall, the food at the place was good....
The Baba Laksa was rich without being too "lemak-y" and the texture of the noodles was tender with a little bounce to the bite.
(Mmmm,... I love the bits of bunga kantan that they put in - gives it that extra kick)
The Assam Laksa was also pretty good, fragrant without being too fishy...
Both Laksas came generously topped with half a boiled egg and foo chok, amongst other things.... all for only RM3.50 a bowl!
... And the cendol?
Well,... it was a scorchingly hot day so it went down very very well.
:)
I really wanted to try the Chicken Rice Balls (please avert any skewed thoughts *glare*) at another coffee shop at the other end of Jonker Street, but was too full and decided not to gorge myself. Good thing too, cause the line was super super long!
(see!)
"We want (chicken rice) balls, we want (chicken rice) balls...", chants the angry mob...
Crazy.
Well,... it's probably worth the wait anyway. I've tried out this restaurant before a few years back - the chicken's tasty and the rice balls are fragrant without being too sticky.
Hmmm, *stares at photo*, am starting to feel hungry just thinking about it - damn.
So, who wants to drive down to Melaka?
:)
TAGS: Blog, Weblog, Baba Laksa, Assam Laksa, Laksa, Cendol, Malacca, Jonker, Jonker Street,Restaurant, Local Food, Local Favourites, Food, Melaka, Malaysia, Kuala Lumpur, Personal